Sustainability LIVE London scores high for ESG insights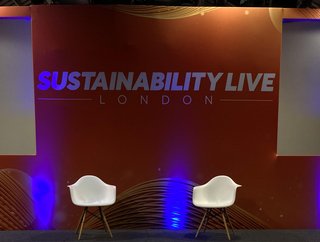 As the popular Sustainability LIVE conference returns, the host BizClik experienced a great turnout at s new venue, with fresh event features and speakers
The hybrid sustainability conference is back and bigger than the previous event and featured some familiar faces from leading organisations as well as new speakers with a significant stake in sustainability, including chief sustainability officers (CSOs) and other corporate leaders.

Taking to the stage first was Richard Batten, Global Chief Sustainability Officer at JLL, with one of the most critical topics relating to sustainability, the strategy.

As a purpose-driven organisation, the consultancy and real-estate business JLL is heavily invested in the efficiency and sustainable credentials of the construction industry, which has seen a lot of change in focus.

The emphasis on environmental, social and governance (ESG) is rising as construction design and execution incorporates transparency of labour, sourcing of materials and circular design principles.
Digital products must be circular
While not a photographer himself, Peter Bragg, EMEA Sustainability & Government Affairs Director at Canon, showed a great example of Canon's products and has grounds to 'Bragg' about the achievements of the company, having manufactured more of its lenses and printers with less materials and emissions involved in the process.

A further step in the circular economic approach of the company is breakdown of old products and repairs to ensure that waste is kept to a minimum and extending the product life cycle.

"Perhaps a typical device that may last four or five years out in the field with the customer, we're giving that a new life," says Bragg.

As the manufacturer of printing products, ink cartridges prove to be a burden on the industry and also the environment, hence why Canon has undergone projects to implement cartridge recycling into the manufacturing process. As a result, the company has dealt with 444,000 tonnes of them so far.

While the environmental actions of the business are crucial, other projects are in place to support community development and social causes, ticking off another aspect of the ESG bracket. The Miraisha programme is one of these programmes that encourages young people to get involved with filming and photography.
Sustainability makes a business strategy
Ben Kellard, Director of Business Strategy at the University of Cambridge Institute of Sustainability Leadership, gives an example and graphic to explain how humanity is placing high demand and strain on the planet, while overshooting sustainable capacity.

"The trouble with financial reports, it tells you how much a business has made, but not how it made it and its ability to make money in the future."

He puts ESG criteria into perspective as critical components of any business process, explaining the impacts of each process on different areas within ESG and how successful production is dependent on resources. Sustainability comes at the heart of that.

The name Tesla makes its way into the keynote as Kellard discusses Elon Musk's strategy in response to the demand for more mainstream usage of electric vehicles (EVs) as a sustainable solution to transport. Making this point aligns with the overall message, which is to embed sustainability principles into the business strategy.
Is green shipping possible?
Shipping is a critical part of the supply chain, supporting the distribution of around 90% of products across the globe. Øistein Jensen, Chief Sustainability Officer, Odfjell, explains the significance of climate risk, which overlooked many of the global events recently, such as the coronavirus pandemic.

"The Paris Agreement did not include shipping, because shipping is a global business and is difficult for governments to regulate," says Jensen.

Jensen talks about the value chain and, in particular, how technology requires a more in-depth focus as hidden emissions come from other areas of the value chain. The case for developing vessels is to not balance out the carbon intensity, but eliminate it completely, and this involves a deep dive into the emissions involved with each component and consumable involved in operating a ship.

One of the most critical components of shipping to decarbonise is the fuel. As talked about in his session at the previous Sustainability LIVE, Jensen refers to the potential of green ammonia in reducing emissions from the industry. But, the shipping industry must compete with the industries that contribute the most to transportation emissions, as there is higher demand to innovate in public transport and road transport with an emphasis on electrification.
What it means to be a B-Corp
Employment lawyer Martin Bunch, a Managing Partner with Bates Wells, gave an address looking at what it means to be a B Corp business in the legal sector.

"Socially minded programmes have always been an important part of who we are," he said. Being a law firm of 35 partners, Bunch says the goal of becoming a B Corp has needed "significant buy in". "You definitely need buy-in from the top if it is to work," he added.

Bunch told his live and remote audience that B Corp initiatives in the legal sector can be very gratifying.

"We were involved in the test case of the Uber drivers, who were seeking the employment rights they were entitled to," he said. Having begun its B Corp journey some years ago, Bunch says B Corp certification has not gained the traction he had expected.

"I think fewer organisations have become involved than I'd have expected, but then becoming a B Corp is not a simple thing to achieve; it is a difficult certification to gain, but I think that is one of its strengths."
Not enough time to talk ESG
One of the biggest challenges with bringing executives to the stage is that we don't have enough time to cover everything they have to say. The afternoon panel showcased just that as our guest panel ran over the allotted time discussing ESG in business.

Featuring speakers from some of the sponsor companies, the panel, including:
The conversation migrated various topics relating to ESG with a focus on how companies can use the 'social' bracket as a staple action of their businesses. As companies look to reduce their costs, they forget that the social pressures on staff and their livelihoods come at a price as well.

Catch up on all of the latest sustainability insights on demand after the show, by signing up on the Brella app.