Sustainability Magazine Launches its Top 100 Companies 2023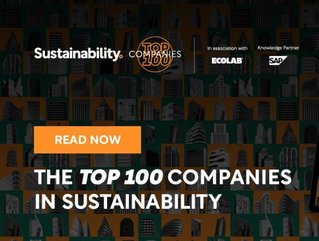 Sustainability Magazine Launches its Top 100 Companies 2023
In case you missed it, our Top 100 Companies 2023 is out now
Sustainability Magazine is thrilled to announce the highly-anticipated launch of its prestigious Top 100 Companies supplement, which celebrates the sustainability journeys of the world's biggest companies.
The list showcases the companies that are continuously making great Sustainability & ESG strides towards producing long-lasting benefits, demonstrating the outstanding difference that can be made when companies value sustainability.
From Capgemini and Schneider Electric to ABB and AT&T, we've compiled a list of the top global companies driving change in their sectors, thus, acting as beacons of inspiration, demonstrating that profitability and sustainability can go hand in hand.
For further details on the Top 100 Companies supplement and to explore the incredible sustainability journeys of these global pioneers, click HERE.
"It's incredibly inspiring to see how these businesses are pioneering change, and leading by example," says Lucy Buchholz, Editor in Chief of Sustainability Magazine. "I'm proud to be part of a portfolio of publications that showcases the very best businesses driving sustainable change, going above and beyond to lessen their environmental impact."
Glen White, Founder and CEO of BizClik says -
"Compelling Sustainability & ESG Strategies are vital to the heartbeat & DNA of every major business globally. Having spent time speaking to many Chief Sustainability Officers over the last few months, I think the Top 100 'Most Sustainable Companies list is a fabulous example of work being done to combat our current climate crisis whilst addressing areas such as ESG, DE&I, Supply Chain Sustainability, Net Zero, and also future Tech and AI strategies.
A big well done to my team at Sustainability magazine and the whole crew at BizClik; the work they are doing is simply 'best in class across digital media."
Sustainability Magazine, a BizClik brand, is a leading publication at the forefront of sustainability, offering valuable insights, trends, and news for businesses and individuals committed to building a sustainable future. With a strong emphasis on ESG issues, the magazine explores a wide range of topics, providing readers with the knowledge and inspiration needed to positively impact the environment and society.
You can read the latest news in Sustainability Magazine by clicking HERE.
You can now sign up for the Sustainability LIVE conference at the Business Design Centre from the 6th - 7th of September 2023. Click HERE.
BizClik is also soon to launch its new U.K. 'Net Zero' show alongside its EV LIVE & Energy LIVE brands and has just agreed to expand its events business to Dubai & Miami for 2024.