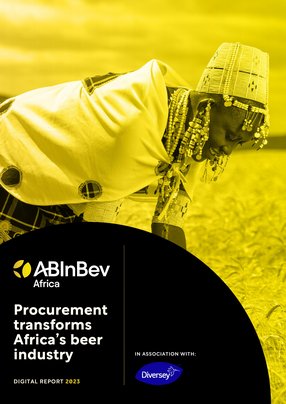 AB InBev procurement transforms Africa's beer industry
Jacques Els, Procurement & Sustainability Director: BU Southeast Africa, discusses AB InBev's sustainable delivery of Africa's developing supply chain
Take thousands of employees, produce hundreds of beer brands, and then distribute all across the world and you've got yourself a very complex operation that exceeds US$55bn in revenue with the need for an intricately built supply chain. This is where Anheuser-Busch (AB) InBev has excelled over more than a century—becoming the big-name business that it is today—thanks to its ability to manage a global team and expand in line with current trends and demands within the industry.
With this growth comes expansion and AB InBev acquired South African Breweries (SAB) Ltd in 2016, which was a major step towards sharing its great products with more consumers across the country—serving more than 55 million of its population. Particularly in the current commercial landscape, procurement has come to the fore as a crucial component of expansion and ensuring compliance to environmental, social, and governance (ESG) throughout the supply chain.
To understand the important role of procurement in operations at AB InBev, we look to the Southeastern region of Africa, where the company boasts a great influence on Uganda, Tanzania, Zambia, and other countries through quality procurement processes as the company looks to localise its sourcing.
With breweries in 11 countries on the African continent and a number of local agricultural programmes across half of them, the company is very much driven towards localisation to provide products to the African market. While providing more opportunities to the local farmers in this area, procurement has a role to play in developing the business for the modern industry.
"Procurement within AB InBev has evolved immensely," says Jacques Els, Procurement & Sustainability Director: BU Southeast Africa. "As the company has modernised, procurement started to evolve within the business purely because of the value procurement can generate for the bottom line.
"We know industries, specifically in Africa, are struggling. Economies are not growing to the level we would like them to, and therefore the bottom line becomes more and more critical."
Now that procurement has 'a seat at the table' within AB InBev, Els believes that new levels of value will be reached now the department has become more influential in the business' growth. Els really emphasises the importance of procurement as a function leading the business in a number of areas, including social aspects of enterprise as well as profitability for the overall African segment.
"Our procurement function has been elevated within the business and it's become even more apparent since we started thinking about the principle of supply chain, which is essentially production, logistics, and the procurement organisations all under one umbrella.
"This supports the understanding that the supply chain can deliver value within your business."
And for AB InBev, the supply chain is everything. From the sourcing of raw materials like wheat and barley from a variety of farmers, to retaining production efficiency and product quality across new markets and distributing beer to countries across the continent. Let's also not forget the sustainability requirements within the supply chain, which adds a new layer of complexity to the procurement role—sourcing goods provided using sustainable energy.
Commercial perspective: Retaining necessary product quality of global products
The commercial value for AB InBev comes from several factors in the supply chain. As the company operates on a localised basis, product quality and cost optimisation are crucial outcomes the business strives for when dealing with multiple breweries that produce the same great products.
The procurement function is responsible for ensuring that not only the products meet the company's legacy—high-quality—standards, but are produced in a cost-effective, equitable way.
"When you look at industrialisation in Africa's markets, procurement is critical. It plays a critical role in developing suppliers to deliver at the right quality; the consistency from suppliers on a multinational level," says Els.
"Localising suppliers so that we're not so reliant on global supply chains—ocean freight from Chinese, European or American ports—has become a huge value-add for us, because we are able as a procurement team to do that faster and quicker than most of our competitors."
What Els explains here is that, also due to the global events of the past few years, localisation has been a natural shift for the business and procurement is at the heart of achieving this to create a more resilient supply network to overcome such events in the future. This is crucial for commercial longevity, but, particularly in Africa, a staple procedure that will bring more local businesses into the fold, and effectively provide support to small and medium businesses in a country of a developing economy.
Community perspective: Developing local business through procurement and commerce
Sustainability being the hot topic across the globe, AB InBev embraces this with open arms across all areas of its business and all factors related to operations. These of course include sourcing sustainable energy and supporting the communities in which it operates.
Bringing on board local businesses in Africa as the suppliers of AB InBev products across the continent creates a full cycle of development and reward both commercially and socially.
One of the main functions of procurement is bringing in small vendors and aligning them with its global standards, which, according to Els, requires a phased approach to avoid mistakes along the way. As the company's commitment to ESG and the UNSDGs stands, the success of farmers in Africa is within its best interests.
"The mistake made in the past is to try and go all-in at once," says Els. "It's about developing your local suppliers while maintaining the relationship with your international supply. We ensure that standards, training, quality, health and safety are top of mind before even talking about increased volumes, pricing, quality, and begin by making sure operations are aligned with the attributes we expect from any business globally."
Not only does this strategy help to build resilience across the business, but allows AB InBev to make its mark, by providing suppliers with new markets and better ways of working.
"This is how we create value for the communities in which we operate," says Els. "You grow local businesses, you develop the area they operate in, and you deliver more quality from those businesses that can supply others outside of AB InBev."
In creating this value for Africa's communities, Els also sees how localisation forms a breeding ground for new and innovative ways of working, thanks to its diverse pool of suppliers.
"We had to be the catalyst to prove to the business what is available out there with an entirely interlinked supply chain," says Els. He also reiterates that procurement is not a supporting function, as he explains "as soon as this started happening, little by little we could see the mindset shift."
Embedding the procurement team with suppliers across the countries seems to have empowered AB InBev to take more steps towards more sustainable methods of working. By getting closer to its suppliers, the South African team learned very quickly what the pain points were for small companies looking to develop more responsibly.
"As soon as the procurement team started taking over sustainability as part of our business initiatives within our supply chain—renewable energy, water usage, climate change, etc—suddenly everyone realised that what we've missed is that additional supply chain value that procurement has access to," says Els.
"Globally procurement developed, but within the group it was us as a team really embedding our value in the business."
Regulatory perspective: The regulation hurdle of localisation
Returning the focus to operations, the hurdles overcome by the procurement team at AB InBev are what make it a crucial department for the team to embrace globally. Looking at the company's African expansion, regulation is a key factor to contend with when trading across multiple countries.
As a commercial endeavour with economic benefits, Els prides his team's efforts to accelerate legislation to improve trade across Africa, which consists of duties and taxes that hinder progress of executing its processes in this area of the supply chain.
"You still find challenges between different African countries that do affect efforts to efficiently speed up and execute some of these localisation initiatives and inter-trading initiatives," says Els.
"Also, when you look at the sustainability side, when it comes to recycling plastics and the way the governments interact with businesses, it sometimes feels very reactive. We do find ourselves sometimes having to react very quickly to bans on plastics; legislation changes that come across overnight."
Overcoming myriad challenges from the project inception to execution is where Els' journey with the company has taken him—since working with SABMiller in 2015 to his position at AB InBev. Now he sees the company operating with a network of 11,000 small, older farms across his home continent, which is testament to the company's procurement function and a natural move as the supply chain becomes an important focus from global success.
As part of the team that catalysed major changes there, Els continues to support these endeavours and will allow further relationship building, sustainability implementation, and commercial growth for his company and those trading with the business.
Through further partnerships, procurement continues to duplicate these achievements across a number of countries, bringing them into an ever-growing partner network. Moving forward with its vendors, AB InBev can use its platform to facilitate further industry shifts and will be a driving force in reducing supply chain impacts on the planet and enhancing the lives of those affiliated with beer business.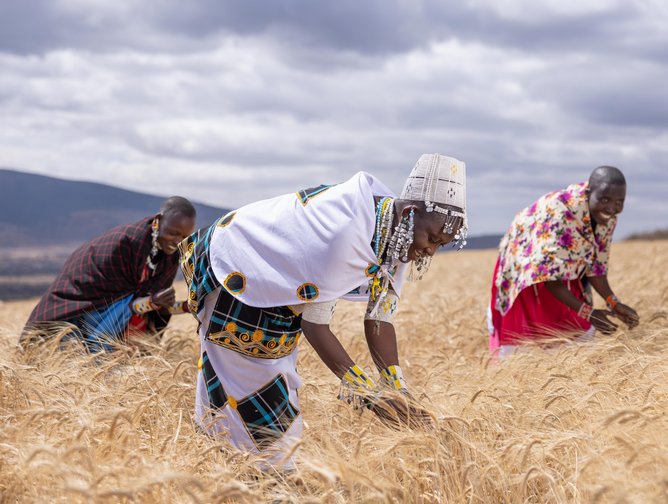 Women in Agriculture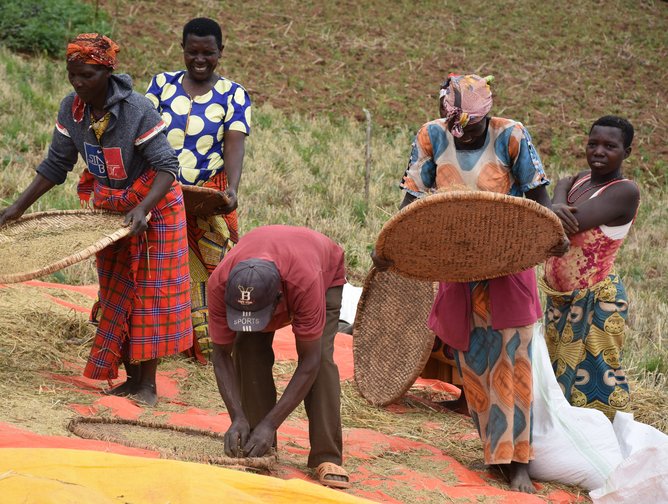 Uganda Farmers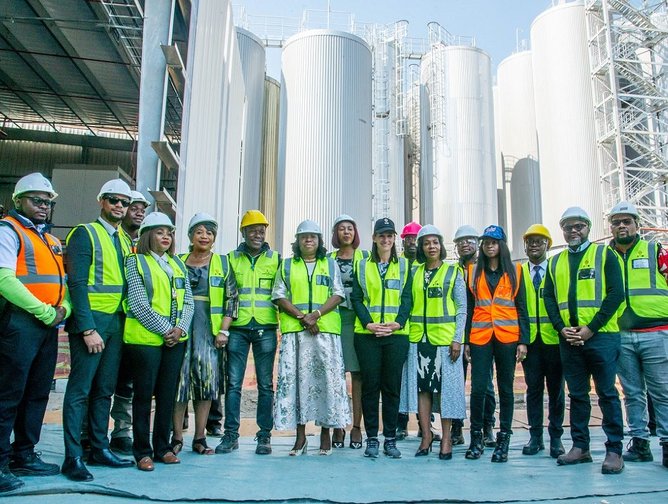 Brewery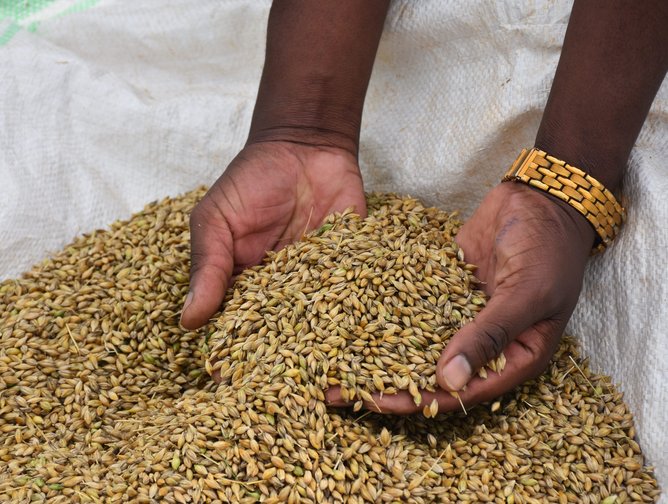 Farmers