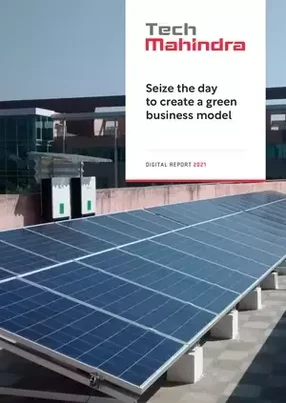 Tech Mahindra: Seize the day to create a green business mode
How sustainable experiences and a connected world drives profitability for Tech Mahindra clients as they embark on their post-pandemic digital journey
Seize the post-pandemic-day to create a green business model. This is the message from Sandeep Chandna, Chief Sustainability Officer at Tech Mahindra - a US$5.1 bn company - that believes sustainable experiences can power change for good, and not at the cost of profitability.
"Climate change has become a reality. All of us have to make a concerted effort to resolve this together, it can't be a one-man show, or a one company show, it has to be a collaborative approach," said Chandna.
"The organisations that succeed in years to come will be those who have embedded sustainability into the core of their operations. Businesses have to be responsive towards moving into a green business model in order to combat global climate change."
As keynote speaker at Sustainability LIVE, Chandna will share further insights from Tech Mahindra on how they are working with global clients to create a future which is both sustainable and profitable.
People, plant and profit
Tech Mahindra is focused on leveraging next-generation technologies including 5G, Artificial Intelligence (AI), Machine Learning (ML), blockchain, and cybersecurity to enable digital transformation while ensuring their clients incorporate green initiatives to benefit their people, plant and profits.
Tech Mahindra is a company that practices what it preaches. For instance, when you log on to their website run on dark mode by default – it shows a saving of 10.1 kW since 2020  and read that their 'Green Marshals ' have planted 65,000+ trees till date.
Despite being one of the fastest growing brands among the top 15 IT service providers globally, sustainability is in the DNA of India-based Tech Mahindra, which is driving connected businesses with sustainable experiences. "We share our best practices with our customers, and we look at how we can share knowledge that brings improvements for both the organisation and its customers" comments Chandna.
Founded in 1986, Tech Mahindra is part of the Mahinda group, which is one of the largest multinational federation of companies with more than 2,60,000 employees in 100 countries. 
How Tech Mahindra is RISING above the ordinary to combine strategy and sustainability to build a green future:
Turning to renewable energy (RE) (from 1.77% in FY 2015-16 to 21.2% in FY 2020-21) to achieve ecological balance

Investments remain in the green

Profitability aligned with principles - the company has saved more than US$2 million through sustainable initiatives

Sustainability-approved milestones of becoming Carbon neutral by 2030 and increase sourcing from Renewable Energy to 50% by 2025 and 90% by 2030
"Tech Mahindra is focused on Environmental, Social and Governance (ESG) globally. It is  enabling both rural prosperity and enhancing urban living with the goal to drive positive change," said Chandna.
"When you hear the name Tech Mahindra, you see a company with purpose both with sustainability and individual social responsibility. We are proud to be recognised among the top 100 sustainable companies in the world this year by Corporate Knights. That gives us the confidence that we are moving on the right track."
Chandna has passionately led the sustainability agenda from the initiation stage at Tech Mahindra for 14 years. "I've been very lucky that I got the opportunity to put in these green goals at the grassroots level. Over the years, we have been able to set up a structure, we have seen regular improvements and we have really accomplished something very important ".
Trigger of the pandemic for digital transformation
Chandna pointed out that the global pandemic was undoubtedly the biggest driver of technology adoption with most of the Tech Mahindra workforce having to work from home but with "no major customer escalations at any point of time."
"Companies had to be adaptable, flexible, agile, and resilient. Digital working is now a way of life and it is predicted that 65% of the world's GDP is set to be digitised by 2022 - which could be almost 6.8 trillion by 2023," commented Chandna who pointed out it was now time for companies to seize the moment to incorporate sustainability into their digital transformation.
"The pandemic has triggered a discussion on what we really value and highlighted the extent of local interconnectedness. As a result, we regard the future as an opportunity to rebuild economies with a focus on ESG. COVID-19 has hit almost every industry and it is important every leader believes that clean energy investments could spur recovery from economic devastation that accompanied the pandemic."
"There has been a major shift to clean energy with companies pledging to reduce or eliminate their carbon emissions. Big companies have also announced modifying their executive bonuses to be based on environmental issues of 2021. So, you can see how sustainability is being incorporated into the digital transformation."
Focus on 5G, cloud, AI and IoT for a sustainable future
Chandna pointed out technologies like 5G and AI are going to play an increasingly important role in reducing harmful emissions for global organisations.
"Companies are strategising ways to decarbonise their business models to create a greener future. Digital transformation powered by 5G, cloud, AI and IoT offers the best ways to meet these goals. Technology has been defining the role to address some of the grievous challenges faced by the planet and humanity, said Chandna who pointed out Tech Mahindra is working on their innovation platform IRS to offer solutions for their customers and society.
"Technology will definitely enable the sustainable transformation for most businesses post-pandemic," said Chandna who provided some examples of how these emerging technologies can reduce carbon emissions:
Implementing 5G solutions in the UK manufacturing sector has a potential to save almost 14 megatons of carbon emissions by 2035 (

A Greener Connected Future

,

O2)

     

The UK's NHS reported initiatives of moving email servers to cloud and improving it's digital infrastructure could reduce almost

4,000

tonnes of carbon emissions

Implementing AI solutions during the initial outbreak of COVID-19 - doctors were able to speed up the analysis of data, allowing for quick turnaround of diagnosis and vaccinations

Use of drones to deliver vaccinations to rural communities
"These are just a few examples of how emerging technologies are reducing carbon emissions. At Tech Mahindra we are playing a major role in looking at how we can help our customers reduce their carbon emissions."
Human-centric experience with NXT.NOW framework
Tech Mahindra has launched a NXT.NOW framework, which aims to enhance the 'human centric experience' for their ecosystem and drive collaborative disruption with synergies arising from a robust portfolio of companies.
"This will allow us to collaborate on creating value and building scale for our joint customers through rapid prototyping and development of next generation low-code, no-code apps across 5G, IoT AI, ML, and the customer experience," said Chandna. 
"It will also identify specific opportunities and build industry solutions for keywords, in communication, media and entertainment, energy, and utility, and to accelerate  cross-industry adoption."
He also stressed that it was time to focus on carbon pricing mechanisms. "All the green initiatives that we speak about need some kind of funds. It is high time that we bring in carbon pricing mechanisms for these sustainability efforts and see how they progress in green business, so that funds don't become an issue for businesses."
Tech Mahindra shows its green credentials
The ultimate goal of Tech Mahindra was to be among the top five IT companies and top three IT companies within India by 2021 which they have achieved. "We were very clear on how we wanted to achieve this with responsible business growth and enhanced operational eco-efficiency along with being recognised by others as a top brand to work for. 
"Our customers give more preference to the vendors who can show their green credentials," said Chandna who stressed that Tech Mahindra is the only company which is listed in Carbon Clean 200 and ranked #1 in India in the list of World's 100 Most Sustainable Corporations by Corporate Knights.      .
"We are constantly rated among the highest, whether it is for sustainability or for our eco-ideas - that brings an added advantage in the marketplace as this is a company with a good ESG performance, which is dependable, has the right practices and good global policies in place."
Tech Mahindra not only has all the attributes above, but also a passionate advocate and speaker in Chandna who we look forward to hearing from next year at Sustainability LIVE. Come and join us. 
How Tech Mahindra harnesses technology in a sustainable way
At Tech Mahindra, growth leading to a sustainable future is a never-ending journey. 
Nurturing the technologies of the future, such as cloud, 5G and investing in blockchain has helped to net deals in Healthcare and BPS sectors along with acquisitions. 
BPS, cloud and digital engineering are all driving growth. Tech Mahindra expects double-digit growth from the cloud adoption business, while 5G and blockchain will bring new growth frontiers. The key focus will be on the  blockchain-led initiatives such as digital payments, government-to-citizen services, and digital identities.
Tech Mahindra formed a Cloud Advisory Board of 30 members divided across EMEA, America and the APAC regions. 
Mahindra Group - driving a RISE for good
Tech Mahindra is part of the Mahindra Group, which has a strong focus on renewable energy, agriculture, logistics, hospitality and real estate. 
Founded in 1945, the Mahindra Group has a clear focus on leading ESG globally, enabling rural prosperity and enhancing urban living, with a goal to drive positive change in the lives of communities and stakeholders to enable them to RISE .
It is one of the largest multinational federation of companies with 260,000 employees in more than 100 countries and is the world's largest tractor company by volume.