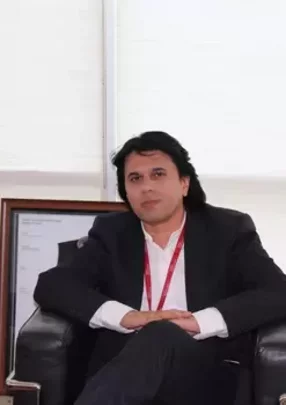 Sandeep Chandna
Chief Sustainability Officer at Tech Mahindra
Climate change is happening in front of our eyes and is not a future problem which is why Tech Mahindra is acting today, says Chandna
"People used to feel climate change was a future problem, but today we see its effects happening in front of us from bush fires to floods. My work in sustainability is to address these challenges to create a better future and that is what really interests me," said Sandeep Chandna, Chief Sustainability Officer at Tech Mahindra.
For the past 14 years Chandna has led the Indian organisation's sustainability agenda from its initiation stage to its current leadership position. 
As keynote speaker at Sustainability LIVE, Chandna will share further insights from Tech Mahindra on how they are working with global clients to create a future which is both sustainable and profitable.
Chandna has been instrumental in several key policy advocacy initiatives, leading a diverse stakeholder base and has been recognised by the national and international agencies.
"When I was given this role at Tech Mahindra, the goal clearly in front of me was to be amongst the top leaders in sustainability. 
Tech Mahindra is focused on leveraging next-generation technologies including 5G, Artificial Intelligence (AI), Machine Learning (ML), blockchain, and cybersecurity to enable digital transformation while ensuring their clients weave in green initiatives to benefit their people, planet and profits.
Speaking from his office in India, Chandna, describes himself as a versatile, goal-driven, results-oriented executive leader with a diverse background in multiple sectors and a proven track record of 25 years in IT and IT Services, oil and gas and infrastructure industry.
Commenting on how his previous experience in one of India's premier oil and gas companies has shaped his current role, Chandna said: "It was a real learning curve on how to mitigate the highest level of pollutants and learn how you could optimise and put in best practices to bring the pollutants to the lowest level. The focus at that time was also looking into the green fuels and how they could bring the overall emissions down."
Focusing on what it takes to be an effective leader in a world working towards a sustainable future, Chandna cites "Integrity, Honesty and Trust".
"When you're looking at sustainability you should look at it with conviction and think about what value you're going to add to it. Another very important aspect is building good relationships with your team as this joint commitment becomes a passionate goal."
Two inspirational leaders that Chandna admires are the Indian Prime Minister of India, Shri Narendra Modi, and CEO of Tech Mahindra C P Gurnani (popularly known as 'CP').
"Our PM has the energy that brings motivation to the whole world with changes that impact both business aspects, as well as the political aspects, and also in terms of how he is able to move the country ahead with him.
"The CEO of Tech Mahindra C P Gurnani, shows that as a leader you have to make difficult decisions and this is what makes an organisation work", said Chandna.
Hear more insights from Sandeep Chandna, Chief Sustainability Officer at Tech Mahindra, who will be our keynote speaker at Sustainability LIVE from 23-24 February 2022.  
Read the full story HERE.