Abu Dhabi Sustainability Week 2023 kicks off in the Gulf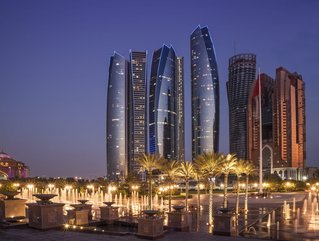 The event is seen by many as a preamble to COP28, which will be held in Abu Dhabi next autumn, but participation from Big Oil has tarnished proceedings
In the first major climate conference since November's COP27 – last year's iteration of the UN's climate change conference – this week thousands of conventioneers are descending on the United Arab Emirates for the annual Abu Dhabi Sustainability Week (ADSW) 2023.
This year's event – thrown by the UAE government and the clean energy company, Masdar – is being held from January 14-19, and will see heads of state, industry mavens, investors and policymakers descend on the Gulf nation as new paths are forged in the industry. The themes for this year's show? Partnering for action; technology and innovation; people, planet and profit; and the global energy transition. Other issues on the agenda include food and water security, energy access, industrial decarbonisation, and health and climate adoption.
Ultimately, though, this week's event is being seen as a warm up for next November, when Abu Dhabi will be the host city of COP28. Indeed, ADSW 2023 has as its tagline, "United on Climate Action Towards COP28.
Controversial players
But both ADSW 2023 as well as next year's COP28 have not been without the stain of controversy, most notably the involvement of the fossil fuel industry in what are, nominally at least, meant to be meetings about weaning the world off of reliance on the environmentally destructive energy source.
At ADSW 2023, a major source of funding is coming from the OPEC Fund for International Development, an arm of the oil-producing-nations cartel. As well, coming to Abu Dhabi this week will be a high-profile mission led by OPEC Director General Dr. Abdulhamid Alkhaifa, who commented on the proceedings: "We stand ready to support our member country UAE in the preparation and delivery of the crucial COP28 summit and its drive for solutions."
While financial support is always welcome, the source of it – fossil fuel powerhouses – have many observers worried that it will subvert the purpose and success of any drive towards sustainability.
Even more controversial, though, was last week's appointment of Sultan Al Jaber as the president of COP28. Jaber is the head of Adnoc, the UAE state oil company, which is one of the biggest fossil fuel producers in the world.
Adnoc pumped nearly three million barrels of oil per day in 2021, and it has plans to nearly double its output by 2027. The target date for this had been 2030, but it was brought forward by Jaber two months ago.
Supporters of Jaber's appointment point to the fact that, in addition to heading up Adnoc, he is also the chairman of Masdar itself as well as the UAE's minister of industry and advanced technology.