Aditya Birla Group's commitment to purpose & sustainability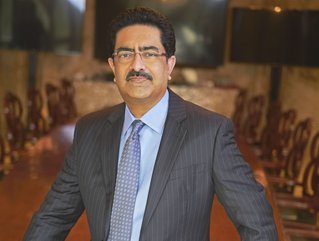 Kumar Mangalam Birla, Chairman of Aditya Birla Group, Credit: Aditya Birla Group
The Aditya Birla Group shares its "Our Purpose" commitment, to ensure the business achieves its sustainability, ESG and net zero goals
Premium global conglomerate Aditya Birla Group is a Fortune 500 company that boasts a workforce of over 185,000 employees of 100 different nationalities.
Headquartered in Mumbai, India, the Group has prioritised building responsible business practices for over seven decades, having emerged as a global powerhouse across a variety of sectors, spanning metals, pulp and fibre, chemicals and textiles, to cement, financial services, fashion retail and renewable energy.
The Group aims to be a force for good, to create a better future with the vision to "regreen, renew, rejuvenate, and restore" the planet. To do so, Aditya Birla has pledged to achieve net-zero emissions by 2050, while also working towards being a zero-waste business that has no net loss of biodiversity while also being water positive.
Focused on being a business that is conscientious, ethical and responsible, Aditya Birla has listed a number of purposes to ensure it meets its sustainable goals.
"Great businesses are never built on the quick sands of opportunism," says Kumar Mangalam Birla, Chairman of Aditya Birla Group. "I reiterate that, if living by our values means, perhaps growing at a pace slower than we would otherwise have liked, so be it. For us, leadership lies at the heart of knowing what we stand for."
Aditya Birla Group's "Our Purpose"
With the aim of enriching lives "by building dynamic and responsible businesses and institutions", the Aditya Birla Group looks to make positive change through four key pillars: Enriching lives; building dynamic businesses; creating responsible institutions; and inspiring trust.
By focusing on enriching the lives of others, the Group takes a comprehensive and mindful view of society, while driving change through initiatives that serve communities and ecosystems, emerging lifestyles and needs of consumers through innovative solutions and inspiring employees and their families.
Additionally, Aditya Birla aims to build dynamic businesses producing creative and generative processes that culminate in growth, investing and incubation and partnering and restructuring.
The Group also cultivates a deep and purposeful culture, encouraging accountable decision-making which focuses on the smart use of resources, ethical and value-based governance and achieving sustainable profits while taking care of the planet and promoting a circular economy.
What's more, Aditya Birla aims to inspire trust by serving the needs of unique industries, including social enterprises, culture and art, education and health, to name a few. Through the Group's products, services, intent and everyday interactions, the business aims to earn, nurture and retain the trust of all stakeholders.
*************************************************
For more insights into Sustainability - check out the latest edition of Sustainability Magazine and be sure to follow us on LinkedIn & Twitter
Other magazines that may be of interest - EV Magazine | Energy Digital
Please also check out our upcoming event - Sustainability LIVE in London at the BDC on Sept 6/7th 2023
*********************************************
BizClik is a global provider of B2B digital media platforms that cover 'Executive Communities' for CEO's, CFO's, CMO's, Sustainability Leaders, Procurement & Supply Chain Leaders, Technology & AI Leaders, Cyber Leaders, FinTech & InsurTech Leaders as well as covering industries such as Manufacturing, Mining, Energy, EV, Construction, Healthcare + Food & Drink.
BizClik, based in London, Dubai & New York offers services such as Content Creation, Advertising & Sponsorship Solutions, Webinars & Events.