AMEA's e-commerce small businesses and sustainability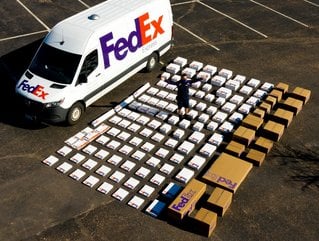 FedEx's services span the world
There is no silver bullet for tackling sustainability challenges, but small, easy to implement wins can have a huge impact on consumer spending
Consumers' increasing preference for shopping online is happening at the same time as concerns for the environment are hitting new heights. According to research from FedEx, SMEs who embraced e-commerce during the pandemic are significantly underestimating the importance consumers now place on sustainability in their decision making.
Many e-tailers continue to believe that price and delivery speed matter more to customers. A whopping 75% of SMEs surveyed said their customers are more interested in receiving their goods as quickly as possible than in sustainable shopping. A similar number, 73%, thought price to be more important.
Differing perspectives
However, consumer sentiment tells a different story. For a significant number of consumers, the future of the planet is very much top of mind, and they don't want to compromise – they want both sustainability and speedy delivery. Across the region, 67% of those surveyed expressed as much interest in receiving their goods quickly as they did in the sustainability of the online shopping process.
Naturally the picture varies slightly from country to country. For example, Australian consumers are more likely (58%) than others to consider sustainability as a higher priority than delivery lead-time. In India, the majority (76%) believe that shortening lead-time is more important than going green. Hong Kong consumers sit somewhere in the middle (64%).
SMEs acknowledge that consumers expect them to run sustainable businesses. But many (68%) either fear the associated costs or are unconvinced that any investment in this area will produce a return.
The data suggests otherwise. FedEx research shows that 8 out of 10 consumers in AMEA expect the e-commerce companies they buy from to pursue sustainable business models. These findings are backed up by a Bain & Company report, which revealed that 90% of Asia Pacific consumers are even willing to pay a premium for products that have a proven positive environmental impact2.
Yet, despite the fact that an overwhelming majority of the region's consumers actively prefer to buy from companies with an effective Environmental, Social and Governance (ESG) policy, only 29% of SMEs actually have one. Putting an ESG policy in place, and communicating its presence, is therefore an obvious first step on the path to embracing sustainability and winning the hearts, minds and purchasing power of customers.
Unfortunately, there is no silver bullet for achieving carbon net zero operations. An effective ESG strategy is the sum of many things. But there are plenty of smaller, individual wins that can make a big difference when they are added up. And here logistics providers can help.
Taking a more sustainable approach to delivery
According to McKinsey, in a typical consumer facing enterprise, supply chains create far greater social and environmental costs than internal operations, accounting for more than 80 percent of greenhouse-gas emissions1. Influencing upstream impacts by reducing packaging and eliminating plastics, is effective but takes time.
SMEs can make a significant and immediate difference by thinking about the logistics connecting their supply chain together all the way to the end consumer. Many logistics providers, FedEx included, are exploring solutions to cut carbon out of the delivery cycle. That includes investing in electric vehicle fleets for deliveries, sustainable packaging and using delivery lockers to cut down on the number of trips.
Equally importantly, technology opens up opportunities to more closely integrate logistics solutions into the e-commerce ecosystem to improve services. Digital solutions help increase efficiency and reduce paper trails. They also add new features that give customers complete control over their shipments by offering timely notifications and options to reschedule or redirect packages as personal schedules change.
A sustainable future
Sustainability is no longer an optional extra for SMEs interested in expanding their e-commerce business. Consumers in AMEA and around the world increasingly regard it an essential and non-negotiable part of their decision-making process. To win competitive advantage, fulfilling that expectation is in e-tailers' best interests.
Byline written by Kawal Preet, President, FedEx, Asia Pacific, Middle East and Africa (AMEA)