Building a new kiln for sustainable cement production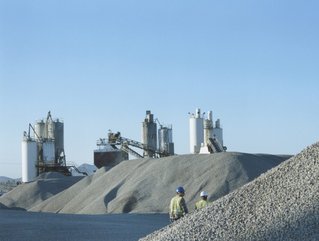 Due to fossil fuel combustion, cement production is one of the biggest emitters in the world. This Finnish company hopes to change that with electricity
Culprits in the climate crisis come in many forms. One that does not come immediately to mind is cement. Despite this lack of awareness, the facts are stark: if global cement production were a country, it would be the third largest emitter in the world, behind just China and the United States.
In total, 8% of global greenhouse emissions come from cement production, which requires a high temperature that typically can only be reached through combusting fossil fuels.
The company Coolbrook hopes to change this by electrifying the heating process. Adding to the company's vision are several high-profile partnerships with the industrial juggernauts ABB, Shell and Cemex.
In electrifying the cement production process, Coolbrook claims, 2.4 billion tonnes of carbon emissions could be avoided.
Coolbrook brought its vision to COP27, the annual UN climate conference that is currently being held in Sharm El Sheikh, Egypt. Said the Finnish company's CEO Joonas Rauramo: "The key reason why we wanted to be at COP27 was to bring the message that there are technologies available to solve the problem in industries that are considered 'hard to abate' or impossible to electrify, that there are technologies that can help in solving these challenges."
Powering a new kiln
The company's RotoDynamic Heater is currently capable of generating temperatures of 650°C and hopes to reach 1000°C in time. It does all of this without reliance on combustion but, rather, uses electricity to accelerate air and generate friction and heat, thereby forming a sustainable kiln.
While this heating process will not completely decarbonize the cement production process – the chemical process of calcination is vital to production and accounts for up to two-thirds of emissions – it is certainly a step in the right direction.
Rauramo sees Coolbrook's technology as the beginning: "Wind and solar felt like they started slowly, but that's what you see when you have an exponential growth curve. In the beginning it looks like it's slow but, once things get moving, the change happens really quickly."