EIF & BBVA partner to support sustainable investment plans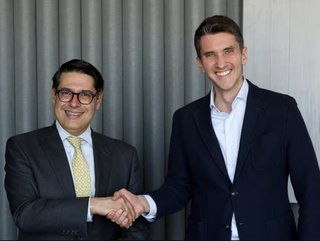 Ricardo Mourinho Félix, European Investment Bank Vice-President (left) and Roberto Albaladejo, Head of BBVA Spark (right). Credit: BBVA
The EIF is providing BBVA with a €200mn guarantee, supported by the InvestEU programme, to expand financing opportunities for startups through BBVA Spark
Startups with innovative and sustainable value propositions are set to benefit from more accessible access to financing, thanks to an agreement between the European Investment Fund (EIF) and BBVA.
Under the InvestEU guarantee programme, the EIF will provide a €200 million guarantee to support BBVA Spark, BBVA's specialised startup initiative, in its efforts to provide startups with the funding they need to grow and expand.
BBVA Spark focuses on promoting economic growth, competitiveness and sustainable development in the Spanish technology sector by supporting small and medium-sized enterprises (SME) and small mid-caps in sectors such as digitalisation and sustainability.
Supporting innovative startups
Marjut Falkstedt, EIF Chief Executive, states she is "happy" to be partnering with BBVA under the InvestEU programme, as it will "provide support to innovative startups under the BBVA Spark initiative."
She adds: "Together, we can help these companies scale-up their sustainability, innovation and digital potential, increasing their contribution to the green and digital transitions within Spain and across the EU."
BBVA Spark will use the InvestEU innovation and digitalisation guarantee to provide up to €100 million in financing for startups looking to adopt new digital technologies.
Additionally, the InvestEU sustainability guarantee of up to €100 million will enhance the support offered by BBVA Spark and the EIF for the transition to a green and sustainable economy. This funding will allow recipients to make investments that are environmentally friendly, inclusive, and promote sustainability.
The agreement will allow BBVA to access a guaranteed line with specific products provided by the InvestEU Fund, which will target innovative, high-growth technology startups in the areas of innovation and digitalisation, as well as sustainability.
Roberto Albaladejo, who leads BBVA Spark, and Ricardo Mourinho Félix, the Vice-President of the European Investment Bank (EIB), signed the agreement.
Albaladejo said: "At BBVA Spark, we want to help entrepreneurs seeking disruptive solutions to the challenges we face as a society. EIF support will enable us to offer more financing and growth opportunities to companies looking to scale their business."