Energy efficiency is the practical, proven path to net zero
By Tuomo Hoysniemi, Division President, Drive Products at ABB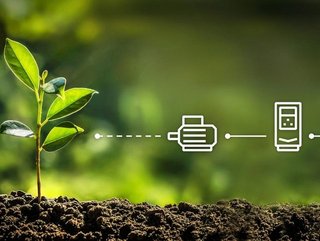 While transitioning from carbon-intensive energy sources to renewables is the shortest route towards a net-zero carbon future, it's not enough
Improving energy efficiency is one of four key thrusts of the decarbonisation movement, together with developing clean, renewable energy sources, replacing carbon-intensive applications with electrified alternatives, and accelerating the roll-out of emerging technologies in areas such as hydrogen and carbon capture.
The International Energy Agency (IEA) regards energy efficiency improvements as essential to a sustainable future, terming it the "first fuel" in the drive towards net zero carbon emissions by 2050.
The agency estimates that globally adopted energy efficiency measures could reduce energy use by seven percent by 2030 while still enabling the economy to grow by 40 percent. These measures can have an almost immediate impact using existing, readily available technology, such as variable speed drives (VSDs) paired with high-efficiency electric motors.
Millions of electric motors power compressors, fans, pumps, conveyors, and other machinery in virtually every industry today. They range from heating, ventilation, and air conditioning systems to factory production lines and pumping equipment for water treatment and supply.
The truth is that motor efficiency levels have improved significantly – and because motors have a long service life, many older motors are still in service that do not meet the new efficiency levels. There is a huge opportunity to replace them with newer, more efficient motors and pair them with VSDs to maximise savings.
Motor-drive packages for next-level energy savings
Advances by suppliers, coupled with green legislation such as the EU's Ecodesign Directive – which mandates that energy-using and energy-related products must meet certain environmental requirements – continuously stimulate the production of more efficient motors and drives. Industries could trim their power usage, on average, by 25 percent by simply switching to modern motors paired with VSDs.
VSD technology reduces energy waste by matching the motor speed and torque to the actual requirements of the process, rather than allowing motors to run at full speed all the time. Yet only around 23 percent of the world's motors use this technology. The fact that the number of industrial motors is expected to double by 2040 makes this disparity a fundamental challenge to address.
Fortunately, the Ecodesign Directive is actively encouraging the use of motors which meet international efficiency (IE) standards. From July 2023, some motor types will have to meet a rating of IE4 (the second highest class currently available) as the minimum efficiency standard.
However, it's possible to futureproof operations with the even more efficient IE5-rated technology already available in a synchronous reluctance (SynRM) motor and VSD package. This offers better savings on energy consumption, downtime, maintenance, and other ongoing costs than standard induction motors, which are the current industry norm.
A collective effort to drive sustainability
For Swedish group Ikea, the world's leading decoration and furniture retailer, sustainability is a main driver of innovation and growth, alongside a commitment to renewable energy. The group installed HVAC systems equipped with ABB's drives in two of its largest stores in Spain. The result was an increase of 25 percent in energy efficiency for each system.
Similarly, a luxury holiday resort in the state of Rajasthan, India, installed more than 50 ABB drives on the air handling units and pumps of its HVAC system. This is helping the resort save around 30 percent of its annual energy use.
Energy efficiency can help to reach the 40 percent emission reduction targets set in the Paris Agreement. Whereas the steps taken to improve these two HVAC systems may seem small, applying similar solutions in many buildings can collectively represent a giant step towards a much more environmentally sustainable society.
Mitigating harmonics in critical applications
All power networks have some level of distortion in them – with one of the most common types of distortion being harmonics. This introduces losses in the network which waste energy and increase costs. Harmonics can also cause interference to sensitive electrical equipment, resulting in damage to network efficiency and reliability. This can lead to severe problems for critical applications in environments such as hospitals, utilities, and data centres.
Due to the inherent way traditional drives consume electrical energy, they commonly introduce harmonics into the supply network. ABB has solved this challenge by developing special ultra-low harmonic (ULH) drives. They require no complex filters, multi-pulse arrangements or special transformers to reduce harmonics, since they produce hardly any harmonics in the first place.
Using the power of digitalisation
Innovative improvements do not end with hardware. Digital services associated with modern technologies enable operators to identify and address inefficiencies. With remote connections, sensors, and services, systems can provide real-time data on energy use, performance, and the condition of rotating electrical equipment.
This enables operators to take actions that will optimise energy use, thereby improving energy efficiency. Since these systems are digitally connected, energy improvement measures can be implemented remotely, reducing the need for costly on-site labour.
For example, the CAFC water company in Italy serves 122 municipalities over a vast territory, with 250 employees performing periodic checks and maintenance interventions when failures occur. To reduce the number of maintenance staff and optimise their activities, the utility introduced the ABB Ability™ Condition Monitoring digital solution for powertrains.
Enabled by smart connectivity technology, the condition monitoring service allows CAFC to perform predictive or "condition-based" maintenance. This means it can perform maintenance based on the actual condition rather than on a set time schedule, intervening only when necessary.
With the help of data insights, informed decision-making, and expert support, the utility was able to lower energy consumption and maintenance costs. Today, CAFC performs once-a-year maintenance on all the motors and pumps in the aqueducts, involving just an electrician and a mechanic.
The latter will continue performing tasks that need to be done on-site, such as lubrication. However, the electrician's physical presence is likely not necessary since ABB's digital technologies allow for the remote monitoring of the parameters.
New, flexible business models also pave the way for continuous energy optimisation services. A trusted partner such as ABB can share the responsibility for gradually improving electrical motor-driven equipment's energy efficiency while maximising customers' asset value.
Energy efficiency is the future
While energy efficiency improvements may seem like a more expensive upfront investment, payback is typically within a few years. In fact, with today's energy prices, payback time can be as short as a few months. Besides, energy efficiency will continue to pay dividends well beyond this period as a result of additional cost savings, performance benefits, and sustainability. This makes decarbonisation economically viable throughout the value chain while providing a feasible path to net zero.
ABB is dedicated to raising awareness of how efficiency can contribute to achieving Net Zero, which is why we launched the Energy Efficiency Movement in 2021 as a global forum. We regard this as crucial, prompting us to invite all industrial businesses – even our competitors – to join.
As well as inspiring others, a key aim is to gather hard evidence in the form of case studies that demonstrate the potential for reducing carbon emissions and cutting business costs.
Since its launch in 2021, the Energy Efficiency Movement has received a positive reaction from throughout industry, with around 300 companies already signed up. Among them are industry leaders such as Microsoft, Alfa Laval, DHL Group and Wärtsilä.