Etihad Airways plans to use sustainable fuel made from CO2
Etihad A380 Credit: Etihad
Etihad Airways and Twelve have partnered to promote SAF, in a bid to boost renewable energy in the aviation sector and tackle the industry-wide issue
UAE-based airline Etihad Airways has partnered with Twelve, a carbon transformation company, to promote sustainable aviation fuel (SAF) produced from CO2 and renewable energy.
Twelve combines renewable energy and water to convert CO2 into vital chemicals and materials derived from fossil fuels. This innovative formula reduces lifecycle emissions by 90% compared to traditional fossil-based fuels and is compatible with current aircrafts.
Etihad's sustainable mission
The new partnership aligns with Etihad's sustainability goals of achieving net-zero emissions by 2050 and converting waste into fuel, with a target of diverting 75% of waste from landfills by 2025. The collaboration is driven by the growing demand for SAF among various airlines.
In 2019, the airline introduced the Etihad Greenliner Program, which allocated a Boeing 787-10 Dreamliner to focus on sustainability initiatives. The programme aims to identify and tackle key sustainability challenges through partnerships with Boeing and engine manufacturer GE.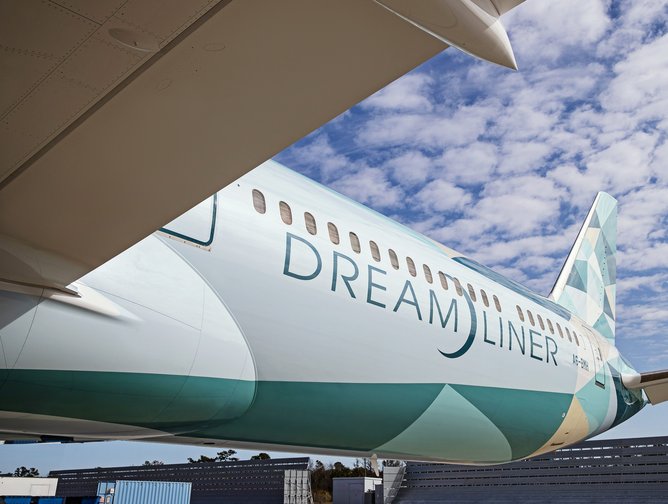 Etihad Dreamliner Credit: Etihad
SAF aligns with Etihad's commitment to driving innovation and transforming the aviation industry towards sustainability, and the new partnership reinforces Etihad's mission and sustainability efforts.
"Etihad Airways is working hard on its sustainability strategy and deploying a range of initiatives across the spectrum of sustainability to achieve that," Mohammad Al Bulooki, Chief Operating Officer at Etihad said. "Collaborating with sustainable aviation fuel makers like Twelve to advance products like E-Jet fuel is an important part of that drive."
A long-term solution for addressing aviation emissions
Twelve has developed a low-carbon jet fuel, E-Jet fuel, produced using carbon transformation technology, which has been tested and verified by the US Air Force.
By joining forces, the two businesses aim to plan international demonstration flights to promote SAF in the global market.
Twelve's CEO, Nicholas Flanders, describes the partnership as an "honour" while highlighting the company's progress towards a supply of drop-in jet fuel made from air and not oil.
Flanders continues: "Our E-Jet fuel allows airlines like Etihad to reduce emissions by up to 90% with their existing aircraft fleet, which will be critical to achieving the United Nations' 2050 net-zero emissions target in aviation."