Exclusive Video: Anna Pierce, Tate & Lyle
Anna Pierce, Director of Sustainability at Tate & Lyle, discusses lessons on scaling a regenerative agriculture programme at Sustainability LIVE New York
Sustainability Magazine, Feedspot's number-one ESG magazine, hosts a number of in-person and virtual events throughout the year, welcoming the world's most influential sustainability leaders to the stage to discuss some of today's most pressing topics.
On 19th April 2023, the first-ever Sustainability LIVE New York was held, where thousands of delegates tuned in virtually from across the globe.
Sustainable Agriculture: Lessons on scaling a regenerative agriculture programme
According to the recent IPCC report, food system emissions, from agricultural production, land use, packaging and waste management, account for nearly a third of global emissions.
Most leading food and drink producers recognise that reducing greenhouse gas emissions from their supply chain (Scope 3 emissions) and safeguarding precious natural resources will make the biggest positive impact.
In Tate & Lyle's case, reducing the environmental impact of farming its two main raw materials – corn and stevia – represents its biggest opportunity to deliver on its science-based Scope 3 emissions commitment.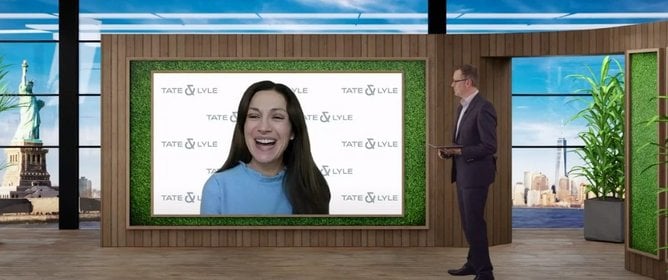 Anna Pierce, Director of Sustainability at Tate & Lyle
In this session, Anna Pierce, Director of Sustainability at Tate & Lyle, shares her experiences of running sustainable agriculture programmes, including lessons learned.
Anna discusses what scaling regenerative agriculture actually means for Tate & Lyle, as well as some of the biggest lessons the business has learnt along the way.
She also discusses the business's sustainability credentials, stating: "We're committed to achieving net zero by 2050, as well as many other ambitious targets, including emissions reduction targets for 2030.
"Tate & Lyle also approved science-based targets by SETI. Along with that comes that commitment to 100% renewable electricity by 2030."
Anna continues to discuss how technology can be used to improve sustainable solutions, how the business's commitment to attaining sustainable suppliers, as well as many other pressing topics.
To watch any of our other speakers from Sustainability Live USA, click here.
To find out more about upcoming Sustainability Events, click here.
To find out more about sustainability, visit Sustainability Magazine.
To take a look at our previous events, click here.