Singapore: A global hub for sustainable innovation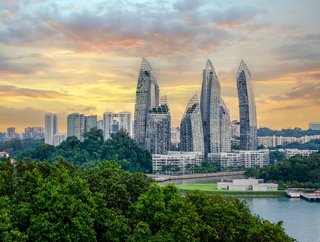 Singapore has its ambitious sights set on becoming the leading digital sustainability hub in Asia – and the world
Aon and Schneider Electric, and other firms launch sustainability hubs in Singapore to foster a green business ecosystem
Singapore may be small in size, but the Asian nation is big on ambition.
Not only has Asia's smallest country been crowned world's smartest city and best place to do business, but it has been named seventh most innovative, and most recently, stole the crown as Asia's leading financial centre from Hong Kong.
Now, the city-state has its ambitious sights set on becoming the leading digital sustainability hub in Asia – and the world.
Among the innovators anchoring Singapore as a global hub for sustainability and innovation – Schneider Electric and Aon recently announced the establishment of centres here, as they look to pursue innovation at scale and develop new solutions to help organisations meet their climate commitments.
While Aon's new climate innovation hub will help clients regionally and worldwide to navigate emerging environmental risks, challenges and opportunities, Schneider's new Sustainability Competency Centre, opening next month, will not only help companies accelerate their journey to net zero, but will anchor Singapore as a global hub for sustainability leadership and innovation by driving R&D in sustainability services.
According to Png Cheong Boon, Chairman of Singapore's Economic Development Board (EDB), these new hubs "will complement Singapore's growing ecosystem of sustainability solutions providers that can help businesses meet their climate commitments, support their energy transition and explore green growth opportunities."
These launches by Aon and Schneider follow a string of big consulting names that have brought regional sustainability hubs to the nation over the last 18 months, all part of the EDB's strategy to help the nation achieve new heights in sustainability excellence on the world stage.
Aon opened new climate innovation hub in Singapore this month
PwC and BCG among consultancies rolling out Singapore-based sustainability centres
At the end of 2021, PwC launched the Asia Pacific Centre for Sustainability Excellence (CSE), to support regional organisations with their decarbonisation efforts as well as in other ESG areas, from climate risk to sustainable finance.
Six months later, Boston Consulting Group followed suit opening its first dedicated climate and sustainability hub for innovation in Asia, in Singapore, to provide companies with support to transition to a low-carbon future
Since then, design-led consultancy Arup and global engineering and advisory group AECOM have both established climate centres in the city. Arup launched its Centre for Climate Action in Cities (CCAC), to help organisations navigate risks, identify opportunities, and implement climate emergency changes; while AECOM established its Sustainable Legacies Centre of Excellence, to provide a hub for innovation, training, and thought leadership.
As AECOM's President Lara Poloni said at the opening, "Singapore has risen rapidly as a global leader in sustainable development thanks to exceptional talent and the city nation's bold approach to addressing environmental issues."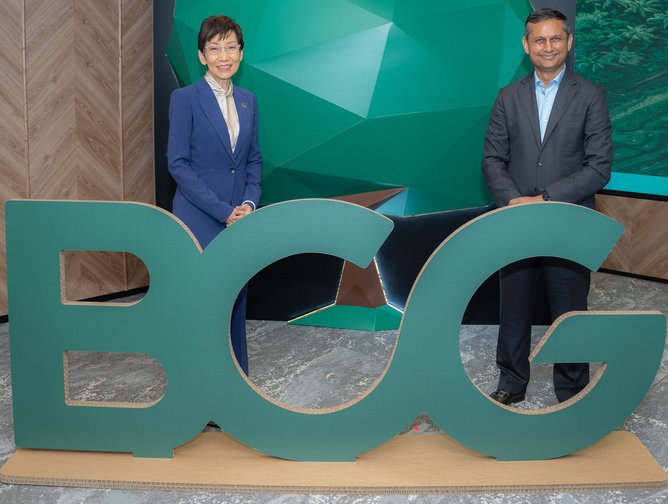 BCG's dedicated sustainability hub for innovation
Singapore on way to meeting sustainability ambitions
The country's moves towards a greener future are certainly ambitious.
As part of the Singapore Green Plan (SGP) 2030, the Lion City has committed to halving carbon emissions and greening 80% of buildings by 2030 and achieving net zero emissions by 2045 in the public sector, and by 2050 as a country.
And earlier this year, the government appointed a Chief Sustainability Officer – making the country the world's first to have such a role. Lim Tuang Liang is charged with driving long-term national sustainability targets.
And the country is well on its way to achieving the ambitious plan it has set out, ranking among the most sustainable cities in Asia-Pacific, placing fourth in Knight Frank's Arcadis Sustainable Cities Index – after Tokyo, Seoul and Sydney.
"Singapore is a leading innovation centre and a global leader on climate and resilience; therefore, it is fitting that we establish our new climate hub here," Aon APAC CEO Anne Corona says.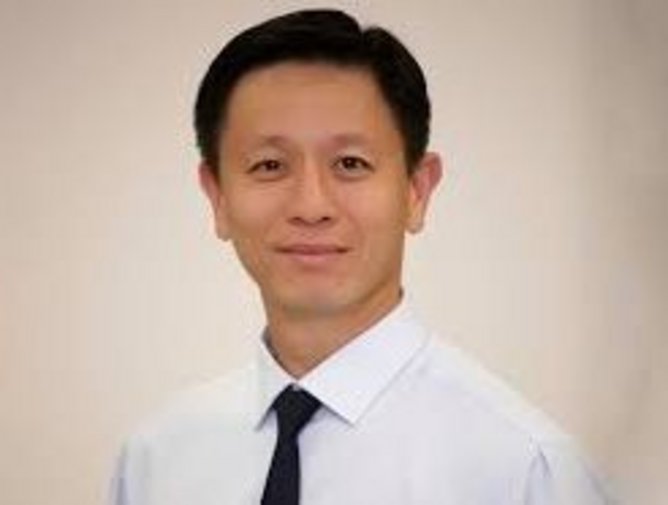 Singapore government's Chief Sustainability Officer Lim Tuang Liang is charged with driving the Green Plan 2030
Aon and Schneider Electric open new hubs for sustainability
Housed in Aon's Centre for Innovation and Analytics (ACIA), in Singapore, the firm's new climate innovation hub will bring together the best of the firm and the expertise in Singapore to innovate to "address new and emerging risk in climate, ESG, workforce resilience, digital client solutions and other key risk and human capital challenges", says Anne.
The firm has committed to investment over the next decade to further enhance its data, analytics and insights, and develop new solutions to better advise clients on emerging and evolving risks that are increasingly complex and interconnected.
"Through this hub, Aon will be able to provide better analytical capabilities and solutions, which will allow clients to have greater clarity and confidence to shape decisions that protect and grow their business," Anne explains.
For Schneider Electric, an investment of S$7 million is boosting its presence in the region with the opening of the first phase of its Sustainability Competency Centre (SCC) in Singapore next month.
Marking a milestone for Schneider, which is celebrating its 50th anniversary in Singapore this year, the new centre will focus on capability building and leadership training as well as providing companies with the expertise needed to strategise, digitise, decarbonise and accelerate their journey to net zero.
Housed within Kallang Pulse-Schneider Electric's East Asia HQ in Singapore, the SCC will serve as a global hub for sustainability leadership and innovation by driving R&D in sustainability services – including conceptualising ways to help SMEs commit to their emission reduction goals.
A key component of the SCC, the Sustainability Leadership Programme (SLP) will look to develop the next generation of industry experts in Asia, with a two-year rotational programme offering development activities, exposure to leadership and on-the-job training. The programme will hire and train 50 people to start.