In Europe, even as industry slides, emissions go up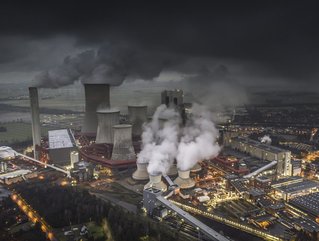 The Ukraine war has forced economies to move from gas consumption to coal, leading to a rise in emissions as winter sets in and people heat their homes
To some it may come across as another example of a world turned upside down: despite the fact that there is an industry standstill, that gas supplies from Russia are drying up this week, and that the continent is on the verge of a recession, carbon emissions in Europe have jumped by 20% in the last month.
The reasons behind this fact stem from the transition from gas power to coal power after Russia's invasion of Ukraine cut off gas supplies.
Kayrros, the climate technology company which specialises in earth observation capabilities, supplied the data illustrating this shift.
As winter sets in and temperatures plummet, people use more power to heat their homes and other spaces, leading to a rise in emissions. It is still only November and these figures will be increasing in the coming weeks and months.
Coal is the culprit
The use of coal power in Germany is the biggest culprit and has accounted for half of the increase. While gas power has been declining across the continent since October, coal power use has hit its highest level since last March.
The war in Ukraine has complicated this annual uptick. As politicians hope to wean the continent off Russian-supplied gas, coal power is one of optimal second choices for power.
Prior to the war, Germany had aimed to phase out all coal power by 2038.
Kayrros, the technology company tracking this rise, was founded in 2016 and has offices in Paris, London, Houston, New York, Singapore and Bangalore. Using satellite technology, AI models and geo-analytics, the company has become a leading supplier of environmental intelligence and advises governments, businesses and investors on the threats of a changing climate.
Speaking on the new data coming out of Europe, Kayrros President and CEO Antoine Rostand said the following: "Europe is currently experiencing the worst of both worlds. Industry has been hit hard by the hike in energy prices, but in part because companies have changed their fuel mix from gas to coal, emissions are going up as well. This has exacerbated the rise in emissions typical of this time of year."