Looking to the future with autonomous yard operations
By Andrew Smith, Founder and CEO of Outrider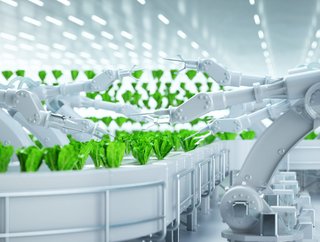 Here we interview Andrew Smith, the CEO of Outrider, and he tells us about the future of autonomous logistics management and what it can do to sustain us
Tell us about yourself.
My name is Andrew Smith and I am the founder and CEO of Outrider, an autonomous yard operations company based in Golden, Colorado. My role at Outrider is to drive forward our mission to accelerate the adoption of sustainable freight transportation by deploying zero-emission systems with an initial focus on distribution yards.
Each year, distribution yards serve as a transition point between the warehouse and the open road for over 20 billion tons of freight moving around the world each year. Today, these yards are filled with manual, repetitive tasks that contribute to the inefficiencies and carbon footprint of supply chain transportation and logistics.
Transportation is the second largest contributor to greenhouse gas emissions and, subsequently, global warming. As a lifelong mountaineer, climber, and skier, I want to drastically reduce the use of fossil fuels to preserve outdoor experiences like these for generations to come.
What led you to this industry?
I grew up in northern New England and spent a lot of time exploring in the woods. In the sixth grade, I fell in love with cars – specifically Ferraris, Lamborghinis and Porsches. In the seventh grade, my science teacher pointed out that those cars had bad fuel economy, wasting fossil fuels and emitting carbon dioxide. From that moment, I was inspired to change that. Originally, I wanted to create the first consumer electric vehicle, but Tesla beat me to it so I shifted my focus to trucking.
As one of my first forays into trucking, I met some frustrated aerodynamicists who pointed out that the least fuel-efficient shape to pull down the highway was a rectangular box. So, I founded ATDynamics, which focused on reducing the low-pressure, aerodynamic drag behind a semi-trailer to improve fuel economy.
After successfully selling ATDynamics, I turned my attention to distribution yard operations. Distribution yards contribute to our carbon footprint in two ways. First, there are 50,000 diesel yard trucks operating in North America which emit 3.8 million metric tons of carbon dioxide annually. Second, distribution yards are inefficient, so over-the-road diesel semi-trucks run idly for hours waiting to drop off and pick up trailers. Combined, diesel yard trucks and diesel semi-trucks in distribution yards emit carbon dioxide equivalent to two coal-fired plants into the atmosphere each year.
I knew the fastest path to reducing these emissions was to make distribution yards both autonomous and electric.
Why did you decide to found Outrider?
Distribution yards operate today as they have for decades, so there was ample opportunity to reinvent those operations using innovative, clean technologies to make a positive impact in the near term.
Outrider automates all the manual, repetitive tasks in the yard to increase efficiency, namely to get semi-trailers filled with goods moving down the highway and putting that diesel fuel to better use. Since its inception, Outrider has committed to building its autonomous system on a zero-emission yard truck platform to drive the rapid replacement of those 50,000 diesel yard trucks with electric ones.
While there are many links in the supply chain, we decided to focus exclusively on the distribution yard. Distribution yards are generally located on private property in well-defined areas – an ideal and nearer-term application for autonomy. While autonomy on public roads may be years from now, Outrider's yard automation solution is already being used by multiple Fortune 500 logistics-dependent companies.
What are autonomous yard operations?
Autonomous technology in the distribution yard leverages advanced software and robotics to complete the repetitive tasks that were previously done manually. Outrider's autonomous system performs various functions, such as maneuvering trailers through the yard, hitching and unhitching trailers, connecting and disconnecting air lines, and backing into tight parking and dock spots – all built and integrated on a zero-emission yard truck platform.
Outrider's product consists of a 3-part integrated system. First, autonomous vehicles move trailers and precisely maneuver between dock doors and parking spots. Second, cloud-based software is used to dispatch and monitor multiple trailer moves – onsite or remotely. Third, site infrastructure – consisting of simple communications, controls, and other capabilities – is used to quickly and cost-effectively deploy automation across an entire distribution network.
Tell us about how the Inflation Reduction Act has impacted you and the transportation and logistics industries.
The Inflation Reduction Act (IRA) is a major step in accelerating the adoption of zero-emission commercial trucks. That said, companies are still in the midst of figuring out the best ways to take advantage of those incentives and benefits.
At Outrider, we see the IRA as a pathway for companies to achieve up-front cost parity on zero-emission vehicle purchases versus current diesel-fueled trucks. This lowers the barrier to entry for companies to transition their fleets from diesel to zero-emission, and ultimately, make those fleets autonomous.
Outrider benefits from the IRA as we purchase electric yard trucks from our OEM partners. Our dedicated fleet is used at our Advanced Testing Facility and for pilots at our customers' sites. Furthermore, as our customers acquire electric yard trucks with the Outrider custom specifications, they will see an even lower overall total cost of ownership for their autonomous, zero-emission yard operations by using these incentives.
What are your thoughts on clean vehicle technology?
Everyone wants their package tomorrow, but at the rate the planet is warming, no one will want to deliver it let alone step outside to receive it in 120-degree heat. Adopting clean vehicle technologies is no longer a nice-to-have, it's a must-have. That's why since its inception, Outrider standardized its autonomous system on zero-emission electric vehicle platforms.
Electric vehicles are ideal for autonomy because they offer clean, reliable power. Electric trucks have significantly fewer mechanical issues – and more longevity – than their diesel counterparts, making them the best platform for autonomous vehicle systems. Additionally, basing AVs on fully-electric drivetrains eliminates the need for on-site diesel fuel points and fuel delivery.
Using clean energy vehicles in all of our commercial transportation will lead to a cleaner environment – helping us to reduce carbon emissions by 40% by 2030. With the planet's temperatures reaching higher levels than ever, enterprises must embrace clean technology.
How are climate tech startups and corporations working together to overcome adoption challenges and mutually benefit from the Inflation Reduction Act?
Climate tech startups must serve as resources to their customers on ways to reap the benefits of the Inflation Reduction Act. Outrider works with customers to prepare their logistics hubs to be both electric and autonomous.
We advise Fortune 500 logistics-dependent companies on the key steps needed to prepare for electric, autonomous yard operations. First, order battery-electric yard trucks with the "Autonomous Outrider Specification," which may likely qualify for the Inflation Reduction Act incentives. Second, logistics sites must be designed to support autonomous electric vehicles, such as having the proper infrastructure to support charging stations and wireless networking. Third, processes and procedures may need to be updated to optimize for the safety and efficiency of these autonomous, electric fleets. Last, but not least, companies must prepare their personnel to support and work alongside these operations.
At Outrider, we see the Inflation Reduction Act, the autonomy-specced electric yard truck, and Outrider's autonomous system as a 3-way catalyst for the adoption of clean vehicles in the commercial and industrial sectors.
What do the next 12 months hold for you and the supply chain industry?
Over the next 12 months, we'll see the accelerated use of autonomy and robotics in the supply chain. Industrial robots in the world now exceed the population of every U.S. city except New York and Los Angeles. As industrial robots rapidly advance their capabilities, logistics-dependent enterprises will increasingly use this technology to combat labor shortages and inefficiencies within the supply chain.
As for Outrider, we'll continue to release new capabilities and features and define long-term scaling plans with our customers so they can rapidly realize yard operation efficiency gains and meaningful reductions in emissions.