Mars: Restoring coral reefs to boost biodiversity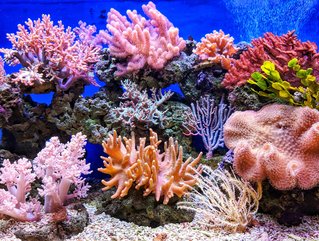 Mars has pledge to 1 million corals worldwide by the end of 2023, Credit: Oleksandr Sushko on Unsplash
Mars has recently embarked on The Big Build to boost biodiversity and to meet its target of restoring 1 million corals worldwide by the end of 2023
Biodiversity breakdown, climate emergency and pollution are having major effects on coral reefs. If this is not soon rectified, 90% of the world's tropical reefs will be gone by 2043.
Coral reefs are a crucial part of the planet, as the UN Environment Programme estimates that they either directly or indirectly benefit 1 billion people across the globe.
Additionally, coral reefs contribute an estimated US$2.7tn each year in services, for example, by providing natural infrastructure to protect vulnerable coastlines from the effects of climate change.
How is Mars encouraging coral restoration?
Global snack manufacturer Mars has set the ambitious target of restoring 1 million corals worldwide by the end of 2023.
To achieve this, the business has recently embarked on The Big Build, a historic mission that planted 30,000 corals across 2,500 square metres. Over 100 individuals from 17 Indonesian conservation and science partners spent four days restoring coral reefs.
"Since 2011, we've been continuously developing and refining a low-cost, reproducible method of coral reef ecosystem restoration through our Mars Assisted Reef Restoration System (MARRS)," the business states. "Our method is based on installing a continuous web of Reef Stars – hexagonal sand-coated steel structures with coral fragments attached – covering barren coral rubble fields and gaps between the remaining live coral on the reef."
The Reef Stars facilitate recovery and rapid coral growth, leading to increased coral coverage while also revitalising the ecosystem, both above and below the water's surface.
Today, more than 60,000 Reef Stars have been installed, holding 900,000 living coral fragments each. What's more, the reef programme now reaches 30 sites around the globe, spanning 10 countries.
Mars is expected to continue its work on restoring coral reefs to meet its 2023 target.
*************************************************
For more insights into Sustainability - check out the latest edition of Sustainability Magazine and be sure to follow us on LinkedIn & Twitter
Other magazines that may be of interest - EV Magazine | Energy Digital
Please also check out our upcoming event - Sustainability LIVE in London at the BDC on Sept 6/7th 2023
*********************************************
BizClik is a global provider of B2B digital media platforms that cover 'Executive Communities' for CEO's, CFO's, CMO's, Sustainability Leaders, Procurement & Supply Chain Leaders, Technology & AI Leaders, Cyber Leaders, FinTech & InsurTech Leaders as well as covering industries such as Manufacturing, Mining, Energy, EV, Construction, Healthcare + Food & Drink.
BizClik, based in London, Dubai & New York offers services such as Content Creation, Advertising & Sponsorship Solutions, Webinars & Events.​​​​​​​