Nissan deploys electric heavy duty trucks in Los Angeles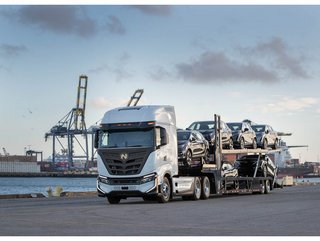 The trucks are already rolling down the streets of LA
The trucks, which will be used to deliver cars, are part of the company's Ambition 2030 plan, which aims to have 40% in electric sales by that year
The beast form of electric vehicles are taking shape and being deployed after Japanese automaker announced that it would be adding two EVs to its fleet of delivery trucks.
The trucks – of the sort that deliver cars to dealerships – are two-battery electric vehicles (BEV) known as heavy duty Class 8 trucks. They will be conveying vehicles coming from the Port of Los Angeles to car dealerships around the greater Los Angeles region.
Chris Styles, the vice president of supply chain management for Nissan North America, said in a statement: "Exploring the use of BEV trucks for new vehicle delivery is an important milestone in our journey toward carbon neutrality throughout our business.
"By being an early adopter of this technology, we're showcasing our innovative spirit and positioning ourselves to meet our long-term goals for zero-tail-pipe emission transportation."
The trucks which will be hauling the car transporters were developed by Nikola and Kenwoth, the well-established makers of electric trucks. Avant-Garde Auto Logistics LLC – based out of Smyrna, Tennessee – will help on the logistics side.

In addition, Nissan has worked with another logistics partner, Wallenius Wilhelmsen, to see that the Port of Los Angeles is outfitted with charging stations for the trucks.
An electric future
With the use of these heavy duty trucks still in something of a trial stage, the hope from Nissan is that the BEVs soon be deployed across the Los Angeles area.
The move by Nissan is in keeping with its plan of achieving net carbon neutrality by 2050. On the path to that goal, Nissan hopes to have 40% of its vehicles be electric by 2030, a part of its AMbition 2030 plan.