Rocketing to a greener future? Fireworks and New Years
By Natalie Bavis, Carbon Reduction Engineer at Tunley Engineering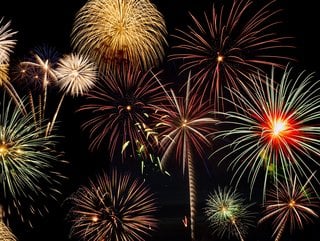 Change is in the air, as stagnant firework displays are reinvigorated. As we close in on the New Years holiday, we take a look at sustainable fireworks
Firework production is a booming industry. Each year in the UK, we spend around half a billion pounds on fireworks for Bonfire night, and the New Year's display in London alone costs approximately £2m. In the EU, hundreds of thousands of tonnes of fireworks are imported each year, bringing with them a large environmental dilemma. Along with the sizeable carbon footprint associated with fireworks, there are health concerns to consider for these dazzling displays.
The underlying science of fireworks hasn't changed a whole lot over the centuries. First appearing over a thousand years ago in China, fireworks are made of a fuel source, an oxidiser to ignite the fuel, and a chemical or metallic mixture to give the reaction colour. Individually, the compounds used can be quite nasty. However, we aren't exposed to the reactants of the fireworks, but the products they make. Some people may argue that deadly chlorine gas reacts with volatile sodium metal to the make table salt, but can the same be said for fireworks? Essentially, no.
Firework explosions release a mixture of fine toxic metal particulates that shower down on us as we ooh and ahh at the pretty display above. A mist of various chemical compounds fill the air, including noxious gases and dangerous particulates for human health (categorised at PM2.5 for smaller particles and PM10 for slightly larger ones). It's common that on Bonfire night and New Year's Eve, the safe exposure limit for PM2.5 and PM10 (25μg/m3 and 50μg/m3 respectively) rockets into the hundreds, and due to cold winter air takes days to return to acceptable levels. These particulates exacerbate breathing and heart problems and cause high levels of inflammation. Add to this noise pollution and the potential hearing effects and you have a perfect storm in the dead of winter. So where does scientific development come into all this?
Recent advances have targeted the very fabric of firework design to resuscitate the dinosaur. After complaints about plumes of smoke pollution by local residents, Disneyland patented a smokeless launcher technology. Using compressed air and an electronic fuse chip, the fireworks can be launched to a specified height and detonated with extreme precision, improving both air quality and the visual effects possible. This can reduce PM2.5 pollution by up to 50% in an area, depending on the quantity of fireworks used. Other ideas have included using nanotechnology to downscale the mass of reactants needed, offering similar performance with lowered emissions. But, as with any technology, the higher associated costs mean that most buyers will opt for the cheaper option, and regardless of the improvements, these displays still significantly impact local air quality.
Looking to the future
The 21st century solution is not to try and reinvent the wheel, but to toss out the friction laden design all together in favour of a hoverboard.
The 2020 Olympic opening ceremony saw fireworks scrapped in favour of a drone display. 1,800 drones danced through the nights sky with precise formation. Reusable year after year, drones can create shapes, colours and formations not possible with the 'chemical goes bang' tech of old, and with no smoke plume. An equally impressive display lit up the sky for the platinum jubilee celebrations in London. Similarly, laser light shows offer comparable benefits to drones, where intricate light designs can dance in time to music. In Spain, artist Daan Roosegaarde showcased his project for a light show that bounced off a 50-metre-wide field of biodegradable bubbles, creating a mesmerising exhibit across a huge area.
Technology is ever advancing, and as it does the only thing holding it back are those who wish to stand still in time. As people wake up to the environmental blight caused by the pretty lights that could, the advantages of living in a technological era become apparent. In with the new, old firework science is going out with a bang.