Single-use plates, cutlery and trays to be banned in England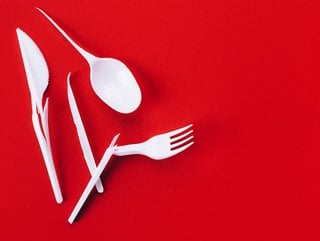 The move, which still does not yet have a hard timeline, will follow similar ones by Scotland and Wales, as well as a 2020 ban that ended plastic straws
British takeaways and chippies are going to overhaul some of their business strategy after it was announced that single-use plastic cutlery, plates and trays – those conveyors of greasy goodness, from source to mouth – are to be phased out in England. This move follows similar ones taken in Scotland and Wales.
Despite the fact that it is as-of-yet unknown when the ban will come into effect, the nation's Environment Secretary Thérèse Coffey claimed that it would benefit the environment for future generations: "I am determined to drive forward action to tackle this issue head on. We've already taken major steps in recent years – but we know there is more to do, and we have again listened to the public's calls.
"This new ban will have a huge impact to stop the pollution of billions of pieces of plastics and help to protect the natural environment for future generations."
Campaigners, meanwhile, praised the development but still maintained that a more encompassing plastic reduction strategy was in order.
A nation of plastic consumption
To date, England has a less than stellar record when it comes to reusable eating materials. According to one government estimate, 1.1 billion single-use plates and over four billion pieces of plastic cutlery are used every year.
On a person-by-person basis in England, an average of 18 plastic plates and 37 pieces of plastic cutlery are used every year. Of these, only 10% are actually recycled.
Generally speaking, it is this recycling problem that the government is targeting with these measures. Plastic, of course, does not decompose, meaning that, though it may be good for food hygiene, it pollutes soil and water on a huge scale.
The ban, though, will not apply to products sold in supermarkets or shops, just eating establishments.
This is not England's foray into banning what were once regarded as quotidian products: in 2020, it banned plastic straws, stirrers and cotton buds.