Sustainability isn't strategy, it's a way of doing business
By Tory Flynn, Chief Sustainability Officer of Hillenbrand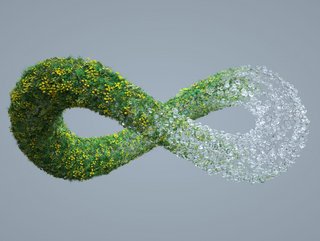 Looking past the buzzwords, a new approach to the very definition of 'sustainability' is sought, and it is one that highlights complex systems at play
I often surprise people when I say I do not want a sustainability strategy. I believe for sustainability to succeed; a sustainability strategy must be fully intertwined into a company's business strategy. These days, sustainability is often seen as a buzz word – a word that holds so much meaning but is often watered down by overuse creating confusion to what it truly means in the marketplace. We should move beyond seeing sustainability as a descriptor and start seeing it as an action. Sustainability is not only a useful tool to manage risk, but also on the forefront of innovation and allows us to think in new ways in serving our customers, engaging our employees, supporting our communities, and driving long-term value for our shareholders.
Sustainability discussions have become more commonplace in today's workforce thanks to a changing geopolitical and macroeconomic landscape. The increase of secular trends is creating a need now, more than ever, for us to adapt and engage our people, products, and partnerships to continue providing innovative solutions. For Hillenbrand, we've engaged in these discussions by striving to align our priorities with those of our key stakeholders through a formal materiality assessment. As a result, we focus on areas such as energy usage, operational efficiency, diversity, equity and inclusion, and governance topics as well as several other areas that we believe will have the greatest impact. Having a clear focus on priority topics helps us drive results through our people, partnerships and products. What's more, our sustainability practice is embedded in our company's operating model, which helps us drive results across our organization and is further embodied with our associates through our Purpose, Shape What Matters for Tomorrow™.
As a company that manufactures industrial equipment for the plastics and recycling end markets, in addition to food and others, I typically get asked the same question: Can plastics be sustainable? Plastics have certainly received a bad rap over the past few years, and it doesn't help that when we speak of plastics, the most common image that you, the reader, likely have is of single-use items. Focusing the sustainability conversation solely on single-use plastics is short-sighted because there is a wide range of long-life, renewable, and reusable applications for plastics. As a company, our focus is on durable plastics, which is an enabler for some of the world's leading sustainable practices, like light-weighting electric vehicles, prolonging the shelf life of food, making medical advancements, and delivering quality health care, and transporting a clean water supply. It's hard to imagine a life without plastics, and it's our responsibility to help ensure these materials remain controlled within our circular economy. Everyday, we are partnering with our customers and even looking at creating new materials – in some cases to replace petroleum-based plastics. That is what sustainability is – looking into the future and reshaping what it could look like in building new solutions to replace today's norms.
Hillenbrand is supporting a closed-loop system where plastics are made, recycled, and repurposed in order to keep them in our global economy and out of the environment. A strong example of this is our recent acquisition of Herbold Meckesheim, a leader in the front end of recycling processes with technologies that separate, shred, fine grind, wash and dry recycled plastic. From there, materials can go to equipment from another one of our brands, Coperion, where they can be fed through feeding and extrusion equipment and be made back into plastic pellets, the basic building block in plastics manufacturing. Following that step, these plastic pellets can be extruded or molded into high quality, more sustainable recycled products through equipment made by our other brands that offer injection molding, extrusion, hot runner, and similar solutions.
Leveraging community partnerships is also a key component to developing and launching a successful sustainability strategy. We have created a partnership model that approaches symbiotic relationships with mutual outcomes. This effort isn't about contributing money; it is about investing in a long-term outcome that benefits all stakeholders.
A good example of this is through our recent partnership with Net Impact, a global nonprofit that aims to support students and professionals who are interested in using their business skills to further sustainability efforts. Together, we launched the Plastics & Circularity Case Competition, which brings together the next generation of innovators to rethink plastic leakage, or the plastic that doesn't make it into our recycling systems, and look at new ways we can collect, reshape, or reimagine this material. Collection of plastics for recycling remains a global challenge, one that will affect the next generation. Engaging them in the solution becomes a natural fit to try to solve and educate on opportunities.
Sustainability is about "systems thinking," a means to collaborate with stakeholders and looking at complexities of the world by bringing together wholes and relationships to develop effective action in a complex setting. Hillenbrand's sustainability program has applied this concept to think outside of our company's four walls, which is why our people, products, and partnerships are critical to the success of our sustainability program.
To prevent sustainability from becoming an empty global buzz word, it needs to be the way the world operates. Thinking bigger than ourselves, innovating new materials alongside our customers, engaging our employees in meaningful work, and partnering for possibility all allow Hillenbrand to make our Purpose, Shape What Matters for Tomorrow, an action, and the way we do business.