Sustainable coda: Zaha Hadid's newest, and last, building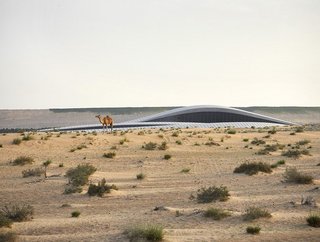 The inimitable British-Iraqi architect finishes her career in a statement that points towards a greener, more sustainable architectural paradigm
Before she died in 2016, the Iraqi-British architect Zaha Hadid was perhaps her generation's foremost practitioner, with marquee projects spanning the globe, from Los Angeles to Paris to Guangzhou.
The final project she herself designed – the headquarters of waste management operator Beeah, located in Sharjah, United Arab Emirates – has at last opened, and it is a testament to sustainability and to the potential that sustainable design features hold for the future of architecture.
The complex, shaped like a sand dune, fits seamlessly into its surrounding. It falls across 9,000 square metres and is constructed using sustainable materials. With a roof that has integrated solar panels and Tesla battery packs at work, the structure derives 40% of its energy from the sun.
It was designed with a high thermal mass, absorbing heat through the region's oppressively hot days, which it then dissipates at night to spur cooling. Its curved design – a trademark of Hadid's aesthetic – allows for natural sunlight to suffuse the space, reducing the need to use carbon-intensive lighting. Windows have been positioned to lessen solar glare, while special glass cuts thermal energy and keeps it cooler.
What's more, it has a built-in AI system which will teach the building to learn how to be more efficient people use it.
Building for the future
These design exigencies were articulated to The National newspaper by the managing director of the Beeah headquarters, Nada Taryam: "We aim to operate as sustainably as possible, and used recycled materials in the construction of the building… Native plants have been used in the landscaping and reduced the amount of water consumption. A power pack stores excess energy from the photovoltaic panels, so we have a holistic strategy to achieve sustainability."
Other features include staircases illuminated with a time-lapse video showing the building's five-year construction. These lead to an art gallery on the first floor.
The building, though recently opened, is now operating at its full capacity of 500 workers.