Top 10 US colleges offering a Master's in Sustainability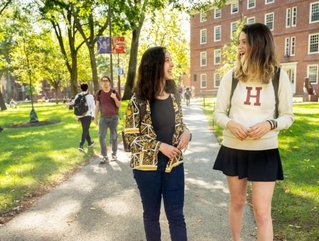 We zoom in on the Top 10 institutions offering Master's degrees in Sustainability
As more companies put sustainability at the heart of their business and organisational strategies, students with education and experience in this area will have access to an ever increasing number of roles in both the public and private sectors. With the US being home to some of the world's best universities, we zoom in on the Top 10 institutions offering a Master's degree in Sustainability.

10. Hofstra University
Emphasising the roles that ethics, economics, philosophy, and the environment play in sustainability, Hofstra University in Long Island, New York offers a Master of Arts in Sustainability. It's also home to the National Center for Suburban Studies, which allows students to consider sustainability within a suburban context.
9. Chatham University
Chatham University's Master of Sustainability/Master of Business Administration Dual Degree is offered through a collaboration between the university's MBA programme and its Falk School of Sustainability & Environment Master of Sustainability programme.
Designed to prepare graduates for leadership and management positions in sustainability in business and government, this course is understood to lead to a Master of Sustainability and a Master of Business Administration.


8. Rochester Institute of Technology
The Rochester Institute of Technology offers a Master of Science in Sustainable Systems, which considers sustainability within the context of environment, society, technology, and business. Students begin by learning about environmental life cycle assessment before moving more deeply into policy, working with faculty members to progress through the degree in a way that suits their interests.
7.American University
The MS in Sustainability Management is offered through the American university's Kogod School of Business. Its location in Washington, D.C. means American University is perfectly placed to give students real-world experience learning about the effects of sustainability policy on businesses and other organisations.


6. Franklin Pierce University – Master Of Business Administration In Energy And Sustainability
This programme, which aims to help graduates greatly influence corporate and community sustainability efforts, requires 13 courses, including Building a Sustainable Enterprise, Energy Economics, and the Future of Energy, Business, and Society.
5. University of Michigan at Ann Arbor
The University of Michigan at Ann Arbor offers a Master of Science in Environment and Sustainability which includes field based training designed to give students the expertise to make management decisions. Students can choose from one of six specialisms: Conservation Ecology; Environmental Informatics; Environmental Justice; Environment Policy and Planning; Sustainable Systems; and Behaviour, Education, and Communication.


4. Columbia University
Columbia University's Master of Science in Sustainability brings together management with environmental consciousness. Columbia is also home to the Earth Institute, which is understood to be the largest university-wide research group in the world that focuses on sustainability. The degree culminates in the Integrative Capstone Workshop, where students serve as consultants for a real client.


3. Arizona State University
Arizona State University offers both a Master of Arts and a Master of Science in Sustainability. The MA is focused toward education in the social sciences, humanities, and planning, while the MS is designed for those who have experience in the natural sciences, economics, engineering, and other science-based fields.


2. Tufts University
Tufts University has a Master of Science in Sustainability that helps students to build their experience supporting socio-ecological systems through sustainable solutions. Tufts also has two research centres that are both focused on the environment - The Global Development and Environment Institute (GDAE) and Tufts Institute of the Environment (TIE) are both focused on considering the environment. The GDAE is more focused on economic development within a sustainable context while the TIE looks at the way human behaviours affect the environment.
1. Harvard University
In at No.1 is Harvard University's Master's in Sustainability. Students in this programme have a choice of one of five concentrations, including Corporate Sustainability, Sustainable Cities and Communities, Environmental Policy and International Development, Sustainable Food Systems, and Natural Resource Management. During the capstone, students work with real-world clients.