Creating more roles for women in sustainable construction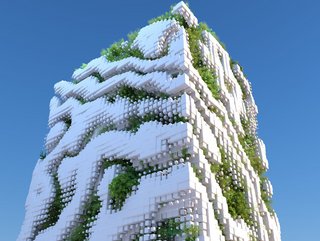 Since being elected as the first female President of Morocco Green Building Council, Wiam Samir has played a vital role promoting sustainable construction
In 2017, a study by the Organisation for Economic Cooperation and Development (OECD) claimed that under a quarter of women in the Middle East and North Africa are employed – one of the lowest rates in the world. At the same time, the WEF's Global Gender Gap Report stated that women in the Middle East and North Africa will not see equal political representation with men until the year 2116.
However, the green building movement shows a promising future for women in leadership. Out of the nine Green Building Councils in the MENA region, six are led by women, each of whom dedicate their lives to overcoming the negative impacts of climate change in the Middle East and North Africa.
Wiam Samir, the first female President of Morocco Green Building Council from 2018-2020, is one of the women demonstrating exceptional leadership in the sustainability movement. Now, Samir is a Sustainability Consultant and Projects Manager for ALTO EKO, an environmental services company that strives to improve the sanitary quality and living comfort of spaces in Morocco.
"It is a truly great feeling to be part of the movement leveraging and leading the green sphere. Being an advocate for a topic that matters on different scales, from civil society to governmental entities, helps us realise the importance of our cause and double our efforts to make change happen," said Wiam.
An advocate for a green and sustainable environment built on collaboration
After acquiring a degree in Engineering and Management Sciences from the Al Akhawayn University, Samir went on to gain experience as an intern for multiple manufacturing, supply chain and infrastructural companies. From there, she sought to gain a more permanent role as an engineer and consultant in environment, energy, and sustainable construction.
Between 2016-2018, Samir worked as a QHSE and LEED certification manager for the Casablanca Finance City Tower project. Designed to minimise ecological impact, the tower set precedents in building performance, scale, and technology throughout the MENA region.
In 2018, while serving as the first female President of Morocco's Green Building Council, Samir decided to reinforce her engineering and technical skills with a Masters in Interdisciplinary Design for the Built Environment from Cambridge University. Since then, she has continued to collaborate with other sustainability pioneers to transform the MENA region's construction landscape.
Speaking about her role at the 5th Edition Real-Estate Development Summit in Morocco, 2019, Samir said: "The targets of the project are to increase awareness and education, to achieve alignment between approach and certification schemes, and also to target the global market by showing examples of leadership. All of this started at COP21 for the Paris Agreement … the final objective is to limit global temperature rises below 1.5 degrees."
A role model for female leaders pressing for progress around the world
Samir and other women leaders in the green building movement are not only addressing the issue of climate change; they're also challenging gender inequality and fighting for equal opportunities in their countries.
Strict cultural rules in the MENA region mean that many women lack the same professional rights as men – including the freedom to pursue certain careers. Despite this, Samir's dedication to collaboration and sustainable construction has given her a strong platform to demonstrate the important role women have to play in addressing environmental and social issues.
In 2022, Samir achieved WELL AP accreditation and received the community award from the International WELL Building Institute (IWBI). As Sustainability Consultant and Projects Manager for ALTO EKO, Samir continues to advocate for buildings, organisations and communities that support global health and promise a healthier future for all.