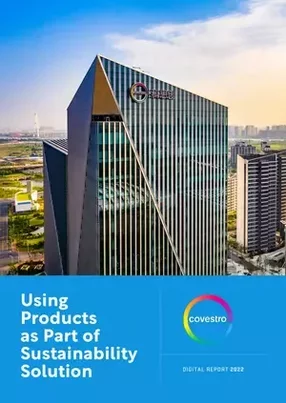 Covestro using products as part of sustainability solution
The plastic industry is seen as the problem, but by building a circular economy Covestro is proving it can be part of the answer to climate change
Engineering plastics is one of the seven business entities within Covestro with a range of sustainability goals. By design, its focus is on 'sustainability solutions', with different products in its portfolio serving different sustainability targets downstream. 
Roy Cheung is Global Head of Sustainability Solutions, Engineering Plastics, at Covestro and he has become increasingly aware of the need for cooperation throughout the ecosystem, from manufacturer to consumer and everything in between. 
"As we look to increase circularity exponentially, we need to work with external partners and our vast customer base," he explains. "We sell materials to other companies who make products which then need to be recycled at the end of their life. It's our job, within the business, to engage with customers, not only about selling our products and solutions, but also about uniting to roll out initiatives to take back and recycle the materials."
Indeed, Covestro has been aiming for a closed loop model for many years – a system which aligns itself with a robust circular economy and involves all the different aspects of company operations, while also involving the wider global ecosystem.
"This is something that excites me," says Roy. "To develop and grow a new idea into reality and witness its ability to become sustainable represents the central focus for us. This is particularly important because of the nature of our business – as a raw materials provider. Naturally, our carbon footprint is part of the scope three emissions of our downstream customers, so whenever we achieve a product with a lower footprint, or with an increased circularity, it benefits the entire ecosystem."
There is no escaping the fact that the plastics industry is very energy intensive, but if the carbon footprint is heavily reduced – which Covestro is passionate about ensuring – the narrative around plastics does change radically.
Indeed, alongside its CO2 reduction plan, Covestro is keen to show how responsible plastic use is actually part of the solution to climate change and that responsible plastic incorporation is sustainable throughout the world, and on a long-term basis. The pivotal aspect of the plastics scenario is to move away from a linear, "take-make-waste" model, and the practice of recycling parts becomes an intuitive part of the manufacturing and functionality of products.
Roy notes: "We need to educate people, not just about the nature of materials and plastics, but how they use the materials. Only then can people appreciate that it is not plastics that are causing the problem but our behaviour around them. That's the essence of the Circular Economy." 
As the world's population reconciles to the current situation and the issues around ending deforestation and the burning of fossil fuels, plastic producers such as Covestro have the significant job of demonstrating how their products can support sound environmental practices. This is the shape of things to come and Covestro has been aware that the shape is circular. The natural end being replaced by an endless and wasteless cycle which benefits everyone and, mercifully, the planet itself. 
Going full cycle
Two years ago Covestro began to shape out a new corporate-level vision called 'Fully Circular'. Guided by a principle which urges the entire organisation to move forward positively with the intention of taking on the negative aspects of climate change and realising that steps to alleviate it are possible. This mission is translated into some key areas. 
The first pillar concerns how the company can be much more independent from fossil fuel resources, by using alternative materials.
"This means using non-fossil based materials such as bio-waste, biomass or recycled materials," says Roy. "We have a whole portfolio of products which contain post-consumer recycled (PCR) plastics. At present PCR serves primarily the electronic industries, so if you are using a laptop of a major brand in the U.S. or Europe, the chances are it will contain some percentage of recycled plastics that come from companies like us."
The second pillar involves the essential principles of the circular economy. "The key for this lies in recycling," insists Roy. "We are investing a lot in recycling technologies because there's a huge amount of plastic waste that cannot be mechanically recycled properly. With different types of plastics, you need another type of recycling technology – chemical recycling."
The third is called 'joint solutions'. This means working with partners upstream as well as downstream.
A good example of this cohesion is Covestro's recycling of the enormous 19 litre water bottles. These are used throughout many countries – typically in offices – and made out of polycarbonate. Historically the water company would collect the old water bottles and refill them a few times, but at the end of life these would be disposed of. Therefore, it has been essential that the company discovers how to integrate the old bottles into a circular model.
Roy says: "Now we're working with one of the biggest water bottlers – Nongfu Spring – to retrieve all end-of-life water bottles. We're talking about one million bottles every year across China. These then become recycled raw materials for other applications, such as electronics. It's a great case study of one item reappearing as another, and in a completely different industry."
Plastic population
The company has endeavoured to unite every employee with the same fully circular vision, with every function making a contribution from procurement to operations to sales. It also includes supporting functions like HR, controlling and supply chains. 
Roy explains: "To bring every single employee on board; to equip them with precisely the knowledge they need is a constant challenge. But we are seeing positive change. There has been a growing number of early adopters within the organisation who are already showing willingness to contribute. They tend to be curious people, with many from the younger generation, who have a clear idea about what they want on sustainability for future generations."
Covestro is also encouraging digital expansion among its workforce with many digital initiatives encouraging more sustainable behaviour. This is particularly useful when it comes to the traceability of materials. 
"We want to locate and trace the good quality recyclable plastics, but it isn't possible without implementing AI technologies and digital mapping. Traceability and transparency of the supply chain is a major theme when it comes to upholding the circular economy."
The circular challenge is certainly one that the company, and Roy in particular, is focused on. It represents the epicentre of where it needs to be in the coming years. "That model involves how people use the products and the speed of this process will increase as the lifespan of products reduces. Across the 'linear economy model' there is a negative narrative around plastics but with circular you are concentrating on reusing and recycling rather than being distracted by the waste element."
The concept of circular has been further enhanced by Covestro's efforts to promote design strategies that put future recycling in mind.  Roy notes: "We think circular design strategies should be incorporated at the beginning of the product design process, so that designers are thinking about what the product will offer when it is ready to be recycled and whether it can easily be dismantled, separated and sorted."
Global solutions
The traditional markets for Covestro are China, Europe – particularly Germany – and the Americas, with a specific focus on the U.S. 
The circular concept requires all these regions to operate symbiotically as Roy describes: "It's a global phenomenon but in order to solve the constant problem of waste, we need to close more loops, and that has to be at a local level. We need more voices and contributions from all countries and companies – big and small. 
"A great many recyclers, especially in developing countries, are not big companies. Some of them are startups or social enterprises, or even operated by a single individual level. Therefore inclusiveness and diversity have a huge role to play. Beyond circularity or plastic recycling we must embrace and prioritise the challenge of alleviating poverty."
This notion of cohesiveness is essential to achieve full circularity, and Covestro is adamant that it cannot be achieved alone or within one single institution, industry or nation. "We really need more partnerships to have more collaborative models. We're living in an era in which we are constantly discovering new innovations and working together is the key to leveraging them. This has to happen internationally and by groups of people with an understanding of the common goals involved."
With this philosophy and a determination to go circular on an all-encompassing scale, the future looks bright for Covestro.
"In the near future, we want to be more circular than we are right now and we will have more solutions in our sustainability portfolio entering the commercialisation phase. We're going to have more carbon footprint data available, more transparent data about supply chains downstream and much more closed loop models with our partners."
"Eventually we're going to achieve our fully circular goals, while helping our downstream customers achieve theirs." concludes Roy.
It's a bold statement but one which resonates. After all, for Covestro, perhaps more than many other companies, it has been about encouraging a tremendous cultural shift and recognising its place in the climate change equation – realising that even plastics can become a force for good.