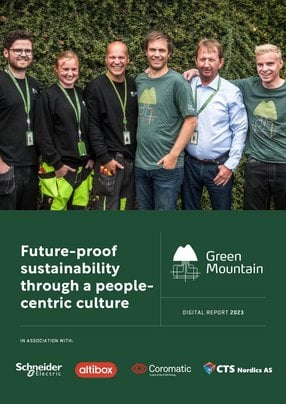 Future-proof sustainability through a people-centric culture
The team behind sustainability pioneer Green Mountain share their insights into ESG, The Scandinavian Management Philosophy and collaborative cultures
"To operate efficient state-of-the-art colocation data centres, the number one priority for Green Mountain is to have skilled, motivated, and enthusiastic employees who are up for the task."
This is the ethos of Tor Kristian, the CEO of Green Mountain. And it is this people-centric approach that has shaped the entirety of Green Mountain's company strategy.
"Whether it is the operations team, project managers, service delivery, sales, management or supporting functions – they all contribute to the same goal; "Setting the green standard" in the data centre industry."
According to Kristian, Green Mountain is shaped by four core values: a strong customer focus; reliability and honesty; knowledge and enthusiasm.
"These values are deeply rooted in our company culture and reflect on anything we do. After all – it is all about the people."
To delve deeper into Green Mountain's people-led philosophy, and the importance of the human factor in the running of a data centre, we spoke to four Green Mountain employees, spanning the company's entire value chain.

Securing 100% uptime - Operation Technician, Abhishek Jagga
How do you and the rest of your operations team secure 100% uptime?
"The 100% uptime is a prerequisite in today's market, and at Green Mountain, we have secured it continuously since the start."
"Our performance strongly relates to the people and how things are being managed as well as the technical features of our data centres."
"From a technical point of view, our facilities are designed to be robust and redundant, including duplicated cooling and electrical setups, simple and robust cooling solutions, multiple grid power supply, and automatic standby generators. In simple terms, if one system fails or we need to perform maintenance, another system takes over to deliver the service."
"In addition, we have comprehensive processes to follow and strong work ethics. These include regular inspections and testing, 24/7 support and constant security, to keep our services and machinery up-to-date and fully functional. We follow the ITIL process and framework, and are certified according to global standards, such as ISO 9001,14001 and 27001."
"It all comes down to honouring our commitments to the client, both as a team and an individual employee."
How do you collaborate with the rest of the operations team to achieve these solutions?
"As an organisation, Green Mountain is people-centric. We coordinate with each other in the best possible manner."
"When something new happens, or we start work on something, everyone gets a chance to speak about it and share their views."
"So because of the equal leadership structure, everyone in the company is able to bring their ideas together. We do regular brainstorming sessions to deliver best-in-class services to our organisation and our respected clients."
"Green Mountain operates as one entity, where the company values of 'Reliability & Honesty, Knowledge, and Enthusiasm' are always appreciated and acknowledged."
"I think this quote by Theodore Roosevelt represents our culture well: "No one cares how much you know until they know how much you care."
What does it mean, for you personally, to work for Green Mountain?
"When I joined the company, about three-and-a-half years ago, we had a quarter of the sites that we have now."
"The company was at its child stage, and we were raising it from the ground up."
"I love being a part of Green Mountain because I joined it when it was just a kid, and now it's maturing, towards a sort of 'teenage' stage."
"And it's good to grow with the company, because you learn a lot and, being from the IT background, I see that the demand is rising. We are providing what our customers are looking for and, at the same time, we are also offering genuinely green services."
"Personally, I am a family-oriented guy, like so many others. And what Green Mountain offers me resembles a family: growing old together, a meaningful vision for the future, great relationships and most importantly, freedom of expression and the work I want to do."

The Scandinavian Management Philosophy in practice - HR Manager, Irene Vikingstad
How do you make sure you have the right person for the job?
"We have developed what we believe is a strong recruitment process. We focus on competence, of course, but what's equally important is the personality, and the preferences and motivations of the employee. So, we like to spend time getting to know the candidates, to find out both if this person would like to work for Green Mountain, and if this is the correct path for this person."
"One way to do this is to not only perform interviews but meet the candidates in different settings and different situations. Not all people are comfortable in an interview setting. Sometimes it is better to do an informal guided tour, let them try some work tasks or do a test. We also have a comprehensive training programme in the Green Academy, to ensure the best support for the right candidate."
"Another important aspect is to look at the team that the candidate will be a part of. How will the person fit in and complement the strengths and personalities of existing members? We have room for both introverts and extroverts, and it is all about finding the right mix to build a strong team. All of our managers are very involved and engaged in this process, and sometimes we also discuss this with team members too, before the final decision is made."
How do you retain high inclusion and diversity standards in your recruitment and retention?
"We have good tools and methods in place, to make sure that all candidates are evaluated in the same manner. We never exclude people based on gender, social or ethnic background, age etc. I also believe that a focus on personality gives us more diversity in the organisation."
"For instance, we have employees of all ages in our company. Some were recruited straight from school without graduate experience, others were recruited when they were in their sixties."
"When it comes to gender balance, the data centre industry is quite male-dominated. However, we raised the share of female employees from 14% to 18% in 2022. Now, the biggest challenge we face is to increase the number of female technicians. One of the reasons why this is so difficult is because not enough girls choose the technical subjects in school. That is why we start early, and try to cooperate with educational institutions, to promote this career path and connect students with our female role models within the industry. In time, I think we will get there. This summer, half our summer interns were female, so that is definitely a good start."
"In general, we believe that a broad diversity and a variety of personalities create better results."
What are the core values of the Scandinavian management philosophy?
"This philosophy is known to be focused on equality between employees and managers, and a down-to-earth mentality. Management involves their employees in decision-making, and there's a flat management structure. It's a democratic, non-bureaucratic and collaborative way of managing."

"This means that all employees are very enabled and very empowered. They can be creative, innovative and are able to make their own decisions for the best of the company. Then, with this level of trust established, a manager would expect an employee to take responsibility."

"A key part of this is 'psychological safety', which means employees know that, if they do speak up, if they do engage and make decisions, there is room for mistakes. After all, we learn from mistakes."

"We actually see the Scandinavian management style as a competitive advantage. It makes the whole organisation more productive, innovative and profitable."

"In order to treat everyone the same, you have to treat everyone differently" - Service Manager, Rikke Dishington
What is your personal philosophy for client relations?
"For me, it's important that our customers are satisfied. If a customer isn't satisfied, then I don't see the point of doing what we do."
"So keeping the client satisfied is my number one priority. I would hate going into meetings and talking to clients if my job was to only put out fires!"
"And how to do so? One vital element is that every client has a dedicated contact person in the Service Management team. A person they can contact about anything and who knows their business and needs. No matter the size of the client, we build trust through this one-to-one relationship with them."
"However, there's this saying that 'in order to treat everyone the same, you have to treat everyone differently.' And that's what I've been using as my go-to quote when managing clients. Because clients are different. They are different companies from different industries with different backgrounds and different needs. So, in order to keep them satisfied, we have to be flexible. We have to be able to adapt and to get to know them and really listen to what they have to say."
How do the company values at large reflect the way you work with clients?
"Our vision and our values are our DNA. As a company, it should run through our veins and should feel as natural as breathing. So as a client, you can expect to see that demonstrated in whoever you talk to at Green Mountain."
"Our mindset is customer-focused, and we always see things from a customer's perspective. When talking to us, you should always feel that we have got your back, and that we are on your team."
"To do so, you need to have a foundation of trust, and to create trust, you have to be reliable and honest."
"Transparency is really the key. For instance, we have created a reporting system - called Green Peak - where we share live and historical data with our clients. This way they always know what is going on in their data room environment. In addition, we also produce monthly reports on access management, incidents, changes and so on."
"There is no sweeping under the carpet - we are open and honest. And hopefully, they will find us knowledgeable and enthusiastic as well."
Setting the green standard - Sustainability Manager, Torkild Follaug
Green Mountain is setting the green standard. Why is that industry leadership position so important to the company?
"To answer that, I think we have to go back to 2009, when the company was founded.
"Green Mountain was really founded on the idea of creating the world's most sustainable data centre. And I think we achieved this very early on. Still, we realise that this is something that we need to continue to focus on every day, especially when the company is growing."
"That's why setting the green standard was introduced as the company vision, and it really represents the backbone of the value proposition that Green Mountain has in the market."
From the perspective of your employees, how are they working to maintain this sustainability leadership?
"Sustainability is really well-anchored in the management of the company, and also in the board of the company. And I think that's the perfect setup for creating a culture-based sustainability practice. All our individual employees know our sustainability goals, which makes it easier for them to contribute and make a positive impact in their everyday work."
"My role is to lead, coordinate and support the sustainability efforts of all the people that work in Green Mountain, so that we can use each other's skill sets, and keep sustainability high on the agenda at all times."
Where do you see your sustainability strategy heading in the next five years?
"We are committed to upholding our ambitions in the sustainability space. I think any companies that do not take sustainability seriously will be out of business, in the near future."
"Setting the green standard means that we are willing to be at the forefront, to make investments and put resources in, to develop Green Mountain of course, but also the industry as a whole."
"There are a lot of challenges ahead, and these are issues that we are addressing in our sustainability strategy. We are working on several different solutions to mitigate our impact, on both the climate and nature."
"It remains very important that, for everything we do, we do it in collaboration with our own employees and our value chain."
The Green Mountain company culture

For Green Mountain, fostering a people-centric company culture is all about developing relationships, building and maintaining trust, and creating a supportive environment in which all employees are able to flourish.
"I feel lucky to be a part of the adventure, the growth and everything that is happening in our company. When I started here, I was included, given trust and made to feel welcome," says Vikingstad.
"I love the work environment and the culture in Green Mountain. It makes me proud to be part of such an inclusive company."
"At Green Mountain, we share, we trust, we talk to each other. Our team is always open to communication. We are always comfortable to discuss anything that we don't understand, like new technologies, or what to do if something goes wrong," Jagga adds.
"So that's what I believe the company's core foundation is - to believe in, trust in and deliver on what you say."
And, as the company itself maintains a rapid pace of growth, its employees are able to take part in the opportunities that come with it.
"The company culture in Green Mountain is very much about trust and openness, and a positive approach to people. This gives all the employees in Green Mountain a lot of opportunities to develop as a person, and also to develop ideas and skill sets, as the company grows and moves forward," Follaug adds.
"For me, I started working at Green Mountain when I was very young. I was 19, turning 20, and I've been here for four years now. So I feel like we've been on this journey together, where we've gone from a small, newly established company, to where we are now, having established a reputation in the industry, and being in a position where we are taking the lead and setting the standard," says Dishington.
"Along the way, I have also grown both professionally and personally. I am very grateful for all the colleagues who have supported me and shared their knowledge and experience. I have been given a lot of opportunities in the company, and can't wait to continue the journey."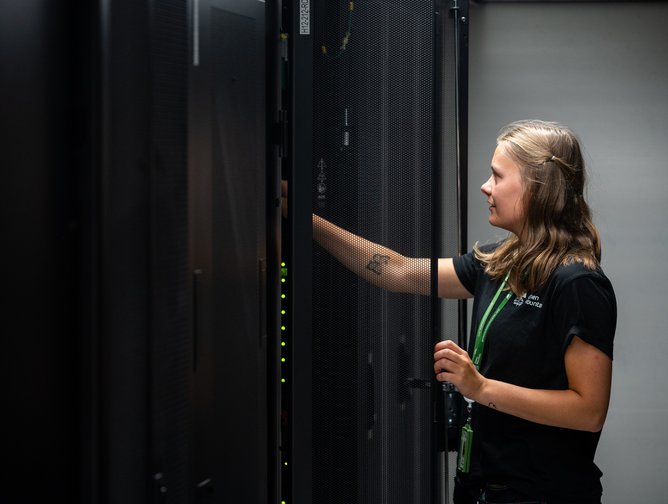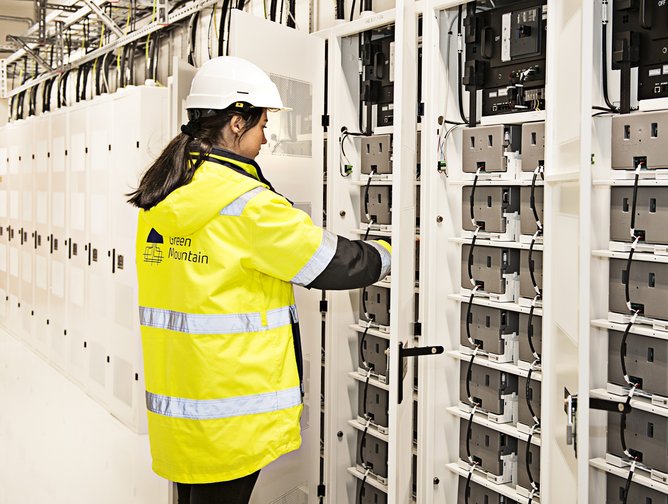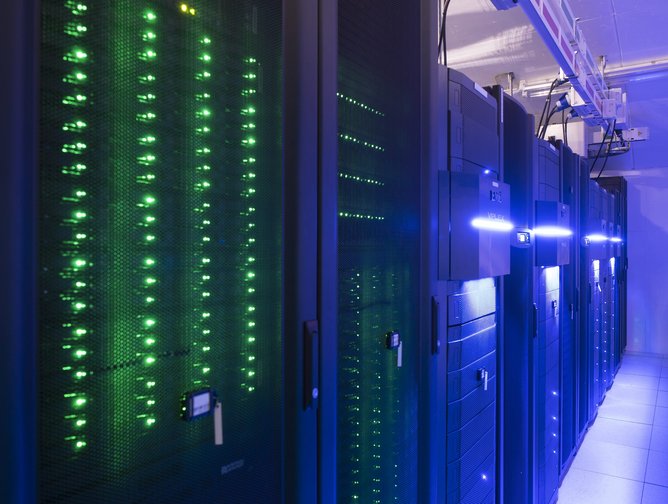 Green Mountain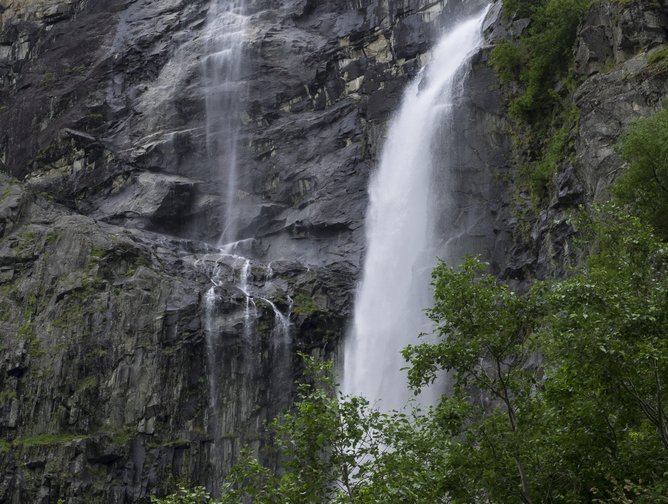 Green Mountain