Heathrow: Procurement Progression in a City of Services
From empty terminals in 2020, to serving over 50 million passengers [so far] in 2022, Heathrow Airport has weathered some mighty turbulence in recent years
From the outside, running a procurement operation with the size and variety of London Heathrow airport is an incredibly complex challenge. For Paul Doherty – the Procurement Director at Heathrow Airport – and his team, their job becomes clearer when they focus on the most important person in the building.
"The passenger is central to everything we do, every decision that we make and every project that we launch. Every operational change or operating procedure that we do has the passenger at the centre of those decisions," he says.
With passenger numbers steadily climbing back higher, a hundred thousand priorities are walking through the terminal doors every day, each of whom need to be given the best possible travelling experience.
'It is really important to us that, from the moment the passenger enters the airport, their holiday starts. So we want them to be comfortable, we want them to be enjoying the experience that they have," he says.
Paul speaks passionately about customer care, about how every member of staff at the airport should support a passenger if they see them in any form of confusion or discomfort. That mantra permeates right from the very top of the executive team down to all of Heathrow's colleagues - including the airport's operators via their service signatures - which provide a framework for the passenger service proposition, to notice and care, share what they know and ensure the passenger's problem is resolved before they leave.
This is just an example of the variety of tasks that present themselves daily in what Doherty describes as a 'city of services', which features an enormous range of diversity regarding what they have to deliver on a huge scale.
"I've just come off of a call talking to someone who is at the party conferences, understanding the political landscape. Later on, I'm going to go and talk about cleaning performance in one of our terminals. This afternoon I'm going to talk about algorithm development and security products."
Because of the incredible breadth of the services he speaks about, becoming a "specialist at being a generalist" is a given – there are few jobs where you can start your day dealing with politics and end with cleaning regimes, successfully able to pivot between the two as well as engage with everything else within that. It also necessitates having experienced people in post who can cope with operating under the pressures of one of the busiest airports in the world.
Procurement and the pandemic
Doherty speaks on the transformational challenges – caused in part by the pandemic – that Heathrow have undergone while continuously modernising and embracing new security technologies. "Our new security solution means you won't have to take your laptop out of your bag," he says. "You can go through security and just put your bags through a scanner. It's a much less intrusive journey."
"We talk about a frictionless passenger journey, and it's just like a good doctor in the NHS: when you need us, we're there."
Doherty's route to being Director of Procurement started in a very different, but also incredibly demanding form of transport. He worked in operations at the London Underground for seven years, but says he always found getting into the capital space appealing and, ultimately, took on a more junior role at Heathrow to expand his personal skill-set. From there, he progressed through different projects, including the airports role in hosting London 2012 Olympics arrivals, baggage categories, heading up terminals and, when the pandemic arrived, closing down aspects of the capital portfolio before moving into the operational environment to focus on cost reductions and supplier management.
"We did that as caringly and as responsibly as we could with our capital supply chain partners, many of whom are still with us and working. Following that I went over to our operations teams to support them in removing the costs that we needed to be able to continue operating through the pandemic," he says.
It resulted in him being offered the Director of Procurement in 2021, a role for which Doherty thinks the breadth of his experience across both the capital and operational sides of transportation has positioned him well, as having both pillars of experience gives a better, more holistic outlook on the role.
"I always knew the benefit of broadening my portfolio. I had relative success at quite a young age in the operational space and knew that to actually really understand the business, you need to understand both the capital and the operational side of the company," he says.
The pandemic presented all sectors with genuinely unprecedented challenges, and Doherty believes that the legacy of that time is the biggest single challenge facing all airports: passenger numbers at Heathrow had consistently climbed in the decade leading up to the pandemic, before dropping to 22.1 million in 2020. This created a situation when scale had to be quickly changed to cope with a 73% decrease compared to 2019, while still keeping planes in the sky and passengers happy.
"Speaking as a Procurement Director, the pandemic is the primary challenge. Aviation took a substantive knock during the pandemic period that we have to take care of over the coming three to four years. It's not just the debt in terms of commerce, it's the debt in terms of having had to make difficult decisions around assets, services, our service proposition, our security proposition; having had to slow down pieces of work to make them affordable means that we now need to speed them up to make them deliver."
"The playbook for the pandemic didn't exist. The thing that makes the UK proud about Heathrow as a piece of national infrastructure is that we run at a capacity that no other airport, globally, runs at. We run at 98% across our two runways, we have more air traffic movements during the day, we move and turn aircraft around quickly. We have operating procedures for if we have a busy day, we have an operating procedure for if something goes wrong during a day – we have an operating procedure for most things. Yet this isn't operating procedure, this is managing demand in a different way."
Strategic partners and pillars to posts
With demand fluctuating rapidly during the most acute months of the pandemic – followed by a gradual return to more familiar capacity levels – there has been pressure to scale engagement with suppliers and service providers around the Heathrow environment. This operates alongside a project called the Heathrow Partner Balanced Scorecard, which helps the procurement team choose the best strategic partners and convey the strategic aims of the business for prioritisation.
"It focuses on five main pillars: carbon reduction, social value inclusive of accessibility, inclusion and diversity, opportunities for local business, innovative solutions and behaviours. And that's not just behaviours in terms of business-to-business behaviours, but also the behaviours between our supply chain and our passengers, should they encounter them, and also behaviours towards sustainability. So Heathrow's role is incredibly influential and important in the supply chain, persuading them to contribute towards our aims."
He describes the intention of creating a ripple effect with their partner organisations and the supply chains that support them, but making sure that that whole ecosystem is made up of organisations with sustainable practices built into their DNA as a service provider, rather than simply raising their game to be part of the Heathrow environment.
"We are really keen that companies bring to bear, here at the airport, the best of what they're doing centrally. An account director reporting here at Heathrow, for example, will contribute towards their central numbers as a business."
Doherty speaks about how the needle has moved rapidly on the subject of sustainability, due to matters such as the London living wage that are now built into contracts yet wouldn't even have been a discussion point a decade ago. He describes how sustainability is now a 'licence to operate' at an airport and how, if you do not have those strategies in place, it's difficult to be part of the operation.
"It's quite exciting how sustainability has kicked on and matured. It's absolutely the case that it is going to grow, not diminish. As an airport, we have to accept that we are historically polluters, so we have to take a responsible view of that. And we have an executive right now who are passionate about being responsible."
These advancements in sustainability, and how it is inextricably linked to the supply chain and procurement operation, play a pivotal role in Heathrow's sustainability strategy. Heathrow 2.0 is their plan to connect 'people and planet' and to work to build a better, more sustainable airport. The broad strategy includes net-zero aviation, creating a great place to live and work, and having responsible business foundations. It's a piece of work that shows how far the airport has come since they took the step to publish their first environmental policy back in 1992.
There is a raft of commitments from Heathrow to make them a better neighbour to both their locality and the wider environment. They are committed to cutting carbon in the air by 15% compared to 2019, their ground level emissions by an even more ambitious 45% and an air-side ultra-low emission zone by 2025 for all operational vehicles. The targets also include doing even more for the region in which they operate, providing 10,000 external jobs, apprenticeships and career opportunities for local people, as well as 15,000 workplace experiences.
This strategy also aims to have a positive impact throughout the sprawling sphere of influence the airport achieves via its strategic partners, being part of the London Living Wage Foundation and a good neighbour to other local businesses.
"I also personally have an objective to grow our small to medium-size enterprises from 2019 levels," he says. "There are a number of initiatives and schemes we are doing both in the local chambers of commerce and through business summits to help us achieve those aims." A statement which demonstrates Heathrow and its procurement teams passion to deliver on the commitments it has made.
Lessons to carry into the future and beyond
It is this culture of collaboration that Doherty feels is the best route to building mutually-beneficial relationships between Heathrow and their strategic partners. If they are working with other organisations who can innovate and deliver more than would normally be expected, they can produce better and wider outcomes than the ceiling setting a defined target could engender. He believes the biggest piece of learning for the whole management team was for them not to mandate but to collaborate, as they do not just want their partners to deliver up to a set limit, but instead to bring the best of what they can deliver to the airport, with a level of quality that is centrally ingrained within the business.
"We go back to the mantra: 'if you can make it work at Heathrow, you can make it work anywhere'."
Ultimately, Paul Doherty returns to the key purpose of every operational decision the airport makes, which is the experience of every person who walks through the terminal door with a suitcase in hand.
"The way in which we work with our supply chain is to always make sure that we are listening, collaborating and challenging ourselves to make sure that we don't miss the opportunity to get something even better for ourselves, for our passengers and for our airport community and stakeholders."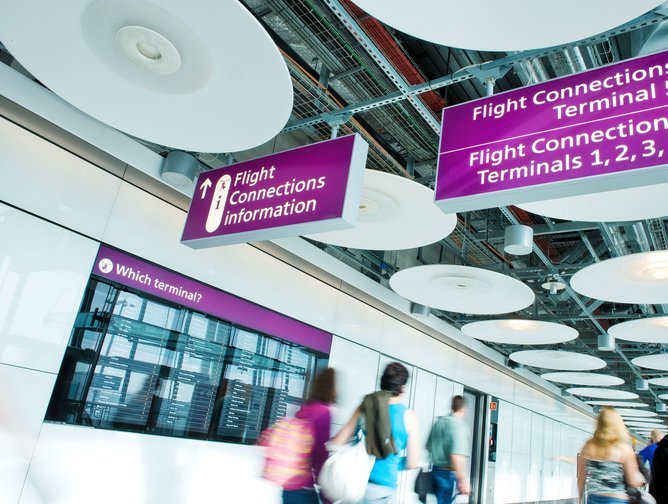 Heathrow Airport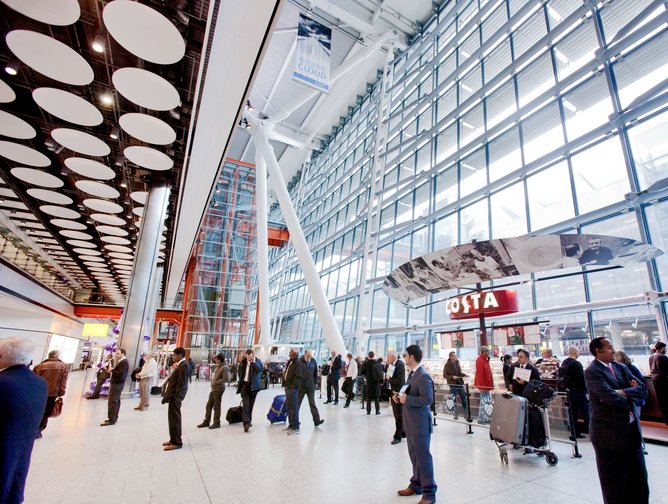 Heathrow Airport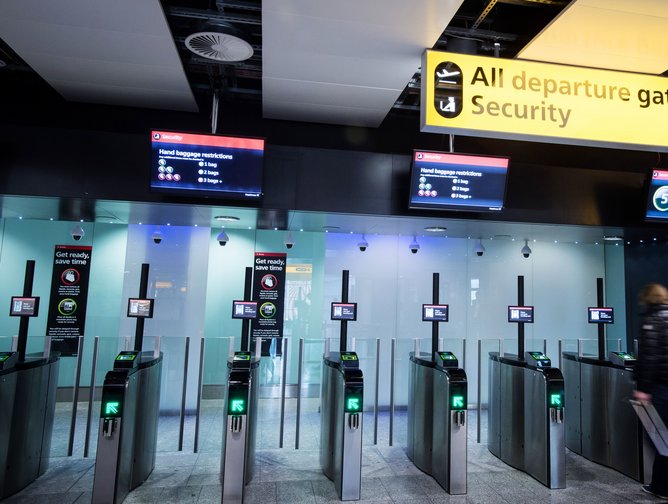 Heathrow Airport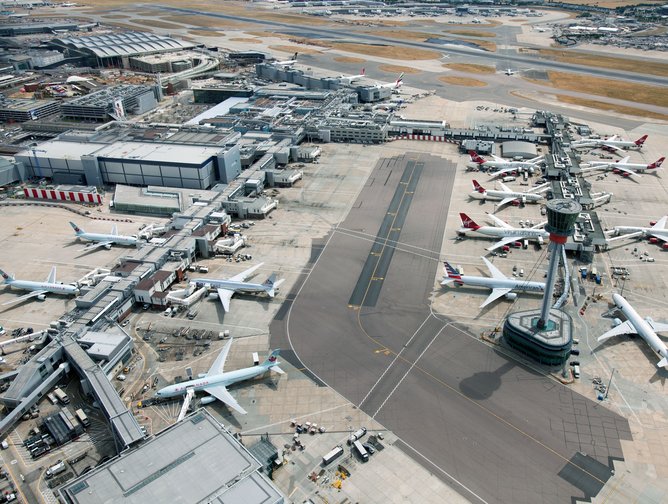 Heathrow Airport