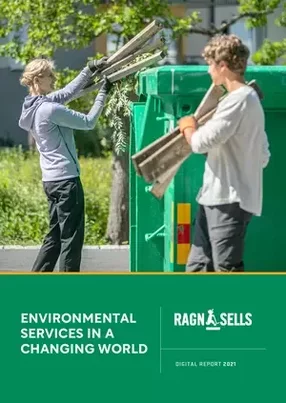 Ragn-Sells takes sustainability to the next level
Ragn-Sells has been a trail-blazer for environmental services, waste management and recycling for decades.
Above all, Ragn-Sells is a company way ahead of its time. It has to be. While we have all been immersed in the trappings of ownership, comfort and a single-use 'utopia', this intrepid Swedish company has been a standout leader in managing the fall out from globalisation. 
When you have developing countries and a broadening of the 'civilised world', there are always byproducts – figuratively and literally. On the one hand, there is the greater sense of parity, opportunity and wealth that comes with industrialisation, but on the other, there is the ubiquitous reality of waste on an industrial scale. It is impossible to have one without the other and, for almost 150 years, Ragn-Sells has been reconciled to this inconvenient truth and determined to address it. 
Indeed, when most of the human race really started demanding more, wanting a greater stake in the highly seductive transactional ecosystem, there weren't many dissenting voices asking, "who's going to clear up the mess afterwards?"
Affordability and availability have been rampant since the 1960s, and the company has been in a constant cycle of reinvention. It's fair to say that long before the documentaries about the destructive patterns of manufacturing and the cyclone of mass consumerism, Ragn-Sells was forming strategies, finding ways and peering into the very future we are now experiencing. Since 2015, it has taken waste management to the next level, led by a visionary whose stance on sustainability has been a life's work. 
Pär excellence
It will, perhaps, come as no great surprise that Pär Larshans – Environmental Director of Sustainability at Ragn-Sells – considers water to be his favourite drink. Indeed, this insatiable thirst for purity defines the company, its principles and, of course, its enduring ethos – to combine sound business practices with the challenge of improving the planet. Pär's modus operandi is to espouse stark truths and deliver transformative solutions. It's food for thought, which takes us to exactly how he developed his appetite.
Prior to making the move, Pär had a hugely successful stint at a fast-food company, during which he championed ethical food production, transformed approaches to climate change, encouraged the employment of people with disabilities (not to tick boxes but to improve performance) and pioneered the use of carbon-labelled food products. 
When he arrived at Ragn-Sells, the term 'green credentials' was creeping its way up the agenda of the corporate world, and Pär was determined to take the opportunity to evolve the company, crystalise its reputation as a sustainability champion and fast track waste management innovation.
"At the time, we saw that the world was transforming at a rapid pace," he reflects. "Even though we had been in operation since 1881, it was clear that we would have to change and become a frame of reference to everyone else. Transporting waste wasn't good enough anymore, because we were going from linear to circular, and that means no waste at all. Subsequently, all the new innovations we had been developing suddenly became a genuine possibility." 
World in motion
As the world has started to accept the considerable challenges ahead, individuals and companies have thus started wrestling with their responsibilities when it comes to climate change and the environment. Consequently, Ragn-Sells's waste management operations, recycling processes and wider environmental services have increased exponentially, ushering in a new phase of evolution.  
Pär has witnessed the sudden change in approach among companies and believes it will lead to a positive cultural shift in the perception of sustainability. "The world is getting more transparent, and businesses really need to understand that if you're not doing the right thing – if you don't take responsibility – the consumer will hate you. If, however, you make mistakes, confess to them and make sure that you reverse them, your reputation will be greatly enhanced. I have seen that sustainable companies which contribute to the best of society are always rewarded."
Pär is very candid about what happens to companies who insist on burying their heads (or anything else) in the sand. He explains: "In Sweden, we have had many scandals. Police have even thrown company executives in jail because of how they treat waste. It demonstrates that you need to take responsibility – upstream and downstream – and there are no longer any excuses." 
On a broader scale, Pär has seen a positive global awakening in the last couple of years as more information and footage has emerged of irresponsible waste removal. Pollution and plastics in the ocean – images that have come to define the current crisis – have been a stark and inescapable wake-up call to everyone. It has triggered a behavioural reboot, with companies becoming more conscious of the need for transparency and how a lack of social responsibility could very easily be shamed across social media and news agencies. 
Pär believes that the myriad opportunities there are to communicate and share experiences have increased through digital channels, and there is a genuine opportunity to change the 'rules' of waste management and supercharge the knowledge base among companies while also setting new benchmarks in the process. The employment of dedicated sustainability personnel can only ignite this movement further.
Keeping it real
To 'clean up' the system is to be part of that system, and Pär knows that combining green credentials with a business philosophy is an equilibrium that can be effectively calibrated. He insists: "We want to be a company that cares for the environment but, of course, that also means making a profit. The planet always comes first, however, and we don't just want to meet environmental laws; we want to exceed them. That's why we always offer our customers a more circular way to meet their obligations." 
The progress of Ragn-Sells has not just been about listening to and digesting the external narratives around climate change but, most importantly, ensuring a commitment from within the company through an internal pledge to take the company in new directions. Subsequently, a pervasive concept of detoxification, not just of waste but of conscience, has defined the new culture, flowing through the company and culminating in an empowering paradigm.
The company's global network of factories, showcasing wide-ranging processes, has been vital to new growth within the company. Currently, there is a factory for processing potassium in Stockholm, two systems for phosphorus, and another, specialising in calcium carbonate by using CO2 as an input in the process, is due to be built in Estonia. All have been receiving interest from around the world. Meanwhile, Ragn-Sells's system for extracting nitrogen out of wastewater and avoiding emissions to atmosphere has also captured the attention of commercial stakeholders keen to 'clean up' the water-based stages of their operations. 
"When others talk about CO2 as a problem, we see it as a possibility. The threat of global warming is our best business driver" says Pär. Ragn-Sells innovation, which will be used in Estonia to produce calcium carbonate, has the potential to reduce our global emissions until year 2070 with in total 400 million tons of CO2e
Tomorrow people
As the company moves at pace in an unpredictable world, it also creates the foundation for a future in which employees can be flexible, embrace innovation and negotiate the terrain ahead with confidence. "It is vital that we have younger people within the organisation," says Pär. "Now we have several trainee programmes with engineers starting every year." 
"Historically, this has been a male-dominated industry, but we want to keep increasing the number of women at senior level. In terms of truck drivers, which is still a big part of the business, we employ people from more than 40 different nationalities, from a host of different backgrounds. Diversity must be at the heart of everything we do."
With this in mind, partnership at Ragn-Sells is a crucial plot point on the environmental responsibility roadmap. The company has discovered that the key component when it comes to reaching a truly circular economy is the ability to collaborate and create partnerships. 
"If you try to win 100% by yourself, you will lose," warns Pär. "When we're opening up companies for wastewater treatment plants, it is essential to create partnerships. One of our partners – BIOFOSs – is involved with us in the development of a nitrogen removal solution, and another, Alfa Laval, is our technical partner in the development of both the  nitrogen and the phosphorus extraction solution."
Always have Paris
Following the Paris Agreement, Sustainable Development Goals (SDGs) came into sharp focus, and at Ragn-Sells it was no different. "I was extremely happy when the Paris Agreement was signed," enthuses Pär. "It became the standard-bearer for our business development."
Ragn-Sells is determined to become 'climate positive' – in many ways the ultimate SDG. That means reducing its own emissions by at least 50% and, at the same time, developing solutions that will reduce the carbon emissions more than the total it emits. 
In 2018, the company became a heralded 'Innovation of Leadership' company for SDGs and were invited to the UN in New York to deliver a presentation on how it has reached its targets.
While Ragn-Sells continues to extract, recycle and re-energise across it's Promised Land of waste management and environmental services, it knows that it is not good enough just to 'seize the day' – it's commitment is to keep raising the bar; keep pushing the boundaries and not stop until waste hits 0%. "In the circular world of tomorrow we are a raw material producer and a detoxifier," adds Pär.
Ultimately, the company's enduring challenge is to convince more people that taking responsibility is a journey without end but also one with unlimited reserves of satisfaction. It is, in a very real sense, the circle of life