Eiffel Tower gets green revamp with Honeywell cooling system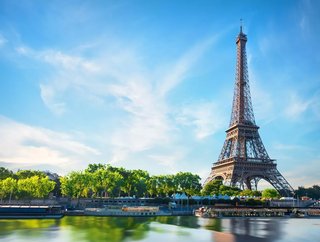 Honeywell's cooling technology is helping to reduce emissions and make the Eiffel Tower more energy-efficient as it aims for strict EU targets
Honeywell announced today that its sustainable refrigerant technology is supporting a new cooling system at the Eiffel Tower.
The installation provides a greener solution for the Paris landmark's west pillar – home to the Visitor Information Center, a souvenir shop and a hydraulic lift that ascends 300 meters to sweeping views over the city. 
Honeywell says its Solstice ze (R-1234ze) ultra-low-global warming potential refrigerant is both energy efficient and cost-effective.
The new cooling system replaces the tower's old, legacy apparatus – and is part of a wider mission to improve safety to meet EU regulations and reduce the tower's carbon footprint. It is one of several major global landmarks that has seen a sustainable retrofit as part of a global drive for sustainability in buildings. 
The system uses Honeywell's hydrofluoroolefin (HFO) technology, which helps customers meet environmental, social and governance goals without sacrificing performance. The tech has a variety of applications, including in refrigerants for supermarkets, auto air conditioning units, insulation, care products and cleaning solutions. 
Honeywell brings Eiffel Tower closer to SETE goals
The Société d'Exploitation de la Tour Eiffel (SETE), which operates the tower, replaced its aging system run with higher-GWP refrigerant R-407C with a contemporary system incorporating Honeywell's solution and equipment provided by component manufacturer AF Energy and French refrigeration specialist ALM Froid. The solution met SETE's strict criteria to transition to a high-performing, sustainable system with increased reliability, energy efficiency and improved safety to meet EU regulations and reduce its carbon footprint.
"The cooling system introduced by Honeywell, ALM Froid and AF Energy provides a unique blend of sustainability, safety, energy efficiency, durability and low maintenance," said Fabrice Fevai, ascent department manager at the Société d'Exploitation de la Tour Eiffel (SETE). "The Eiffel Tower is one of the most visited sites globally, and we have implemented many initiatives to lower carbon footprint, beginning in 2015 with the installation of wind turbines to provide a clean source of energy. Using a new cooling system will allow the site to become even eco-friendlier for future generations to enjoy."
"Solstice ze provides a long-term, environmentally preferable and cost-effective solution to tourist landmarks such as the Eiffel Tower, helping them to increase energy efficiency and reduce carbon emissions," said Julien Soulet, vice president and general manager, Honeywell Fluorine Products Europe. "Globally, demand is growing for solutions like Solstice ze and Honeywell's other Solstice solutions, which have been chosen to cool major structures, including the Eurotunnel, because of the benefits they provide for companies to meet sustainability goals."
• Join global business leaders and sustainability experts taking meaningful action at Sustainability LIVE, held at Tobacco Dock, London, 23-24 February 2022. Register to attend today! Click here to learn more.