Diversity & Inclusion (D&I)
How Vertical Farming can make food security more sustainable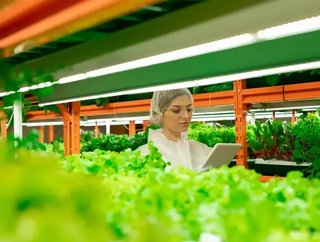 With the world's population rising and millions already facing food insecurity, Vertical Farming may be the answer to feeding us all
The world's population is expected to hit 9 billion by 2050, but 9% of people are already living with food insecurity.
To feed the planet, humanity will need an alternative to traditional farming.
Vertical Farming: productive and sustainable 
A bit like a greenhouse with bluetooth, a Vertical Farm is an airtight room, shipping container or building, which grows crops under electric lights. Rows of fruit and vegetables are stacked vertically instead of in one layer, as the artificial lights reach all of the crops. The level of light, water and the temperature is controlled by the farmers. Vertical Farms are especially useful in cities where fresh produce has to be hauled in from the countryside - covering miles before it reaches the consumers plate. 
For Aerofarms, based in the USA, the Vertical Farm is 14,164 square meters. But as the crops are stacked, the actual farmland covers 139,931 square metres and provides two million pounds of leafy greens per year.
Bowery Farms, also in the USA:
Uses 95% less water than outdoor farms. 

Per square foot of farmland, the company is 100 times more productive.

Uses no pesticides or chemicals.
Vertical Farming is sustainable for many reasons:
With rows of in-demand veg stacked on top of each other, less space is used to grow more food.

The crops are grown in an isolated environment, where factors can be manipulated. Fruit and vegetables grown outdoors are impacted by the weather and their environment, but vertical farms can grow all year round, uninterrupted by external threats.

Furthermore, in traditional farms, crops are eaten by insects and animals, forcing some damaged crops to be disposed of. In vertical farms, they are protected from this. Water and nutrients can also be measured out exactly, so nothing is wasted. 

Exotic fruit and vegetables can be grown anywhere, instead of being farmed in suitable climates and then transported to their customers. 
Here's what four international Vertical Farms are doing:
Aerofarm
Aerofarm is based in New Jersey, USA, and was launched in 2004. Through careful measurements and filtration systems, it uses 95% less water than traditional farming to grow leafy greens, berries and tomatos. It has received $130m in investments since opening and from 2016 has offered employment to those formerly incarcerated. The company reached second place in the FoodTech 500 in 2020. 
Agricool
French vertical farm, AgriCool has units based in recycled shipping containers throughout Paris, where strawberries and coriander are grown "Less than 15 km away from where [the customer lives]." They are also powered by 100% renewable energy. AgriCool has been backed by investors Bpifrance and Danone Manifesto Ventures. "Agricool is disrupting agricultural practices thanks to innovative technology that provides local products, in line with consumers expectations," said Laurent Marcel, Danone Manifesto Ventures. "Their business model, with the use of shipping containers converted into urban farms, and the choice of the crops they are using (growing strawberries) give them a unique position in the booming urban farming sector." 
CropOne
Emirates Flight Catering (which provides meals for Emirates passengers and crew) signed up with CropOne in 2018, to build the biggest vertical farm in the world. "This investment to build and operate the world's largest vertical farming facility aligns with the UAE's drive for more agricultural self-sufficiency," said His Highness Sheikh Ahmed bin Saeed Al Maktoum, Chairman and Chief Executive of Emirates Airline and Group.
Growing Underground
33 metres below the streets of London, leafy green grow under lamps in disused wartime bunkers. The startup Growing Underground won the 2017 BBC Farming Today Future Food Award for its concept of fresh produce in a vacant space. 
What's next for Vertical Farming?
Although the planet cannot be sustained solely on lettuce and strawberries, Vertical Farms save space and produce more crops in less time, than those grown outdoors. Investment will allow the farms to explore other options of what they can grow. With the human population on the rise, the only way is up for Vertical Farming.