World Food Day: sustainably addressing food security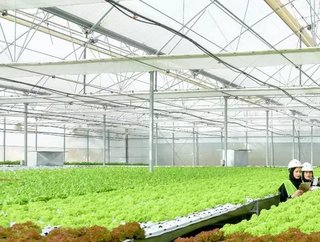 Salvatore Lavallo, Head of FDI for Abu Dhabi Investment Office discusses how to sustainably tackle food security issues for World Food Day
World Food Day is one of the most celebrated days of the UN calendar, and this year marks the second time countries around the world are dealing with the widespread effects of the global pandemic.
With hundreds of millions of people around the world still facing hunger and poverty, World Food Day calls for global solidarity to rethink and reshape our food security and food systems to ensure healthy lives that sustain the people and planet for future generations.
One region that's striving to reshape those systems is Abu Dhabi, where the Abu Dhabi Investment Office (ADIO) is partnering with leading Agtech companies from around the world to establish new R&D and production facilities in the emirate. Last year, ADIO partnered with the likes of AeroFarms & Madar Farms to bring innovation to the area to turn sand into farmland, solving complex global agriculture challenges.
Due to its arid climate, the United Arab Emirates currently imports up to 80% of its food. In order to future proof supply chains, Abu Dhabi is partnering with leading AgTech companies around the world to develop innovations with viable technologies that are creating a more sustainable AgTech ecosystem.
Sustainability Magazine spoke with Salvatore Lavallo, Head of FDI for Abu Dhabi Investment Office to discuss how Abu Dhabi is addressing these regional and global challenges through technology, and what kind of scalable solutions are being developed in a bid to 'turn the desert green'.
What is ADIO and can you explain your role there?
ADIO is the government hub enabling investment opportunities in Abu Dhabi. We provide support to investors and businesses of all sizes looking to expand to the emirate, helping ensure their success in the market and across the region. We do this through our investor care services and incentive programmes, as well as connecting businesses to relevant opportunities and partnerships across our ecosystem.
As the Head of FDI, I lead company attraction initiatives, working closely with investors to understand their needs and ensure they have the right support and tools to grow in the market. At ADIO, we assist businesses across all innovation-driven sectors, with a particular focus on five high-growth areas: AgTech, financial services, health and biopharma, information and communications technology, and ecotourism.
Ahead of World Food Day, what are some major sustainability issues the food industry is currently facing? What programs are a focus for ADIO to help tackle these issues?
Finding enough food to feed a growing and increasingly prosperous population is a major sustainability issue. By 2050, we will need to feed two billion more people, a demand that will strain the current agriculture system, which is already among the largest contributors to global warming and one of the highest users of our water supply. In this respect, we need to learn how to grow more with less – less space, less inputs, less resources. 
Recognising that climate change will continue to alter Earth's environment such that it becomes more extreme, we also need to find solutions to address future food security. Technologies such as indoor farming that allow for fruits and vegetables to be grown in a fully controlled, highly automated indoor environment, is a potential solution. The benefits are two-fold: produce can be grown in non-traditional settings, increasing the potential areas for food production, while minimising energy and water use and reducing the impact on the climate.
With these challenges in mind, one of ADIO's major initiatives is the Innovation Programme, an AED 2 billion incentive programme supporting innovators in high-growth areas, of which AgTech is one. We are partnering with AgTech pioneers from around to localise and develop agriculture solutions that address the issues faced by the food industry. A key facet of the programme is bringing companies aligned with our sustainability vision to Abu Dhabi so that they can create technology that is locally relevant and globally exportable. This will enable these solutions to be used around the world.
ADIO recently announced a number of AgTech partnerships – what are the sustainable motivations behind these programmes?
Since April 2020, we have partnered with eight AgTech pioneers – AeroFarms, Madar Farms, Responsive Drip Irrigation, RNZ, Pure Harvest, FreshToHome, Nanoracks and Pure Salmon – to develop the agriculture ecosystem in Abu Dhabi, as part of our mission to 'turn the desert green'. We have provided these companies with more than AED 500 million in incentives to help them build scientific and industrial facilities in Abu Dhabi. By supporting the research and production capabilities of our partners, we aim to accelerate the development of technology and solutions that can address sustainability issues faced by the food industry.
We see collaboration with the public sector as a key factor in driving agriculture innovation. Whether it is in the form of incentives or business support, the government has the resources and ability to support innovators, facilitate opportunities and make it easy for them to focus on developing solutions. At ADIO, we see our role as a unifier bringing together relevant players to explore ideas and solutions for the greater good.
What are ADIO's own sustainability and net-zero targets?
ADIO has an environmental, social and governance (ESG) policy that maximises the ESG benefits of our incentive programme for investors and the people of Abu Dhabi. The policy outlines how ESG standards and considerations are integrated into investment and business decision-making regarding Abu Dhabi projects and businesses supported by ADIO's incentive programme, in order to promote the establishment and growth of sustainable investment in the emirate.
ADIO has identified six ESG factors – of which environmental risk management and sustainability is one – that is the primary focus of ADIO's incentive programme. To adhere to the policy, partners must demonstrate that the factors are embedded into their organisational governance and management of operations.
How can AgTech help to 'clean up' the agriculture industry?
At the core of AgTech, is a drive to use technological innovation to advance farming practices, whether by solving pre-existing problems or improving established methods. In line with this, ADIO's Innovation Programme seeks to harness existing technology and develop new expertise in agriculture to shape the future of food.
Introducing technology to agriculture can help to reduce the amount of resources needed to grow produce. For example, one of our Innovation Programme partners, Responsive Drip Irrigation, has developed the world's first irrigation system that allows plants to regulate their own water delivery. Meanwhile, other AgTech pioneers, such as AeroFarms and Pure Harvest, are building indoor farms that use less water than traditional agriculture methods. New AgTech solutions are helping to reduce the strain of the agriculture system on Earth's resources.
AgTech can also enable food to be grown in unlikely places. With technology such as indoor farming and the development of new seed varietals, agriculture can take root in new climates. Abu Dhabi, for example, has an arid desert environment but we are growing produce such as tomatoes, greens and berries in temperature- and humidity-controlled greenhouses. Being able to grow food locally streamlines the supply chain and reduces the distance it has to travel from farm to plate.