1 in 5 Britons look at environmental issues when job hunting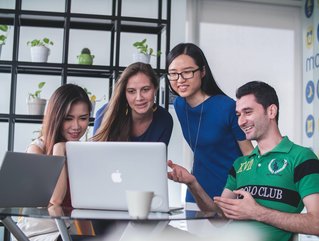 A rise in "conscious career" has led Britons to look for professions that consider their contribution to the climate crisis
According to a new study from global online learning platform FutureLearn.com, there is a surge in conscientious careers, with 78% of Britons indicating that sustainability is personally important to them, with Millennials leading the way (82%).

British citizens are calling on businesses to do more to improve their sustainability efforts, with more than 2 in 10 (21%) admitting that they have left a job because of a lack of action on sustainability issues.

People's methods of learning about sustainability have evolved, with the following three options now constituting the most popular:
41% from the news
31% from social media
13% from online courses
"The Future of Learning report findings around sustainability shed a crucial light on just how individuals are taking the future of our planet into their own hands, into their education and into their careers," Ian McIlwain, VP of Partnerships at FutureLearn, said.

An increase in awareness of career choices

The research also unveils that nearly one-fifth (18%) of Britons have actively sought a profession that prioritises saving the environment and boosting their sustainable efforts, as "conscious" careers become more significant.

Employers across the UK are now waking up to these shifts in attitude, with the top three initiatives they are instituting to make workplaces more sustainable are work-from-home policy (42%), reducing the company's carbon footprint (41%), and educating employees concerning sustainability (35%).

When discussing how individuals educate themselves about sustainability, the importance of traditional education cannot be overstated. The data revealed that the environment is one of the top five subjects that nearly a quarter (24%) of British citizens believe is missing from the national curriculum, which is unsurprising given that 24% believe a greater emphasis on the environment in education will have the greatest impact on resolving the ecological disaster in the next decade.

"It's also incredibly encouraging to see that employers are also listening to their workforce who want them to take on more responsibility," McIlwain said.

FutureLearn has teamed up with Global Citizen, the world's biggest movement for making a difference in the fight against extreme poverty, and the University of Exeter to educate the nation related to the climate crisis and sustainability.

"The climate change crisis is at the forefront of the public agenda and remains an issue everyone is affected by," Talia Fried, Climate & Sustainability Director at Global Citizen, said.

"If we take action through civic engagement by calling on leaders to step up their efforts to protect the planet, we can dramatically change the path we are currently on for global warming. On local and federal levels, we must push policymakers and corporations to halt climate change beyond 1.5°C of warming, allocate climate financing properly to help developing countries, and save nature so nature can save us.

"Individuals play a vital role in holding our world leaders accountable and controlling which issues are prioritised. Global Citizen is excited to support FutureLearn in leading the charge to educate and advocate for increased climate action to fulfil these goals."