easyJet leverages sustainability AI to reduce food waste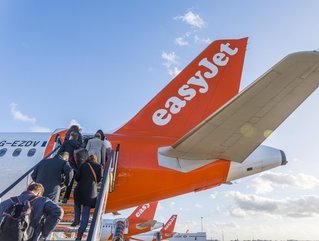 easyJet is set to use AI to manage food waste reduction
To manage the impact of one of its most popular hotels in Tenerife, easyJet Holidays will leverage AI as a sustainable solution for food waste reduction
easyJet has unveiled an initiative which will utilise the power of AI to reduce food waste and run more sustainable kitchens in destinations where it offers package holidays.
The tour operator has formed a first-of-its-kind partnership with Winnow, a commercial food waste solutions company, for the launch of a pilot programme on one of Spain's Canary Islands.
This will monitor the reduction of food waste at one of easyJet Holidays' most popular hotels, the Bahia Principe Sunlight Costa Adeje resort in Tenerife.
The pilot is the result of a collaboration between easyJet and Oxford University's SDG Impact Lab, which saw the creation of the easyJet Holidays Sustainable Tourism Programme.

easyJet and Oxford's landmark partnership
easyJet and Oxford University's programme was launched to equip students with the transferrable skills needed to lead transformative change in relation to the UN Sustainable Development Goals.
As founding partner of the SDG Impact Lab, easyJet has been working alongside Oxford students to identify and deliver solutions that help develop sustainable travel, with a focus on Mallorca and Tenerife.
Student research found that food waste was a significant sustainability challenge, with 18% of food waste in Tenerife generated by the hospitality sector alone.
Technology produced by Winnow was identified as a solution for easyJet Holidays' hotel partners having no measure in place to prevent and reduce food waste, or accurately quantify the lack of food waste being generated.
Winnow's AI tech pinpoints food waste
Using similar technology to that of driverless cars, Winnow's AI tools learn to 'see' food being wasted through a connected terminal with a motion camera.
Data is collected quickly and stored in the cloud – before hotel teams receive reports that pinpoint waste, giving them the insight to make operational improvements.
Typically, kitchens using Winnow see food waste halved within 12-18 months, cutting food purchasing costs by 2-8%.
Matt Callaghan, Director of Customer and Operations at easyJet Holidays, said: "We're delighted to be launching a food waste reduction pilot in one of our biggest partner hotels, investing in artificial intelligence solutions so hotels cut their food waste in half.
"We're the first tour operator to be supporting hotel partners in tracking food waste and offering a real-world solution to a problem faced by our entire industry."
He added: "The brilliant research and recommendations we received from the University of Oxford students has led to this scheme, so we're really excited to be continuing the easyJet Holidays Sustainable Tourism Programme to look at tackling some of the big sustainable tourism challenges.
"We're really excited to see what a positive impact a collaboration between a three-year-old holiday business, an 800-year-old academic institution and a revolutionary technology can have."
Drive towards sustainable tourism continues
Following the success and outcome of the first year of the Sustainable Tourism Programme, Oxford University students are continuing their work to help make easyJet Holidays an industry leader in sustainable tourism.
They will work with a variety of stakeholders, from local businesses and government officials, to NGOs and tourist boards, to address challenges in specific Mediterranean tourism destinations. Work with governments and the United Nations will be aimed at advancing industry-wide progress.
Marc Zornes. CEO and co-founder of Winnow, said: "Food waste is a massive contributor to global greenhouse gas emissions and the hospitality sector needs to take action.
"At the same time, with food inflation at record levels, there is a strong business case for hotels and resorts to tackle it. Winnow is delighted to partner with easyJet holidays to scale our impact together."
easyJet was recently named recipient of the Sustainable Future Award at the Globe Travel Awards 2023, recognising the firm for leading the way in planning a sustainable future for the business and wider industry.