Spin's e-scooters are making sustainable micro-journeys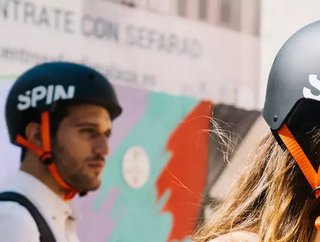 Ford – the most famous car company in the world – is leading the electric transit charge with its future-proofing Spin
When Ford-owned Spin was founded in 2018, our mission was to transform cities and campuses with smart mobility solutions. We truly believe in multiple modes of transportation and view the e-scooter and e-bike as sustainable options for short distances.
In the years since our emergence, we've seen the world continue to urbanise – cities have grown both geographically and in population, while climate change has become an ever-more pressing issue. This makes Spin's efforts to transform mobility even more critical.
Most of our 20th-century cities were designed and built around private car ownership, dedicating the majority of public space – over 80% in cities – to streets and parking. But cities account for about 70% of global emissions, with road transportation being one of the biggest contributors. As we think about combating climate change, the design of our cityscapes and the way people get around, must form part of the solution. 
The world will not be able to reach its climate goals without a shift away from cars towards more sustainable modes of transportation. One of our goals at Spin is to create a future with increased accessibility and mobility – less reliance on cars and more public space dedicated to parks, recreation, art and economic activities, rather than parked vehicles. That brings us to our new mission.
The 15-minute city 
We view 15-minute cities as being the ideal model for sustainable urban design. The concept of 15-minute city centres around making it easy for residents to access all elements of their daily life – work, home, leisure, food, education and healthcare – within 15 minutes or less, through a combination of reliable public transport and shared public or private mobility. 
This is a much more sustainable approach to city planning which also has a positive impact on people's lives and wellbeing. Studies have shown that long commutes reduce both job and leisure time satisfaction, and that people are unhappy with a commute beyond 15 min (especially drivers). 
Sustainable transportation and transit-oriented development are at the heart of the 15-minute city – reducing the time and distance it takes to access the various elements of people's lives. Shared micromobility services must be a key part of the new urban transportation landscape and how people move around. Nearly 50% of car trips in the U.S. are less than three miles – distances that are easily replaced by e-scooters and e-bikes. 
Mobility in 21st-century cities can't just be about replacing gas cars with electric ones. Cars have negative environmental and social impacts beyond emissions. They take up valuable public space, create congestion, pollution and noise – all of which have negative health impacts for communities – and spend 95% of their inanimate existences parked.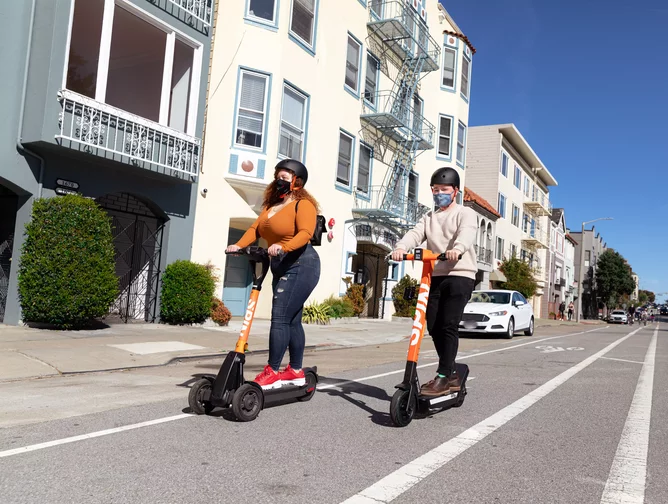 Micro-mobility leverages a circular economy
We don't see micro-mobility replacing cars, but it can help reduce the use of cars, enable efficient connection to public transit, reduce emissions and allow cities to repurpose space formerly dedicated to parking. 
E-scooters and e-bikes are zero-emissions vehicles. Accounting for lifecycle emissions, scooters are much less emissions-intensive than single-occupancy vehicles. Spin's life cycle assessment of our latest generation of e-scooter – conducted in partnership with MIT – indicates that the emissions per passenger kilometre of our scooter is 38g CO2e, comparable to many forms of public transit. 
But we aren't stopping there – we continue to improve upon our products by designing them with sustainability, durability and circularity in mind. 
As a leading micro-mobility operator, it's our job to offer eco-friendly modes of transportation to our riders that enable sustainable mobility. We strive to operate sustainably, minimising our emissions footprint and the impacts we have on the climate and environment. We hope that the entire 15-minute city transportation ecosystem can operate this way.
Shifting behaviours and using sustainable e-mobility
It's important to have sustainable modes of transportation but meaningfully lowering emissions from cars requires both the availability of more sustainable vehicles and behavioural change. 
We need vehicles that pollute less and we need to convince people to use them. Behavioural changes are hard – we won't be able to get people out of cars by merely offering them scooters and bikes. We need to increase the use of micro-mobility by bringing communities together and making changes in three core areas – 1) safety, 2) equity, inclusion and access 3) supportive policies and regulations that place pedestrians and micro-mobility riders at the centre. 
Micro-mobility integrates into a sustainable future
The landscape of city transportation needs rebalancing as we integrate shared micro-mobility into our travels. Shared micro-mobility is a piece of the puzzle and part of the ecosystem. 
Spin is one shared micro-mobilty provider in the industry; we are one perspective on the work of sustainable transportation. We are focused on reducing emissions in the transit ecosystem and enabling cities to be greener, healthier, more equitable and liveable. 
The micro-mobility sector has grown rapidly in the last five years, but there's a lot more room for growth. The era of private-car ownership must come to an end. The future of mobility is shared, electric and sustainable.
• Join global business leaders and sustainability experts taking meaningful action at Sustainability LIVE, held at Tobacco Dock, London, 23-24 February 2022. Register to attend today! Click here to learn more.