Zainab Bie on young people and the climate crisis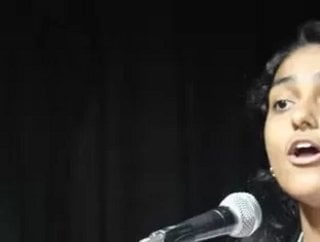 After completing the United Nations Young Leaders Training Programme, Zainab Bie is a voice for the environment and her peers
At 13,

Zainab Bie

became aware of poverty and the climate crisis. Now 17, she has completed the United Nations Young Leaders Training Programme and is the youngest person ever to qualify for the LEED Green Associate exam.
Hi Zainab! How did you first learn about sustainability?
"While waiting for my school bus, I used to see some children there, with bags of garbage not school bags. My dad told me that they were working to segregate the waste. I was shocked that children were leaving school to support their livelihoods and I thought that maybe in the future, I could do something.
"Then I became involved in various school activities, from talking about mental health issues or female empowerment. This was my passion to actually voice out the social issues and involve more people."
Can you tell us about your life in Delhi?
"I'm grateful that I have a park near me. I can walk there, but Delhi is very polluted, if I'm being honest. It actually makes me so sad, considering the large quantity of people being exposed to such harmful chemicals in the air."
Young people are sometimes told to stay out of environmental concerns and stay in school - what do you think about this?
"I believe that sustainability is not some extracurricular thing. For me, it is a part of my routine, my passion! Sustainability is actually a part of my life and I'm enjoying it."
How have your parents reacted? 
"They have been very supportive. In our family, we focus on how we can contribute to society."
The pandemic has forced the world to reevaluate its behaviour. What have you learned about yourself during this time? 
"I believe that the pandemic is actually a positive thing for me, because it is helping me to back up my arguments. Some people think that climate change isn't happening. Now, it is much easier for me to tell them: "See - the pandemic happened, climate change can also happen!"
At 17, you are dealing with the climate crisis, the coronavirus pandemic and all your volunteer roles. What do you do to relax? 
"I enjoy playing chess, but sustainability is actually what brings me peace!"
You've just started the United Nations Young Leaders Training Programme, what is that like? 
"I was the youngest on the programme! I gained confidence from it, I learned negotiation skills and diplomacy. I met many UN delegates, that was an experience of its own. Now, I'm more aware about the United Nations and how we can bring about more change to policies."
What are your thoughts on the UN sustainable development goals?
"I believe they should be more mandatory for us. We have no choice. We have to achieve them. Everything is in a single holistic phrase: sustainable development."
You have been recognised for your youth leadership, what makes a good leader? 
"Empathy - it's such a powerful quality. When my parents used to ask me, what do you want to be, I said: "I want to lead." Collaborating, bringing people together, bringing about an impact in society, this is what I actually love."
What is next for you? 
"I'm applying to the universities this year, my focus will be in economics."