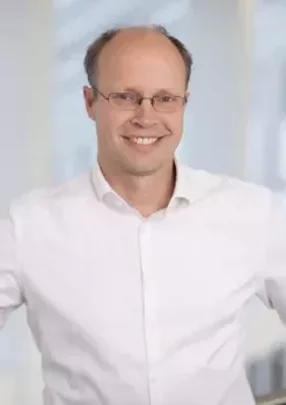 Klaus Kunz
Head of Sustainability and Business Stewardship at Bayer Crop Science
To lead a global team effectively takes a balanced personality and openness to ideas
For Klaus Kunz diversity is not just for the biosphere. He has a keen awareness of the importance of bringing different talents and perspectives into the 26-strong team he manages directly. "People's approaches are so different around the world, and compromise is essential if we are to have constructive dialogue. The whole EU project relies on compromise and it's a great example: the Americans do things their own way, the Indians likewise. We all have to compromise. In my team of 26, we have 13 nationalities. I just chose the best people: I wasn't trying to win any diversity awards! We naturally bring very different approaches, and that is very enriching."
His openness is not unrelated to his early experience in life. He was born to a refugee family, his parents having fled from East to West Germany. "I grew up in the West but every year until I reached 17 and the wall came down, I visited my relatives in the East so I experienced both worlds. That deeply influenced my evolution. It taught me that freedom of mind is the biggest thing. In East Germany you couldn't say what you liked. It was not the lack of money there – in some ways there was beauty in that – it was the control of expression, and what made my parents leave was that it's not acceptable to have to hold back, or stay silent even within one's family, for personal advantage.
"That was the atmosphere I grew up in, and it's something I want to have at work too. Within my team it's important to have an open space for discussion. I encourage difference of opinion because I don't want to be surrounded by people who only echo my own views: that doesn't get you anywhere! I would say I'm a fairly emotional leader. I like people to be excited about what we do and not just to execute something I want them to do. To collaborate in a way that does not discourage people who disagree. So I'm happy to be surrounded by people who are completely independent in their opinion and can immediately contradict me and speak up if they think I'm wrong."
Klaus Kunz looks to inspirational rather than powerful leaders. "I'm obsessed with history and the many people who caused positive change by going against the flow: it might be Nelson Mandela or Martin Luther or the many others unlucky enough to emerge at an unfavourable time." Another is Mikhail Gorbachev, the man who made German reunification possible. "I'll never forget that when I was in Münster doing my PhD in 1999, I didn't realise that he was there with his wife Raisa, who died in hospital there. I was walking with some friends by the lake when he passed by only two metres away from us. I was deeply moved, though they seemed unimpressed."
Teaching seemed a natural career following his father's example and that of many other family members. Attracted to chemistry as a science that demands hands-on lab working, it appealed to two sides of his personality but teaching did not claim him in the end and he'd say that his job leading Bayer's sustainability programme does that, while also satisfying of his fascination with people and their differing abilities and his strong creative instincts.
Klaus Kunz spends as much of his spare time as possible indulging his other passion, which is sport and enjoying the environment he is helping to protect. Walking, cycling, skiing and climbing are among his favourite activities, ones which he likes to share with his wife, a lawyer, and his three boys, especially enjoying walks with his wife. But it's not all physical. He must be quite a good musician, having played the clarinet in a military orchestra during his national service days, but now he only plays for his own pleasure. However, reading remains a real passion. "I love history: we know now what were the consequences of the decisions made in the past but they didn't at the time. It's fascinating to consider what made them take these decisions. I've been reading Light from the East by John Freely, which looks at history from the perspective of the Middle East. We tend to have a very euro-centric view, forgetting that so many civilisations grew both before and after ours in other parts of the world."
Lockdown was a time for his family, but after six months he says he missed direct contact with his teams. "To discuss important matters deeply I think you need to be in the same room, engaged in a creative process with a flip-chart and six or seven others. That's the way to create real solutions to real problems."
Read the full story HERE.