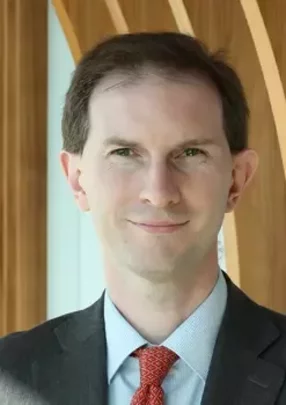 Dr James Robey
Global Head of Sustainability of Capgemini Group
If you are going to be a global corporation's sustainability doctor you should probably have sustainability in your blood.
Dr James Robey has always had a curiosity in terms of the way the world works and the way global economics works. Having completed his original degree many years ago he started to have a much more detailed look at some of the megatrends which were unfolding globally.
"Researching topics like demographics and global population resources, I came to the conclusion around 2006 that sustainability was going to be an absolutely massive game changer for the world and for the business community," reflects James.
"As a result of the conversations I was having in the business I was asked to create a programme first in the UK with Capgemini UK, and then a couple years later globally to figure out how the business was going to respond."
James has led the Capgemini Group sustainability agenda since setting first carbon reduction targets in 2008. He is a long-term advocate of ambitious and transparent targets as a mechanism to drive innovation to ensure continual improvements. He led the development of and is driving the Group's global net zero program to reduce environmental impacts across its most material impacts towards the goals of the Capgemini becoming carbon neutral no later than 2025 on it path to being fully net zero .
In addition, James also brought a client focus to Capgemini's sustainability vision, working with the leadership to establish a target for the Group to help its clients with their sustainability and carbon reduction goals.
During his 23-year career at Capgemini, James has held a number of roles, primarily in business development, and programme and change management. In addition to leading Capgemini's Net Zero Board, he is also a member of the Country Board of Capgemini UK. He also led the roll out of a successful Leadership Development Academy, and continues this interest in developing others in his current role by rotating a wide range of employees from across the business through the sustainability programme.
James brings an academic flavour to his work, holding a degree in Economics and Mathematics, a Master's degree in Development Economics, and an M.B.A. He completed his doctorate with Henley Business School investigating the drivers and outcomes of corporate sustainability.
Meanwhile, he lectures on sustainability at a number of universities and is an associate member of faculty at Imperial College Business School, London where he teaches Sustainable Business and Carbon Accounting to both under-graduate and post-graduate students. He also regularly contributes to research reports produced by Capgemini's award-winning Research Institute .
James is a member of both the Environment Leadership Group at Business in the Community (BITC) and the Senior Advisor Network to the Alliance of CEO Climate Leaders at the World Economic Forum (WEF). He is also a founder member of the edie Sustainability Leaders Club. He regularly asked to present at both academic and industry conferences and comments in the media.
Read the full story HERE.