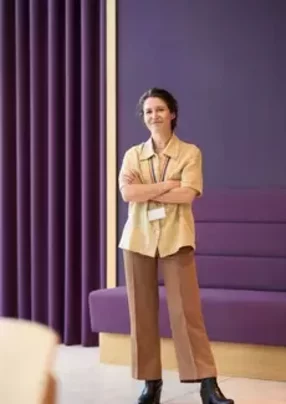 Ida Krabek
Director, Head of Global Sustainability of Ørsted
Ørsted: Collaboration with stakeholders holds the key for a sustainable future, according to Krabek
Creating a world that runs entirely on green energy may seem like a daunting prospect. But Ida Krabek, Director, Head of Global Sustainability at Ørsted, chooses to see it as a fascinating challenge.
For the past decade Krabek has been part of the sustainability journey at Ørsted, and has seen the company transform from a fossil fuel-based utility to a green energy leader. She is now focused on helping to create a world that runs on renewable energy.
According to Krabek the best way to do this is collaborating with stakeholders and local communities to pave the way for a sustainable future, and she hopes that Ørsted's work will inspire others to follow.
Danish-based Ørsted is a pioneering green energy company and the global leader in offshore wind. The company develops, constructs and operates renewable energy in the form of offshore and onshore wind farms, solar farms and energy storage facilities.
"We are on track to become a carbon neutral company and the next journey for us is to enable and inspire others to go through the same transformation. We want to be a catalyst for change towards a world that runs entirely on green energy," said Krabek from her office in Copenhagen.
Krabek believes a crucial step of this global green transformation is for companies to set targets aligned with science. "We have set our carbon reduction targets even though we don't have all the answers readily available. That's what sustainability leadership is also about. You have to set the targets and ambitions to guide business development, even if you don't have all the answers."
Ørsted was originally created in 1973 as DONG, for Danish Oil and Natural Gas, but it became Ørsted in 2017 after transitioning from a fossil-based to a green energy company. The company is named after physicist and chemist Hans Christian Ørsted, who inspired the electromagnetic theory.
Krabek studied political science at the University of Copenhagen, which is where her interest in sustainability was ignited. "I read a text about involving the public and local communities in decision-making," she said.
"The notion of engaging your stakeholders in decision-making really triggered something in me. I studied political science, because I had a strong interest in how we could create a better society, and I started to mix this with how we could engage the public, particularly in the corporate world. I started to think about what would happen if private companies took the same approach to decision-making as I had seen in the public sector and how this could help solve societal problems."
Prior to her role at Ørsted, Krabek was Assistant Attaché for the Ministry of Foreign Affairs of Denmark, based in New York, which provided a global perspective on public collaboration.
"From a very national perspective, I moved to the US and worked for the Danish UN Mission and it really changed my perspective and gave me first-hand experience on the power of global collaboration across sectors," said Krabek, who went on to study for a Masters in Global Governance and Ethics at UCL in London.
Krabek cites listening and empowerment as essential traits needed for a leader to drive forward towards a sustainable world. "You have to be curious and you have to genuinely listen to other people's perspectives, as that is what shapes sustainability.
"Empowerment is crucial, because the sustainability space is so broad and complex. It spans everything from human rights and climate, to biodiversity, diversity and inclusion. This means you need a team and organisation that is empowered to move forward because no single department, single person, can span that complexity or do it alone.
"We work as a team to make sure the company knows what best practice in sustainability looks like, because we have an ambition to be a globally recognised sustainability leader. We look at how the sustainability space is moving and then work with relevant business functions across the organisation to make sure we have the right programmes and initiatives in place. We listen a lot."
In an increasingly complex world, Krabek points out it is also vital for a leader to make the complexities of life actionable.
"You need to know where you want to go in the long term, but you also need to know what to do on Monday to move forward with sustainability. It is about being able to bridge those two perspectives and be very focused on what it takes. We have to ask ourselves, what is the first meaningful action we can take to move forward?"
Read the full story HERE.