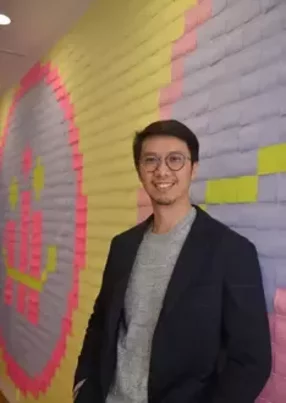 Roy Cheung
Global Head of Sustainability Solutions, Engineering Plastics at Covestro
Roy Cheung is leading a sustainability march at Covestro and is determined to make his journey circular
It is perhaps apt that Roy Cheung – Global Head of Sustainability Solutions, Engineering Plastics, at Covestro – names The Verve's 'Bitter Sweet Symphony' as the song for the soundtrack of his life.
When you consider the situation on Planet Earth 'Bitter sweet' is the term and Roy is definitely facing the challenge of a lifetime.
He started his career at Covestro four years ago within the business unit of the polycarbonate operation called 'business model innovation'. One of the first projects he got involved in was trying to build a circular recycling model, because at that time the polycarbonate business units had already started selling recycled materials to the downstream.
"It's not too difficult for people within your organisation to think that, if we're selling materials containing recycled materials, we can really start creating closed loop models more broadly," explains Roy.
His role gradually evolved into 'sustainability solutions' allowing for even more leverage into different areas of the company and, critically, yielding greater opportunities to make a difference.
Building bridges
Sustainability solutions at Covestro Engineering Plastics Business Entity is about building dedicated sustainability teams within specific parts of the business – connecting, in effect, a company-wide ecosystem which focuses on climate change and environmental issues relating to the company's operation.
Roy has endeavoured to unite every employee with the same fully circular vision, with every function making a contribution from procurement to operations to sales. It also includes supporting functions like HR, controlling and supply chains.
He explains: "To bring every single employee on board; to equip them with precisely the knowledge they need is a constant challenge. But we are seeing positive change. There has been a growing number of early adopters within the organisation who are already showing willingness to contribute. They tend to be curious people and many from the younger generation who have a clear idea about what they want on sustainability for their future generations."
Circle of life
The circular concept requires all the regions to operate symbiotically as Roy describes: "It's a global phenomenon but in order to solve the constant problem of waste, we need to close more loops, and that has to be at a local level. We need more voices and contributions from all countries and companies – big and small.
This notion of cohesiveness is essential to achieve full circularity, and Covestro is adamant that it cannot be achieved alone or within one single institution, industry or nation. "We really need more partnerships to have more collaborative models. We're living in an era in which we are constantly discovering new innovations and working together is the key to leveraging them. This has to happen internationally and by groups of people with an understanding of the common goals involved."
Read the full story HERE.