Digital Twinning: Accelerating Sustainable Supply Chains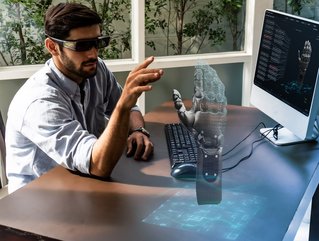 Tyler Chaffo, Manager Global Sustainability at Avery Dennison Smartrac provides his thoughts on the use of digital twins for industrial decarbonisation
According to the World Economic Forum there are more than four trillion consumer products made, shipped and sold globally every year. Supply chains in food, construction, fashion, fast-moving consumer goods, electronics, automotive, professional services, and freight account for more than half of all global greenhouse gas emissions.
The importance of supply chains to companies' sustainability goals is now widely accepted.
A report by Accenture reveals that CEOs agree that technology is enabling new business models and will unlock the future of industry decarbonisation. The ability to track every stage of the product journey from raw materials to the consumers doorstep through to the end-life of the product, is now top of mind for businesses. In fact, research by EY lists end-to-end visibility as the number one factor in creating a successful supply chain. Furthermore, as global supply chains continue to be affected by challenges related to the COVID-19 pandemic, this is a way to build resilience and future-proof supply chains from disruptions.
To fully leverage the transformational opportunities that technology can unlock, organisations need effective data management and item-level visibility across the value chain - but this can't be accomplished without the right technologies.
Traceability leads to visibility
When we look at the future of sustainability, from net-zero goals to circular business models, none of it is possible if companies don't first understand the what, when, where, why and how of their products at each stage of the supply chain.
This is where the benefits of digital identity technologies can have a profound impact. By assigning each product its own 'digital twin' companies can unlock sophisticated real-time monitoring of their supply chains. This helps them to make supply chain decisions that can reduce waste, increase efficiencies and create circular processes.
A prime example is the use of digital twins in the food sector, capable of driving better management of expiry, more precise product removal during recalls and improved monitoring of temperatures to avoid spoilage. Based on pilot studies, we believe radio frequency identification (RFID) tagging can help grocers reduce food waste by as much as 20%.
Chipotle Mexican Grill recently announced it is testing RFID technology to enhance its traceability and inventory systems across approximately 200 restaurants in the greater Chicago area. A leader in food safety, Chipotle is one of the first major restaurant companies to leverage RFID case labels to track ingredients from suppliers to restaurants via serialization. The ambition is to save suppliers time on inventory management and stock rotation, mitigate human error, and increase expiration date visibility and accountability.
Driving decarbonisation
To meet the urgency of curbing climate change, it's critical that businesses act to eliminate GHG emissions and when we consider that the food supply chain alone represents a quarter of global GHG emissions, the possibilities are huge and the supply chain's role in decarbonisation could be an absolute game-changer.
Avery Dennison is working with a major sports retailer who is piloting our atma.io connected product cloud solution to trace the carbon footprint of its raw materials. By assigning every product a digital identity, which is connected to the cloud, the sports retailer can determine the carbon cost of each product, from manufacturer to store shelf.
The next frontier of supply chain decarbonisation is to ensure companies are measuring and managing their total value chain. Scope 3 emissions account for 65-95% of a company's emissions but progress on tracking these emissions has been slow. The latest updates to the atma.io connected product cloud have been created to help brands meet net-zero targets and reduce waste across the supply chain. The atma.io Real-time Carbon Impact Analytics tool provides brands with data-driven insights regarding the carbon footprint of their products, including Scope 3 emissions and beyond. It captures data from every stage of a product's journey, from raw material to consumer, and can help firms as they work to comply with forthcoming EU 'Digital Product Passport' regulations.
Supply chains for value-driven customers
Consumer behaviour is changing, and given the COVID-19 pandemic, transparent and real-time information is becoming critical to ensure health and safety but also to align with consumers' increasing demands for sustainability.
The information made possible by digital identity technologies goes way beyond a product's origins to letting people know where their product has been, giving them access to behind-the-scenes footage of where products are made, to information on how or where to recycle or resell their clothing.
As the global economy is transitioning away from a linear model to a circular one, digital identity technologies provide consumers with information through a smartphone scan or tap on how or where to recycle or resell their clothing and by providing resellers with the authenticity of a garment enabling its second life.
For example, Levi's partnered with Hong Kong upcycling brand The R Collective to create a fully traceable denim collection. Each item has an Avery Dennison-enabled digital label with a QR code that informs consumers how to care for their garment and how to recycle at its end of life. French lingerie brand Etam is deploying RFID technology across its entire range of bras and underwear, as a means of tracking and tracing product throughout its journey from factory to store shelf. This provides a global vision of its stock, wherever the product happens to be, allowing the brand to take full advantage of its inventory, whether it is being showcased in stores, in stockrooms, or in warehouses. As part of its commitment to transparency, shoppers can scan QR codes on product labels to beam short videos about factories and product insights directly to their smartphones.
Transparent supply chains are fast being seen as 'business as usual', not an innovative extra with digital twins being used all the way from item creation, to optimising manufacturing operations, to end of life. The evidence around the commercial benefits is extensive.
According to an Accenture study across five use cases, digital twins can unlock US$1.3tn in economic value and 7.5 Gt CO2 emissions reductions till 2030. We have the societal and the business case for change, coupled with the technology required, now we just need to see more urgency and action.