Samsung pledges to become carbon neutral by 2050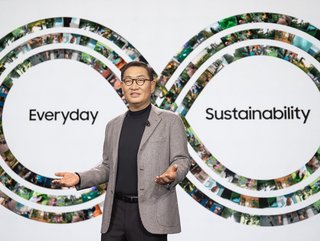 Samsung has made a commitment to achieve net zero carbon emissions for the whole company by 2050 and will spend US$5bn to do so
South Korea's Samsung Electronics has announced an environmental strategy to achieve net zero carbon emissions by 2050.
The company intends to spend more than KRW7tn (US$5bn) over the next seven and a half years to achieve that goal. This money will go towards reducing process gases, conserving water, expanding electronic waste collection and reducing pollutants.
By reaching net zero direct and indirect carbon emissions, Samsung Electronics expects to reduce the equivalent of about 17 million tons of carbon dioxide-equivalent (CO2e) emissions based on 2021 figures.
"The climate crisis is one of the greatest challenges of our time. The consequences of inaction are unimaginable and require the contribution of every one of us, including businesses and governments. Samsung is responding to the threats of climate change with a comprehensive plan that includes reducing emissions, new sustainability practices and the development of innovative technologies and products that are better for our planet," said Jong-Hee Han, Vice Chairman and CEO of Samsung Electronics.

Developing technologies for a better planet
The company plans to develop new technologies to reduce process gases — a byproduct of semiconductor manufacturing — and install treatment facilities on its semiconductor manufacturing lines by 2030.
Samsung Electronics has also joined RE100, in an effort to reduce indirect carbon emissions from power consumption, and aims to match electric power needs with renewable energy by 2050 for all operations globally.
The company will implement low-power technologies in major models of seven consumer electronics products — smartphones, refrigerators, washing machines, air conditioners, TVs, monitors and PCs, with the goal of lowering power consumption levels by an average of 30% in 2030 compared to products with the same specifications in 2019.
To ensure accountability, Samsung Electronics will have its efforts objectively verified by designated organisations. Its performance will be assessed via participation in the Samsung Institute of EHS Strategy's certification system and verified by a Carbon Reduction Verification Committee that includes third-party experts.