Hydrogen-powered high-speed urban train unveiled in China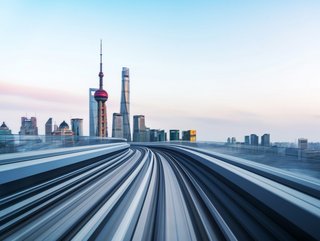 The train's first model came off the assembly line this week and marks a next step in a Chinese train industry that has seen phenomenal growth recently
Hydrogen power continues to make waves into the new year, after the world's first hydrogen-powered urban train was manufactured in China, coming off the assembly line last week in Xinjin, Chengdu.
The new train will incorporate technologies from China's trademark Fuxing high-speed train, one of the pillars of a network that crisscrosses the country and which, over the last decade and a half has become one of the most sophisticated high-speed rail networks in the world.
The train is composed of four cars and reaches a maximum speed of 160 km/h. It has built in it a hydrogen power system which allows the train to travel up to 600 kilometres on a single charge.
By using a combination of hydrogen fuel cells and super capacitors, the new-style train is able to replace the catenary power supply source which typically marks train power. Catenary power supply refers to overhead wires powering the train. An electrochemical reaction of hydrogen and oxygen in the fuel cell produces the energy. As a result of this power source, only water is produced as a byproduct, and there is none of the sulphur and nitrogen that comes from traditional train power.
The train was developed through a joint effort by CRRC Changchun and Chengdu Railway Group.
An integrated experience
Among the other features of the train are a passenger capacity of 1,502. The new design has also integrated intelligent driving features, such as automatic wake-up, start and stop, return to depot abilities, a complex system of sensors and monitors, the ability for big data analysis which evaluates train status and helps improve safety, and a 5G large-capacity train-to-ground communication system that allows for multi-network integration.
It comes as no surprise that this forward-thinking technology has come out of China. Over the past few years, the Middle Kingdom has become a global avatar in the development and deployment of train travel and technology.