Supply Chain Sustainability
Co-op begins reverse supply chain scheme for plastic waste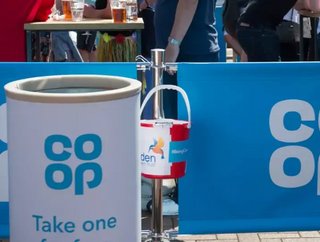 The Co-op has started a reverse supply chain collection for plastic bags, crisp packets and food wrappings, in an effort to curb waste
Co-op has begun Europe's most extensive in-store recycling scheme for plastic bags and product wrapping. 
The rollout of the scheme makes the convenience retailer the first UK supermarket to have fully recyclable food packaging.
The Co-op's reverse supply chain will save up to 300 tonnes of plastic from landfill
The initiative will ensure that all of the Co-op's own food packing is easily recyclable for customers, as they can bring the waste back to the retailer when they do their next shop.
Furthermore, the recycling units will be accessible for UK council collectors to pick up.
The Co-op estimates that 300 tonnes of plastic bags and food wrapping could be collected per year, once the bins are in place across the 2,300 stores by November.
These 'soft' plastics include:
Crisp packets

Bread bags

Single-use carrier bags and bags-for-life

Lids from ready meals and yogurt pots

Biscuit wrappers 

Pet-food pouches
The Co-op leads in sustainability
In addition, the Co-op has has undertaken a number of measures to reduce its plastic waste, from removing plastic stems from cotton buds to banning microbeads from products.
"As we face into an environmental crisis, we know from our feedback that there is a universal appetite for change", said Jo Whitfield, Co-op Food CEO. "Which is why we are making it easier for thousands of households to recycle all of their plastic food packaging. This will not only prevent unnecessary waste but also reduce plastic pollution. By offering a simple and convenient solution to an everyday issue, we believe we can help communities to make small changes, that together will add up to a big difference for our environment."
"There's no doubt that unnecessary plastic needs to be reduced; including bags and wrapping which is a fifth of all consumer plastic packaging", said Helen Bird, Strategic Technical Manager from WRAP. "However, where it is necessary it is urgent to design it for recycling and ensure recycling systems are in place. It's great to see the roll out of collections across Co-op's stores significantly contributing to the goal of The UK Plastics Pact for all plastic packaging to be recyclable by 2025. Not only is the Co-op ensuring that the service is widely promoted, it is processing the material within the UK, demonstrating how we can build back better for the economy and environment."
The roll-out will be supported by a nationwide, multi-channel marketing campaign – as part of a new partnership with ITV.