Better Cotton Initiative announces five targets for 2030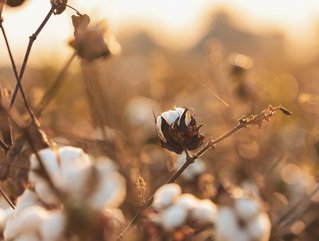 Non-profit multistakeholder governance group Better Cotton Initiative has been campaigning to improve the cotton industry for the last 17 years
The Better Cotton Initiative, a non-profit group that campaigns for sustainability in the cotton industry, has announced its 2030 strategy, which includes five impact target areas and a climate approach.
One of the target impacts comprises "global soil health, helping to re-balance its chemistry, structure, biology, organic content and ability to retain water." By striving to realise sustainable agriculture across 21 countries, Better Cotton is a significant contributor to the United Nations' goal of achieving better global water sustainability.
Better Cotton has been fighting for better standards in cotton farming and practices since 2005. The non-profit group is now campaigning for the betterment of the cotton industry in 21 countries.
In 2017, the multistakeholder governance initiative accounted for 14% of global cotton production. 1.3 million licensed BCI Farmers produced 3.3 million metric tonnes of lint in the 2016-2017 cotton season.
By the end of 2017, Better Cotton already had 1,197 members, comprising 85 retailer and brand members, 1,039 supplier and manufacturer members, 32 producer organisation members, 31 civil society members and 12 associate members.
The importance of better farming
Better Cotton aims to raise awareness of the importance of soil health while also speeding up soil regeneration in cotton farming, particularly within its network.
To achieve these goals, Better Cotton provides farmers with education programmes that can help farmers to gain better yields by improving soil quality and reduce the use of harmful pesticides.
Improving soil quality and reducing the use of harmful pesticides, in turn, helps farmers in cutting labour costs while also reducing pests by using environmentally friendly pesticides.
In the 2018-19 cotton season, farmers within the network were already using less harmful chemical pesticides, with those in Tajikistan using 38% less, 6% less in India, and China using 10% more organic fertiliser.
"Regenerative agriculture and improving soil health are not just key to strengthening the global agricultural ecosystem and mitigating the effects of climate change," Better Cotton CEO Alan McClay said. "Any business stands to benefit from these improved practices in the long-term. Ultimately, by improving soil health, we can increase the environment's resilience to climate change whilst simultaneously enhancing productivity and ensuring sustainable, long-term income for farmers.
"On a consumer-level, sustainable products are no longer a 'nice to have', as customers want to know that the businesses they support are not damaging the environment. So, increasing sustainable farming through soil health not only increases yields and safeguards the global ecosystem, but farmers can also ensure their products are competitive in the changing marketplace."