Technology, the subject & curator of a circular economy
By Charlie Steer-Stephenson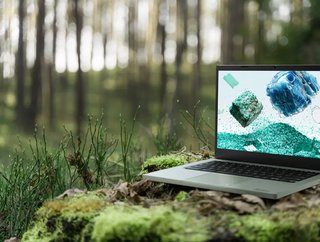 Source: Acer
With environmental issues becoming more prevalent in the tech industry, Acer urges its partners and suppliers to join the shift towards a circular economy
In our increasingly digitised world, meeting sustainability goals relies heavily on technical solutions that help businesses mitigate risk and meet environmental, social and governance (ESG) standards. For instance, smart buildings, robotics and cloud computing are being developed to help companies manage and reduce their carbon footprint.
At the same time, the amount of energy consumed by modern technology is increasing. Research conducted by Accenture found that the carbon emissions of the information and communications technology (ICT) sector has increased from 1.5% in 2007 to 4% today. It's expected to reach 14% by 2040. With the rapid development of artificial intelligence (AI), which generates an extreme amount of CO2 during deep-learning (313 tonnes for 213mn parameters), usages are set to rise even more drastically over the coming decades.
By both enhancing environmental initiatives and becoming more sustainable itself, technology has a two-sided role to play in the fight against the climate crisis.
Chris Everitt, Managing Director of refurbished tech company ArmaFone stated: "Tech giants cannot ignore the environmental movement; to do so could marginalise themselves." With that in mind, we consider how technology companies today can contribute to the shift towards a circular economy.
Green software, net zero targets and ESG priorities in the technology industry
Accenture suggests the answer to a sustainable future lies in making technology itself more sustainable, before using it to become sustainable in all other areas. This involves:
· Using green software practices to reduce energy consumption and reach for net zero targets
· Building transparent and robust systems that protect privacy
· Making ESG a top priority in the technology industry
Multinational hardware and electronic corporation Acer is leading the way in producing accessible green technologies. First established in 1976 in Taiwan, Acer has been a member of the CDP Supply Chain since 2008. By reporting on its environmental impact and driving action towards a sustainable circular economy, the company is dedicated to making change across the tech industry.
In 2013 the company started using recycled packaging for its notebook PC, and in 2017 launched Project Humanity to unite its employees worldwide in designing an eco-friendly business model. Acer is now committed to 100% renewable energy use by 2035.
In 2021, Acer launched its Earthion programme, with the aim of bringing suppliers and partners together to make the technology supply chain more sustainable, from minimising energy usage to reducing packaging and waste. This also includes the expansion of the company's eco-conscious devices, including Vero laptops and AIO desktop, monitors and projectors, which are made with a percentage of recycled plastic and packaging.
"Following Intel's recent commitments to reach net-zero greenhouse gas emissions, we're encouraged by the collective efforts across the technology ecosystem to build a future of sustainable PCs," said Josh Newman, Vice President and General Manager of Mobile Innovation for Intel's Client Computing Group.
"Through close collaboration with Acer, we're building thoughtful yet powerful devices like the newest Vero line powered by 12th Gen Intel Core processors," Newman added.
Tackling e-waste with repairable and recyclable electronic devices
According to the Waste Electronic and Electrical Equipment (WEEE) forum, electronics comprise 57.4m tonnes of waste, or e-waste, globally. E-waste recycling is promoted by some technology companies and government regulations, but in reality under 20% of electrical items end up being recycled properly.
Acer is currently partnered with Compal and Quanta to improve its waste management systems within the manufacturing and logistics processes. On Acer Green Day the company released its 2022 Sustainability Report to celebrate its progress so far; but also to call on more partners to join its Earthion mission and enhance the positive impacts on the environment.
Acer's recent release of its Chromebook Vero 514 is the embodiment of the company's commitment to sustainable technology. With 30% of its framework made from post-consumer recycled plastic and 12th-gen Intel Core processors, the computer is a great option for the eco-conscious laptop-user.
"We're pleased to continue to deliver on our Earthion mission to tackle environmental issues with novel solutions and greener products by rounding out our Vero line. In addition to new PC and monitor models, our Vero mix now extends to peripherals and projectors to offer a wider breadth of sustainably designed products that decrease waste and carbon output without compromising performance," said Jerry Kao, Co-Chief Executive Officer at Acer.