Top 10: Businesses combatting litter & landfill
By Charlie Steer-Stephenson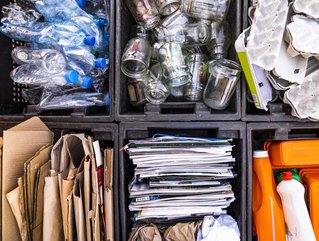 We look at the top 10 companies demonstrating their commitment to achieving zero waste to landfill and supporting the development of a circular economy
Businesses across the world are increasingly announcing their plans and initiatives to combat net zero emissions over the coming decades. This is crucial of course, but sustainability is about so much more than reducing fossil fuel energy usage.
With over 2bn tonnes of solid waste produced globally every year (predominantly made up of e-waste and single-use plastics), our eco-conscious generation has an important role to play in transforming the way we use and dispose of material goods.
The annual growth rate of waste correlates more strongly with income growth than population level, so there's clearly something we can all do to stop this rate of devastation. Here, we examine which big companies are demonstrating their commitment to overcoming the world's waste problem - whether that's by recycling and reusing plastic, paper, glass, e-waste, or food.
10. Unilever
Health and beauty product manufacturer Unilever has joined other top consumer companies in signing the New Plastics Economy Global Commitment. Previously seen as one of the 'worst polluters', the major brand owner has pledged to make 100% of their packaging recyclable or reusable by 2025.
Unilever has also participated in refill programmes with retail partners in their unified aim to reduce product and packaging waste, and has even supported the creation of new recyclable packaging technology, called the CreaSolv Process.
9. Intel
Multinational technology company Intel plans to be a global leader in sustainability. The company's environmental initiatives aim to reduce gas emissions, energy and water use, and waste production, around the world.
Through implementing circular economy strategies, Intel intends to have zero waste status for 60% of its waste streams by 2030. Already between 2020 and 2021 the company has significantly reduced its total waste generated (from 414,000 tonnes to 344,000 tonnes), of which only 5% has been sent to landfill in both years.
8. Eaton
Eaton is a power management company dedicated to improving quality of life and protecting the environment. With 65% of its sites already certified as zero waste to landfill, Eaton is exceeding its goal of achieving 100% status by 2030. In 2021 alone, 94% of the company's manufacturing waste was reused, recycled, composted, or incinerated for energy generation.
All Eaton sites have strict waste regulations, and all suppliers must adhere to the company's minimal waste standards.
7. Google
Google's initiatives to address climate change includes achieving zero-waste status. Starting with data centres, Google recognised it must first radically reduce its waste. In 2016, 86% of Google's data centre materials were diverted from landfill and reused, with six of 14 data centres achieving 100% zero waste.
In 2015 the company outlined its commitment to cutting energy, material (especially plastic), food, and water waste. This year, Google announced a new pledge to cut half of its current food waste produced in kitchens and cafes by 2025.
6. Procter & Gamble
Beauty and household product manufacturing company Procter & Gamble announced its Zero Waste to Landfill programme in 2008. Since then, the company has taken strides to achieve its goals, already diverting 80% of waste from landfill by 2018. In China, for instance, Procter & Gamble waste is composted and used as nutritional soil for local parks.
The company is now committed to producing 100% recyclable or reusable packaging by 2030 – in 2021 it was already at 73%.
5. Microsoft
World-leading technology company Microsoft plans to divert 90% of its waste from landfills by 2030. The company has built its own recycling Circular Centres that reuse and repurpose old servers and hardware for its data centres. In 2021 the programme achieved 83% reuse efficiency, massively contributing to the efficiency, resilience and sustainability of the supply chain.
In 2020 Microsoft also pledged to stop using single-use plastics altogether in its packaging, and to use technology to improve its waste counting.
4. Patagonia
Outdoor clothing manufacturer Patagonia has been recognised for its sustainability commitment for many years. One of few companies still offering customers a lifetime guarantee, Patagonia promises to repair all damaged items upon request. For clothes that are unrepairable, customers can return their items to be recycled into the making of new Patagonia products.
In 2011 the company released its Common Threads Initiative, encouraging customers to donate or sell used and unwanted clothes on Patagonia's online marketplace – a major programme against fast fashion.
3. Sierra Nevada
Beer manufacturer Sierra Nevada has been diverting 99.8% of its waste from landfill since 2013. As well as incentivising its employees to reduce their own waste by gifting reusable bags and containers, the company sends its used brewing ingredients, including barley and hops, to be repurposed as feed at local cattle and dairy farms.
Sierra Nevada's fields and breweries are also home to the first HotRot composting system in the US, and has already turned 5,000 tonnes of organic waste into usable compost since 2010.
2. McDonald's
McDonald's aims to lead sustainable change in the fast-food industry. The company's Plan for Change outlines plans to achieve net zero emissions across the entire business by 2040, and to obtain 100% of its restaurant furniture and packaging from renewable or recycled sources by 2024.
McDonald's claims that by 2027 all waste collected from its restaurants will be given a second life by recycling, reusing or composting. This includes food waste, which is sent to create renewable energy for the company's suppliers. In 2030, McDonald's will have reduced the amount of packaging it requires to operate by 20% from 2020.
In the UK, Ireland and Switzerland, McDonald's recently partnered with LitterLotto, the behaviour change app, to incentivise customers to bin their litter responsibly in return for the chance to win prizes. The company is clearly devoted to radically reducing waste and litter, and ensuring a circular future for all materials.
1. Subaru
Car manufacturer Subaru is committed to being a 100% zero-waste company. In 2021, the company announced that its manufacturing plant in Indiana, US, had not sent any waste to local landfills since 2004. The Subaru of Indiana Plant is the only US automobile production site that has been named a backyard wildlife habitat by the National Wildlife Federation.
Subaru's Love Promise is the company's policy to show respect to all communities and environments it interacts with around the word. This include reducing waste, safeguarding resources for future generations, and preserving natural spaces.
In 2019 Subaru partnered with waste management company TerraCycle, to support their mission to keep hard-to-recycle rubbish, like coffee cups and confectionary wrappers, out of landfills. So far, the company has reused over 7,000,000 products to create high-quality, recycled items such as park benches and picnic tables, that have been donated to local communities.