Amazon's 2022 Sustainability Report discusses ESG progress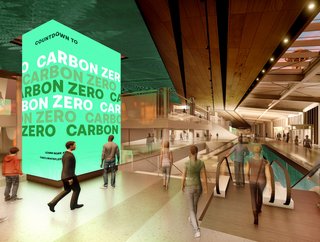 "We recognize that sustainability does not have an expiration date, and there will always be more to do," says Kara Hurst, Vice President, Worldwide Sustainability at Amazon. Credit | Amazon
Amazon's 2022 Sustainability Report shows 0.4% decrease in absolute carbon emissions as the company works towards net-zero carbon emissions by 2040
Founded in 1994 by Jeff Bezos, Amazon is ranked 36 in Forbes' Global Top 2000 list, reportedly taking US$33.4bn in profit in 2022 and employing around 1.5 million people globally.
Bezos has become a global household name, and sits amongst the richest people in the world with the likes of Tesla founder and CEO Elon Musk, Microsoft's Bill Gates and Oracle's Larry Ellison.
Amazon was famously started in Bezos' family garage in Washington, but now delivers to over 100 countries globally, out of over 150 fulfilment centres.
With a reach spanning most of the globe, and impacting the lives of most people on the planet, the question turns to Amazon's environmental policy — is the company making a positive environmental impact?
The 2022 Sustainability Report is the fifth of its kind, discussing Amazon's goals and progress in ESG, net-zero, waste and packaging, products, and more.
Net zero carbon emission goals
The Climate Pledge was founded by Amazon and Global Optimism, a pledge to reach net-zero carbon by 2040, 10 years earlier than The Paris Agreement.
The company plans to achieve this by investing in renewable energy, scaling solutions across operations, and collaborating with partners to broaden its impact.
The 2022 Sustainability report shows progress towards this goal:
0.4% decrease in absolute carbon emissions.
7% decrease in carbon intensity (emissions growth against the growth of the business).
90% of electricity consumed by Amazon is attributable to renewable energy sources, up from 85% in 2021, and the company remains on a path to 100% by 2025—five years ahead of its original 2030 target.
29% reduction in Scope 2 emissions from purchased electricity.
Electric vehicles driving sustainability
Part of Amazon's net-zero goals is the increase in use of electric vehicles for its delivery fleet.
The company currently has over 9,000 EVs in its global delivery fleet, partnering with Rivian, and has delivered 145 million packages by EVs in the U.S. and Europe.
As of the report, it has nearly 4,000 EVs in its Indian delivery fleet, and is aiming to have 10,000 by 2025.
The company also reports over 1.6 million grocery orders delivered on foot or by e-bike in 2022 from micro mobility hubs
Reducing inefficiencies through sustainable packaging
Amazon views waste as an inefficiency, and is working to reduce it through design and process changes first, before turning to reduction, recycling and reuse, with landfill as a last resort.
Through these methods, the company has saved over two million tonnes of delivery packaging since 2015. The amount of packages shipping in their original packaging has also increased from 8% in 2021 to 11% in 2022.
The company has seen a 41% reduction in per-shipment packaging weight on average since 2015, and in North America has replaced 99% of mixed-material mailers with recyclable paper alternatives.
Sustainability achievements throughout business
Amazon's 2022 Sustainability Report is 82 pages of detailed analysis of the company's ESG performance, guided by the company's four key principles:
Customer obsession rather than competitor focus
Passion for invention
Commitment to operational excellence
Long-term thinking
"We recognize that sustainability does not have an expiration date, and there will always be more to do," says Kara Hurst, Vice President, Worldwide Sustainability at Amazon.
"We are working tirelessly to deliver on our sustainability commitments with the impact and scale our customers have come to expect from us, while bringing entire industries along with us and transforming how we work on planet Earth."
*************************************************
For more insights into Sustainability - check out the latest edition of Sustainability Magazine and be sure to follow us on LinkedIn & Twitter
Other magazines that may be of interest - EV Magazine | Energy Digital
Please also check out our upcoming event - Sustainability LIVE in London at the BDC on Sept 6/7th 2023
*********************************************
BizClik is a global provider of B2B digital media platforms that cover 'Executive Communities' for CEO's, CFO's, CMO's, Sustainability Leaders, Procurement & Supply Chain Leaders, Technology & AI Leaders, Cyber Leaders, FinTech & InsurTech Leaders as well as covering industries such as Manufacturing, Mining, Energy, EV, Construction, Healthcare + Food & Drink.
BizClik, based in London, Dubai & New York offers services such as Content Creation, Advertising & Sponsorship Solutions, Webinars & Events.