European Sustainability Reporting Standards regulate ESG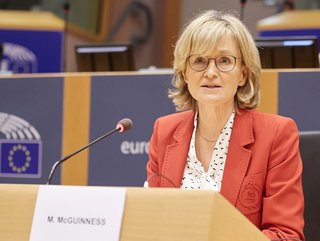 Mairead McGuinness, Commissioner for Financial Services, Financial Stability and Capital Markets Union at The European Commission. Credit | The European Commission
The European Sustainability Reporting Standards: an important tool in the EU's sustainable finance agenda says Mairead McGuinness, The European Commission
The EU takes another step towards a sustainable economy as The European Commission adopts the European Sustainability Reporting Standards (ESRS).
The reporting requirements will be in place for all companies subject to the Corporate Sustainability Reporting Directive (CSRD), and is being phased in gradually for different companies.
Alongside covering ESG issues including climate change, biodiversity and human rights, the standards inform investors around the sustainability impact of potential companies to invest in.
Interoperability between EU and global standards is ensured — and double reporting avoided — by accounting for International Sustainability Standards Board (ISSB) and Global Reporting Initiative (GRI) discussions.
Strengthening and standardising ESG reporting
The ESRS are designed to complement the CSRD, which is in place to strengthen the rules concerning the social and environmental information that companies have to report.
The information reduces the possibility of greenwashing and gatekeeping information, ensuring that stakeholders have access to accurate, up to date statistics that will support assessment of financial risk and opportunities.
The 12 ESRS (and their groups) that must be reported are:
General Requirements (Cross-cutting)
General Disclosures (Cross-cutting)
Climate (Environment)
Pollution (Environment)
Water and Marine Resources (Environment)
Biodiversity and Ecosystems (Environment)
Resource Use and Circular Economy (Environment)
Own Workforce (Social)
Workers in the Value Chain (Social)
Affected Communities (Social)
Consumers and End Users (Social)
Business Conduct (Governance)
Reporting under ESRS will start for certain large companies first, with the first sustainability statement published in 2025. A year later, other large companies (including other large non-EU listed companies) will publish their first sustainability report in 2026. Finally, sustainability statements will either be published in 2027 by listed SMEs, including non-EU listed SMEs, or those companies can choose to opt out for a further two years.
"The standards we have adopted are ambitious and are an important tool underpinning the EU's sustainable finance agenda," Mairead McGuinness, Commissioner for Financial Services, Financial Stability and Capital Markets Union at The European Commission, says.
"They strike the right balance between limiting the burden on reporting companies while at the same time enabling companies to show the efforts they are making to meet the green deal agenda, and accordingly have access to sustainable finance."
************************************************
For more insights into Sustainability - check out the latest edition of Sustainability Magazine and be sure to follow us on LinkedIn & Twitter
Other magazines that may be of interest - EV Magazine | Energy Digital
Please also check out our upcoming event - Sustainability LIVE in London at the BDC on Sept 6/7th 2023
*********************************************
BizClik is a global provider of B2B digital media platforms that cover 'Executive Communities' for CEO's, CFO's, CMO's, Sustainability Leaders, Procurement & Supply Chain Leaders, Technology & AI Leaders, Cyber Leaders, FinTech & InsurTech Leaders as well as covering industries such as Manufacturing, Mining, Energy, EV, Construction, Healthcare + Food & Drink.
BizClik, based in London, Dubai & New York offers services such as Content Creation, Advertising & Sponsorship Solutions, Webinars & Events.