Qantas Group creates world's largest airline climate fund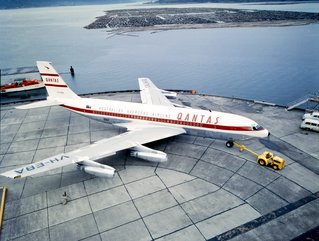 Qantas Group Plane, Australian Airline 1959
Investing AUD$400mn to reduce its emissions, Australian Airline Qantas Group has established the largest aviation fund in the world for climate change
Founded in Queensland, 1920, Qantas Group has grown to become Australia's largest domestic and international airline. Built on a reputation of excellence in safety and operational reliability, Qantas Group has announced its investment of AUD$400mn to reduce its emissions.
"We're backing our targets with an expanded investment of up to AUD$400mn to help projects get off the ground, because it's new technologies and bringing proven solutions to scale that will deliver the emissions reductions we need, and protect the future of travel in the process," Andrew Parker, Chief Sustainability Officer, Qantas Group.
Making it the world's largest airline investment of this kind, The Qantas Climate Fund was announced as part of the group's Investor Strategy Day. The fund will provide direct investments into sustainability projects and technologies.
"Managing climate change is now built into how we do business and is a key part of our strategy through to 2030 and beyond," added Parker.
What is included in The Qantas Climate Fund?
As part of its investment plans, The Qantas Climate Fund will include:
A AUD$290mn partnership established in 2022 between Qantas and Airbus to accelerate the domestic aviation fuel (SAF) industry in Australia.
AUD$110mn for other environmental projects such as high-integrity carbon offsets, offshore SAF investments, and operational efficiency technologies.
Investment in managed sustainability funds that align closely with the airline's targets, and research and development partnerships.
The announcement of this fund builds on the airline's commitments to reducing its carbon emissions by 25% (based on 2019 levels) and having 10% of its fuel mix being SAF by 2030. The airline's top goal is to be net zero by 2050.
"We have already made progress towards our interim climate targets with sustainable aviation fuel powering our flights out of London, more fuel-efficient aircraft arriving every month and a mature carbon offset program. We need to turbocharge these efforts if we are to cut our carbon emissions by 25% by 2030 and have net zero emissions by 2050," commented Parker.
Calling for an SAF mandate
Believing that SAF is a vital tool for airlines to reduce their emissions without needing to modify engines and fuel delivery infrastructure, Qantas Group is calling for the Austramian Government to introduce an SAF blending mandate as part of a broader framework of industry policies.
"Governments around Australia are making important progress on working with industry to help decarbonise, and we welcome that. Creating markets for new fuels is a critical part of tackling climate change, which is why we're today calling for a SAF mandate to be introduced to catalyse the development of the industry," concluded Parker.