Sustainable office furniture from Hunters Contracts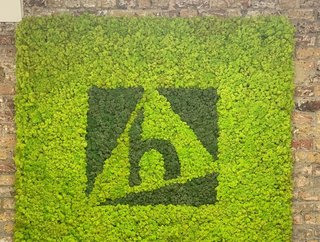 Hunters Contracts discusses the importance of sustainable office furniture. Credit: Hunters Contracts
John Wozniak, Operations & Sustainability Manager at Hunters Contracts discusses the importance of sustainable furniture & the options currently available
Today, environmental issues are becoming more pressing. Therefore, it is incredibly important to find innovative ways to reduce our ecological footprint. Sustainable office furniture and circular production provide a perfect solution to this problem.
Sustainable furniture encompasses more than just environmentally friendly materials and processes. You may have a sideboard at home, one which was hand-made and bought by your grandparents many years ago. It exists because a carpenter made it to last.
Consider the cost of furniture ownership and imagine investing in an Eames chair for your front living room. The product is beautifully engineered and has a classic design that you can pass down to future generations.
The furniture design challenge
The design challenge has become a first-world problem. Take the Modus-made Clara sofa, for example. Longevity is the key to an excellent piece of sustainable furniture. The designers had end-of-life in mind, and the Clara is designed for repair and disassembly. Being able to re-upholster the cushions is a pragmatic design feature of this stylish-looking sofa.
Another great example of thoughtful design is Deadgood's Capsule sofa, made from eucalyptus plywood and recyclable foam. Products containing low Volatile Organic Compounds (VOCs), are environmentally friendly. When specifying furniture, taking low VOCs into account benefits the health and wellbeing of the office team. The Capsule meets low VOC standards.
Have you ever considered buying second-hand furniture? It's an emerging trend, and we are proud to have worked on a project using second-hand task chairs. A local specialist upholstery company re-upholstered 150 task chairs. After the sustainable upholstery was applied, our project management team subsequently carried out a quality control check on each chair.
Modular furniture is also another fantastic way to provide longevity to the look and feel of office space.
Reducing the impacts on the environment
To reduce the negative impacts caused by greenhouse gasses, many manufacturers in our supply chain have switched to renewable energy to power their factories.
Sustainable materials used in office furniture are varied and include materials such as bamboo or reclaimed wood. Sometimes, companies like Mater are leveraging the use of offcuts from other industries to make timeless office furniture pieces.
In 2023, we delivered our first 'package-free- project', further reducing the impact on the environment.
By opting for sustainable furniture, our clients can significantly reduce deforestation and carbon emissions. Advancements in technology and design mean sustainable furniture is now available in a wide range of styles, from sleek and modern to rustic and cosy.
How furniture plays its part in the circular economy
Circular production, on the other hand, is a concept that aims to eliminate waste and promote the reuse of resources. Instead of the traditional linear model of production, where items are made, used, and then discarded, circular production focuses on creating a closed-loop system.
At the end of a product's life cycle, furniture can be recycled or repurposed into something new. End users are becoming more conscious about sending furniture to landfills.
The combination of sustainable furniture and circular production is a game-changer for our planet. Not only does it help combat climate change by reducing greenhouse gas emissions, but it also promotes the responsible use of resources.
Come and chat with us at Sustainability LIVE London 2023. You'll find us on stand B2. We'll be happy to talk to you about choosing sustainable furniture. Learn about how to spot online fakes and the benefits of using Forest Stewardship Council (FSC) certified timber. We're more than just a sustainable furniture dealer.
We've also got a brilliant sustainable furniture giveaway, so come and say hello, because we'd love to become a part of your sustainability journey.
Words: John Wozniak, Operations & Sustainability Manager at Hunters Contracts
Disclosure: This article is an advertorial and monetary payment was received from Siemens. It has gone through editorial control and passed the assessment for being informative.

*************************************************
For more insights into Sustainability - check out the latest edition of Sustainability Magazine and be sure to follow us on LinkedIn & Twitter
Other magazines that may be of interest - EV Magazine | Energy Digital
Please also check out our upcoming event - Sustainability LIVE in London at the BDC on Sept 6/7th 2023
*********************************************
BizClik is a global provider of B2B digital media platforms that cover 'Executive Communities' for CEO's, CFO's, CMO's, Sustainability Leaders, Procurement & Supply Chain Leaders, Technology & AI Leaders, Cyber Leaders, FinTech & InsurTech Leaders as well as covering industries such as Manufacturing, Mining, Energy, EV, Construction, Healthcare + Food & Drink.
BizClik, based in London, Dubai & New York offers services such as Content Creation, Advertising & Sponsorship Solutions, Webinars & Events.